Forest fragments along riversides in Uganda may make good habitats for chimpanzees but remain unprotected, according to a new study in mongabay.com's open access journal Tropical Conservation Society (TCS). Researchers surveyed a riverine forest known as Bulindi in Uganda, in-between Budongo and Bugoma Forest Reserves, to determine if it was suitable for the long-term survival of eastern chimpanzee (Pan troglodytes schweinfurthii) populations.
"A survey of tree composition was undertaken as part of an 18-month ecological study of chimpanzees inhabiting riverine fragments in Bulindi […]. Though exact numbers are unknown, recent surveys revealed the widespread occurrence of chimpanzees in small forest patches throughout the human-dominated landscape separating Budongo and Bugoma, as well as forest raptors and medium-sized carnivores, confirming this region's corridor potential," the researchers write.
In their survey they identified 98 species of trees in Bulindi, ten of which are considered important for chimpanzees. In addition, the density of fruit trees in the river forest was three times higher than the density found in Budongo Forest Reserve, even though overall the forest had less tree diversity.
"Our data indicate that the riverine forests offer a relatively food-dense habitat for frugivores [fruit-eating animals]," the authors write noting that this "may explain the unexpected widespread occurrence of chimpanzees in forest patches regionally."
While documenting tree species, the researchers also found ample evidence of unregulated commercial logging. Loggers targeted a number of trees that are considered important for chimpanzee survival. In addition, once a forest is logged, it is quickly converted into agriculture.
"Unless [conservation] projects are successful in reversing present trends most riverine fragments will be severely depleted if not cleared completely in the near-future, negating their value as corridors for endangered wildlife," the authors note. "Currently, the feasibility of using carbon funds, among other alternative income-generating projects, as incentive for private forest owners in the Budongo–Bugoma landscape to maintain forest on their land is being explored."
The eastern chimpanzee is listed as Endangered by the IUCN Red List, and are imperiled by habitat loss, poaching for bushmeat, and disease. Five thousand chimpanzees are thought to inhabit Uganda.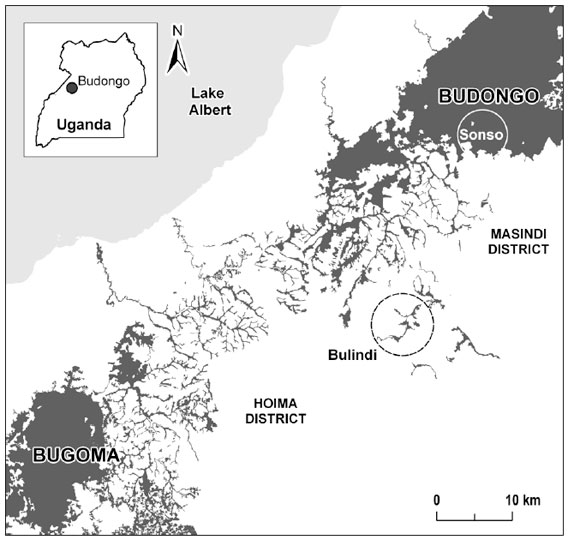 Map shows location of Bulindi Forest in Uganda.
CITATION: McLennan, M. R. and Plumptre, A. J. 2012. Protected apes, unprotected forest: composition, structure and diversity of riverine forest fragments and their conservation value in Uganda. Tropical Conservation Science Vol. 5(1):79-103.
Related articles
Scientists say massive palm oil plantation will "cut the heart out" of Cameroon's rainforest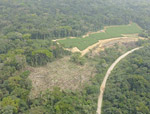 (03/15/2012) Eleven top scientists have slammed a proposed palm oil plantation in a Cameroonian rainforest surrounded by five protected areas. In an open letter, the researchers allege that Herakles Farm, which proposes the 70,000 hectare plantation in southwest Cameroon, has misled the government about the state of the forest to be cleared and has violated rules set by the Roundtable on Sustainable Palm Oil (RSPO), of which it's a member. The scientists, many of whom are considered leaders in their field, argue that the plantation will destroy rich forests, imperil endangered species, and sow conflict with local people.
Without data, fate of great apes unknown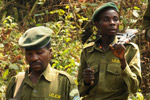 (03/12/2012) Our closest nonhuman relatives, the great apes, are in mortal danger. Every one of the six great ape species is endangered, and without more effective conservation measures, they may be extinct in the wild within a human generation. The four African great ape species (bonobos, chimpanzees and two species of gorilla) inhabit a broad swath of land across the middle of Africa, and two species of orangutans live in rainforests on the islands of Borneo and Sumatra in Southeast Asia.
Republic of the Congo expands park to protect fearless chimps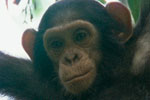 (02/16/2012) The Republic of the Congo has expanded its Nouabalé-Ndoki National Park by 37,295 hectares (144 square miles) to include a dense swamp forest, home to a population of chimpanzees (Pan troglodytes) that show no fear of humans. Known as the Goualougo Triangle, the swamp forest is also home to forest elephants (Loxodonta cyclotis) and western lowland gorillas (Gorilla gorilla gorilla). The expansion of the park to include the Goualougo Triangle makes good on a government commitment from 2001.