Aerial photo of Peruvian Amazon. Photo by: Rhett A. Butler.
On February 4th, the Peruvian government and a small indigenous group created a new Amazon reserve, dubbed the Maijuna Reserve. Located in northeastern Peru, the 390,000 hectare (970,000 acres) reserve is larger than California's Yosemite National Park and over three times the size of Hong Kong.
Connected to the watersheds of Napo and Putumayo rivers, Maijuna reserve will not only protect primary rainforest in the Loreto Region, but also the culture of the Maijuna people who live in the area with a population of less than 200 people. The reserve—officially created by the Regional Government Program for the Conservation, Management and Sustainable Use of Biodiversity in Loreto (PROCREL)—also connects to two other existing protected areas, creating a total area of over 1.6 million hectares (4 million acres).
According to Nature and Culture International which works with the Maijuna people and has played a role in the creation of the reserve, the forest is home to a wide variety of Amazon wildlife, including giant river otters (Pteronura brasiliensis) and jaguars (Panthera onca), and large populations of widely hunted animals such as Brazilian tapirs (Tapirus terrestris) and Salvin's currasow (Mitu salvini).
"This new conservation area protects a true jewel: a complex of Amazonian high terraces—a habitat unknown until recent biological inventories—that shelters a flora and fauna with a number of new, rare, and specialized species. These terraces and the adjacent lowland forests are underlain by diverse soil types and give rise to seven local drainages, whose waters support the flora and fauna of the area, as well as its human residents," states the Nature and Culture International website.
Related articles
Group releases close-up photos of 'uncontacted' tribe in Peru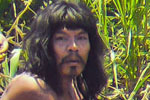 (02/01/2012) New photos provide visual evidence of just how close the long-isolated tribe of Mashco-Piro people in the Amazon rainforest are to being contacted by the outside world—a perilous moment for tribes highly susceptible to disease and likely to defend their people and territory with weapons. According to indigenous rights NGO Survival International, the Maschco-Piro tribe has been seen more frequently outside of their forest home in Manu National Park in recent years. Some experts blame illegal logging in the park and helicopters used in oil and gas projects for the sightings.
Saving the world's biggest river otter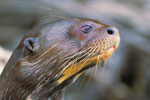 (01/30/2012) Charismatic, vocal, unpredictable, domestic, and playful are all adjectives that aptly describe the giant river otter (Pteronura brasiliensis), one of the Amazon's most spectacular big mammals. As its name suggest, this otter is the longest member of the weasel family: from tip of the nose to tail's end the otter can measure 6 feet (1.8 meters) long. Living in closely-knit family groups, sporting a complex range of behavior, and displaying almost human-like capricious moods, the giant river otter has captured a number of researchers and conservationists' hearts, including Dutch conservationist Jessica Groenendijk.
Industrial palm oil production expands at expense of rainforests in Peru
(01/10/2012) Intensive palm oil production is expanding at the expense of biolologically-rich lowland rainforests in the Peruvian Amazon, reports a study published in Environmental Research Letters. The research indicates that enthusiasm for oil palm — one of the world's most lucrative crops — is taking a toll on forests outside of Southeast Asia, where the vast majority of palm oil is produced.