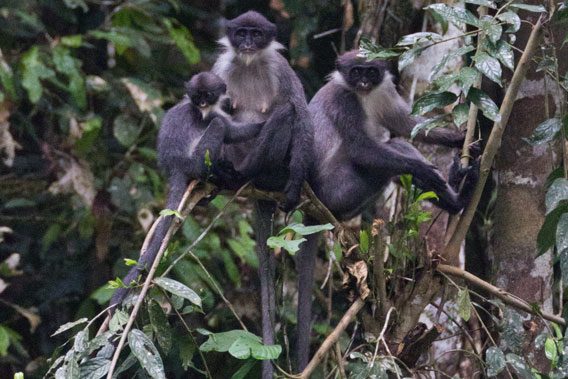 Family group of Miller's grizzled langur in Wehea Forest. Photo by: Eric Fell.
A significant population of the rarely seen, little-known Miller's grizzled langurs (Presbytis hosei canicrus) has been discovered in Indonesian Borneo according to a new paper published in the American Journal of Primatology. Feared extinct by some and dubbed one of the world's 25 most threatened primates in 2005 by Conservation International (CI), the langur surprised researchers by showing up on camera trap in a region of Borneo it was never supposed to be. The discovery provides new hope for the elusive monkey and expands its known range, but conservationists warn the species is not out of the woods yet.
"[The discovery] reinforced my belief in the power of camera traps to transform conservation research," Brent Loken executive director of the conservation NGO Ethical Expeditions and Ph.D student at Simon Fraser University Canada, told mongabay.com. "Because of the cryptic nature of this monkey only a handful of photographs previously existed and descriptions were all based on museum specimens. However, using camera traps we were able to record 4,130 photographs of this extremely rare monkey in only 66 camera trap days."
Loken and his team rediscovered the langur in Wehea Forest in Eastern Kalimantan during a camera-trap survey. Numerous photos show family groups congregating at mineral licks and interacting socially.
| | |
| --- | --- |
| | Miller's grizzled langur in Wehea Forest. Photo by: Eric Fell. |
"To date, Wehea is the only location where Miller's grizzled langur is known to exist. This discovery brings the total number of non-human primates discovered in Wehea up to ten, making it a primate hot-spot," says Loken.
In addition to Miller's grizzled langur, the forest is also home to Bornean orangutans (Pongo pygmaeus), listed as Endangered, the maroon langur (Presbytis rubicunda), gibbons and macaques. The Sunda clouded leopard (Neofelis diardi), marbled cat (Pardofelis marmorata), and sun bear (Ursus malayanus), all three listed as Vulnerable, also roam the forest.
Spread over 38,000 hectares, Wehea is mostly undisturbed, intact forest. Currently protected by the indigenous Wehea Dayak people, aided in part by Ethical Expeditions, the area is currently a stronghold for endangered Bornean wildfire.
"Given that Wehea is patrolled by a dedicated team of local Wehea Dayak forest guardians and that Wehea is contiguous with other large forested areas, this could potentially be one of the last 'safe' homes for [Miller's grizzled langur]," says Loken.
However, despite being declared "protected" but its indigenous people, Wehea forest is still shown as a logging concessions on maps and has not been awarded any official government protection. Like many forests in Borneo, the region faces constant peril.
"Until this legal status is given, there is always a threat that Wehea Forest could be converted to other land uses," Loken says.
Co-author Stephanie Spehar, a professor of Anthropology at University of Wisconsin Oshkosh, told mongabay.com that any one of numerous threats could imperil the area, its wildlife, and people: "Wehea, like much of the forest in East Kalimantan, is threatened by human activities such as logging, oil palm plantations, and coal mining. [It] is currently protected by the commitment and hard work of the local Dayak community and the support of the local government, but this protection is not yet permanent. We need to continue to work to ensure that Wehea and other forested regions in this area receive the protection that they need, and we also need to pursue strategies that will address the larger issues of land and resource use in the region."
Stephanie Spehar adds that the serendipitous discover of Miller's grizzled langur in Wehea has given scientists, for the first time, the opportunity to observe the monkey.
| | |
| --- | --- |
| | Miller's grizzled langur in Wehea Forest. Photo by: Eric Fell. |
"We will now be able to begin studies of the ecology and behavior of this endangered primate. Such information is crucial for conservation planning but currently very little is known about Miller's grizzled langur. We hope to rectify this with further surveys and studies of its behavior in Wehea and the surrounding area, which we will begin later this year."
Still, the happy find does not mean Miller's grizzled langur is safe from extinction. Like many species on the island—devastated by habitat loss—Loken expects the species is still very endangered. Researchers will begin by estimating the species' density in the forest.
"It is a race against time to protect many species in Borneo," Loken says in a press release. "It is difficult to adopt conservation strategies to protect species when we don't even know the extent of where they live. We need more scientists in the field working on understudied species such as Miller's grizzled langur, clouded leopards and sun bears."
Ethical Expeditions and Loken are currently working on a research and conservation program on the Sunda clouded leopard, a large cat that was only classified as a separate species from the mainland clouded leopard in 2006.
"Borneo is a biodiversity hotspot," Spehar adds, "and this discovery underscores the importance of preserving wildlife habitat in Borneo, and in East Kalimantan in particular—who knows what else is out there?"
CITATION: Lhota, Stanislav, Loken, Brent, Spehar, Stephanie; Fell, Eric, Pospech, Alexandr; Kasyanto, Nunuk. Discovery of Miller's Grizzled Langur (Presbytis hosei canicrus) in Wehea Forest confirms the continued existence and extends known geographical range of an endangered primate. American
Journal of Primatology. Wiley-Blackwell, January 2012, DOI: 10.1002/ajp.21983.
Related articles
Borneo's most elusive feline photographed at unexpected elevation

(01/11/2012) Although known to science for 138 years, almost nothing is actually known about the bay cat (Pardofelis badia). This reddish-brown wild feline, endemic to the island of Borneo, has entirely eluded researchers and conservationists. The first photo of the cat wasn't taken until 1998 and the first video was shot just two years ago, but basic information remains lacking. A new camera trap study, however, in the Kelabit Highlands of the Malaysian state of Sarawak has added to the little knowledge we have by photographing a bay cat at never before seen altitudes.
Palm oil, pulp companies commit to zero-tolerance policy for orangutan killing
(12/06/2011) Two Indonesian plantation companies have signed an agreement to train workers not to kill or injure orangutans and other protected species. The agreement was brokered by the Indonesian government between Orangutan Foundation International (OFI), a non-profit with operations in Central Kalimantan, Indonesian Borneo, and two major plantation firms: PT Smart, one of Indonesia's largest palm oil producers, and PT Lontar Papyrus, which supplies wood-pulp to Asia Pulp & Paper (APP). Both companies are holdings of the Sinar Mas Group. Under the terms of the deal, OFI will assist the companies 'in delivering a best management practices training program on orangutans and endangered species for its employees, affiliates and pulpwood suppliers.'
Wildlife official: palm oil plantations behind decline in proboscis monkeys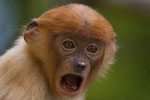 (12/05/2011) The practice of palm oil plantations planting along rivers is leading to a decline in proboscis monkeys (Nasalis larvatus) in the Malaysian state of Sabah on Borneo, says the director of the Sabah Wildlife Department, Laurentius Ambu. Proboscis monkeys, known for their bulbous noses and remarkable agility, depend on riverine forests and mangroves for survival, but habitat destruction has pushed the species to be classified as Endangered by the IUCN Red List.
Concerns standoff between Borneo forest community and Malaysian palm oil developer may turn violent
(11/23/2011) A conflict between villagers in Indonesia's East Kalimantan province and a palm oil developer could turn violent over the company's decision to press forward with clearing of forest land used by the community, warns the Environmental Investigation Agency (EIA) and its Indonesian partner Telapak.
Animal picture of the day: tracking the world's smallest elephant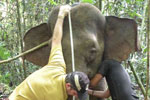 (11/15/2011) Researchers have fitted three Bornean elephants with satellite collars to track them across the Lower Kinabatangan Wildlife Sanctuary, in the Malaysian state of Sabah, Borneo. The effort means currently five elephants are being tracked. The tracking is a part of a collaborative effort by the Sabah Wildlife Department (SWD), the NGO HUTAN, and the Danau Girang Field Centre (DGFC).
Orangutans in Indonesian Borneo doomed to extinction?
(11/14/2011) A new study finds orangutans in Indonesian Borneo in unprotected areas are being killed at a rate faster than what population viability analysis considers sustainable. Conflict between orangutans and humans is worst in areas that have been fragmented and converted for timber, wood-pulp, and palm oil production, but hunting is occurring in relatively intact forest zones away from industrial development.
Small mammals use Borneo pitcher plant as toilet in exchange for nectar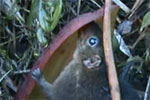 (11/08/2011) Tree shrews and nocturnal rats in the forests of Borneo have a unique relationship with carnivorous pitcher plants. The mammals defecate, and the pitchers are happy to receive. A study published on May 31 in the Journal of Tropical Ecology shows a species of giant mountain pitcher plants (Nepenthes rajah) supplements its diet with nitrogen from the feces of tree shrews (Tupaia montana) that forage in daylight and summit rats (Rattus baluensis) active at night. When the small mammals lick nectar from the underside of the pitcher's lid, they stand directly over the jug-shaped pitcher organ.
Malaysia must take action to avoid extinction of its last rhinos
(11/05/2011) Malaysia must take immediate action to prevent the extinction of the handful of rhinos that survive on the island of Borneo, says a coalition of environmental groups.