A hesitant response by the international community likely led to thousands of unnecessary deaths in last year's famine in East Africa finds a new report released by Oxfam and Save the Children. The report, entitled A Dangerous Delay, says that early warning systems worked in informing the international community about the likelihood of a dire food crisis in East Africa, however a "culture of risk aversion" led to months-long delays. By the time aid arrived it was already too late for many. The British government has estimated somewhere between 50,000 and 100,000 people perished in the famine, half of whom were likely children under five.
"We all bear responsibility for this dangerous delay that cost lives in East Africa and need to learn the lessons of the late response," Oxfam's Chief Executive, Barbara Stocking, candidly stated in a press release. "It's shocking that the poorest people are still bearing the brunt of a failure to respond swiftly and decisively. We know that acting early saves lives but collective risk aversion meant aid agencies were reluctant to spend money until they were certain there was a crisis."
Crippled by a desire not to look wrong, the international community waited until the food disaster was in full-swing before moving forward. Blame for the late response was spread around in the report, signaling the need for changes to be made throughout the international community.
"All actors—governments, donors, NGOs, the UN—need to change the way they do things to make a bigger difference to people who will be
affected by the next drought," the report summary reads.
Caused by two seasons of failed rains and a near-powerless government in Somalia, the famine was the first announced by the UN since the Ethiopian famine in 1984. Thousands poured over the Somali-Kenyan border seeking aid. To make matters worse, aid agencies and governments had little access to populations in Somalia until the height of the crisis. While drought is a regular occurrence in East Africa and communities have long-adapted to dry conditions, some scientists argue recent droughts may be worsening in the region due to climate change.
The report recommends focusing on risk reduction, including triggers for early action; more flexibility in funding; and integrated and preventive action. Save the Children and Oxfam are also calling on world governments to sign the Charter to End Extreme Hunger, which addresses many of these issues. Lives can be saved, and funding pushed further, if a hunger crisis is confronted early according to the NGOs.
"We can no longer allow this grotesque situation to continue; where the world knows an emergency is coming but ignores it until confronted with TV pictures of desperately malnourished children," said Save the Children's Chief Executive, Justin Forsyth. "The warning signs were clear and with more money when it really mattered, the suffering of thousands of children would have been avoided."
Already, warnings are sounding over another possible food crisis in Africa, spread over five nations in the Sahel—the semi-arid region south of Sahara. Given this, the report reads, that "there is an urgent need to put what has been learned in the Horn of Africa crisis into practice."
Scientists have warned that policy-makers must anticipate more and worse droughts as climate change increases.
Related articles
Droughts could push parts of Africa back into famine
(12/19/2011) Drought and erratic rains could lead to further food scarcities in Africa warns the United Nations World Food Program (WFP). The WFP singles out South Sudan, the world's newest nation, and Niger as nations of particular concern. Earlier this year famine killed scores of people, including an estimated 30,000 children, in Somalia.
World's newest nation faces prospect of famine
(10/06/2011) As East Africa reels from a devastating famine, which is hitting Somalia the hardest, there are new fears that another African nation could soon slip into a similar situation. On July 9th of this year, South Sudan became the world's newest nation; however a few months later drought, conflict, refugees, and rising food prices could push the eastern region of South Sudan into a famine, warned officials from the fledgling nation yesterday.
Photos: World Food Program works to save lives in East Africa famine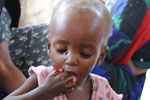 (08/28/2011) Over 12 million people across East Africa are imperiled by a hunger crisis brought on by extreme drought. The worst of the crisis is in Somalia, where famine has been declared in 5 areas of Somalia to date—the first famine to be declared by the UN in three decades. Somalia is unique, because here the drought has been exacerbated by a long-failed government and militants. Refugee camps have been set up in Kenya and Ethiopia, but are strained. A number of aid groups are working on the ground to provide emergency food and medical attention to hunger victims, but funding is still below what is needed. The largest group is probably the UN's World Food Program (WFP). Mongabay.com spoke to Dena Gubaitis, Communications Officer for the WFP, for background on the famine and how relief efforts are going on the ground.