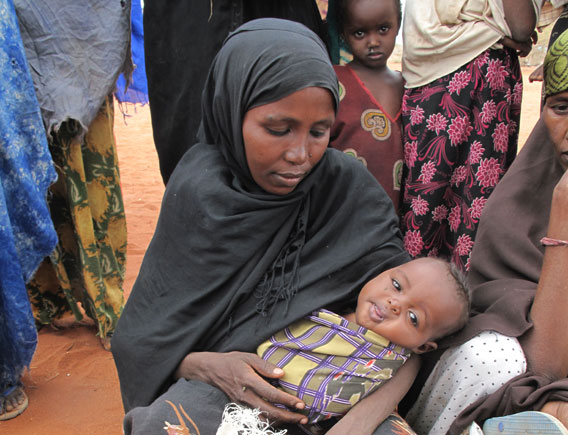 Famine victims in Kenya. Children are the most vulnerable during a famine. At the beginning of August the US estimated that 29,000 children under five had perished from the famine over the past 90 days. Photo by: © Rebecca Richards/WFP.
Over 12 million people across East Africa are imperiled by a hunger crisis brought on by extreme drought. The worst of the crisis is in Somalia, where famine has been declared in 5 areas of Somalia to date—the first famine to be declared by the UN in three decades. Somalia is unique, because here the drought has been exacerbated by a long-failed government and militants. Refugee camps have been set up in Kenya and Ethiopia, but are strained. A number of aid groups are working on the ground to provide emergency food and medical attention to hunger victims, but funding is still below what is needed. The largest group is probably the UN's World Food Program (WFP). Mongabay.com spoke to Dena Gubaitis, Communications Officer for the WFP, for background on the famine and how relief efforts are going on the ground.
INTERVIEW WITH DENA GUDAITIS
Mongabay: What is the WFP's background?
Dena Gudaitis: The World Food Program is the largest humanitarian agency in the world, currently operating in some 70 countries aiming to feed 90 million people annually. You can find a lot of information on our website: including photos, video, beneficiary stories, docs, etc.
Mongabay: Will you give us an overall picture of the disaster: what areas are impacted, how many people are going hungry?
| | |
| --- | --- |
| | While East Africa is a region of the world that is accustomed to drought, two failed rains have made this time around an unbearable situation for many. Local people are often dependent on livestock for their livelihoods, but when livestock perish en masse, such as during this drought, people are left with nothing. Photo by: Photo by: © Siegfried Modola/WFP. |
Dena Gudaitis: WFP is aiming to feed more than 11 million people in the Horn of Africa region. We are currently reaching around 8 million drought-affected people.
In Somalia, there is now famine in all of lower shabelle, parts of Bakool (where there are many agro-pastoralists), parts of Banadir, (chiefly internationally displaced communities in Mogadishu), and in Middle Shabelle.
Mongabay: How are relief efforts progressing on the ground for those hardest hit by the famine?
Dena Gudaitis: WFP is rapidly moving life-saving food and nutritional products by sea, air and road into Ethiopia, Kenya, and Somalia to address hunger, especially among the most vulnerable – young children and their mothers.
WFP is providing the right foods at the right time to prevent malnutrition in the first two years of life, which can lead to irreversible damage to children's minds and bodies.
WFP is working to strengthen the resiliency of communities that live in drought-prone areas, working with governments and other agencies, using food assistance to support smallholder farmers and helping people to adapt to changes in weather patterns.
Mongabay: Are some people still not being reached? If so, why?
Dena Gudaitis: WFP suspended operations in much of Southern Somalia from January 2010 because of unacceptable demands from militant groups: there were death threats made against staff; women were barred from working for WFP; unofficial taxes were demanded.
All of the humanitarian agencies in Somalia recognize that this is one of the riskiest operating environments in the world. WFP is delivering food to 1.5 million people in central and northern Somalia, and is ready to scale up to 3.7 million if it can regain access to areas in the south of the country that are current inaccessible.
We continue to appeal for urgent unimpeded access so that lives can be saved without further delay.
Operations in Somalia are among the highest risk in the world, with the loss of the lives of 14 relief workers since 2008. We are calling on the international community to stand together in recognizing the inevitable risks that will be present.
Mongabay: What are the causes behind this particular famine? Given that there were many months of warnings prior to the famine in East Africa, why do you think the international community was so slow to respond?
| | |
| --- | --- |
| | A hungry child eats in Somalia. Lack of government and militant groups have helped create famine conditions in Southern Somalia. Thousands of Somali refugees have escaped to Kenya and Ethiopia, straining refugee camps and supplies. Photo by: Photo by: © David Orr/WFP. |
Dena Gudaitis: The roots of the crisis began after the failure of the 2010 Oct-Dec rains and related harvests. The 2011 long rains then began late and were erratic. In some areas of northern Kenya and Southern Somalia, rainfall was less than 30 percent of the 1995-2010 average.
Concern about the impact of the Horn of Africa drought had already escalated in June 2011 when the Famine Early Warning Systems Network, FEWSNET, reported that rainfall data for Kenya and Ethiopia in 2010-11 indicated that this has been the driest, or second driest year since 1950-1951.
The next rainy season is not due to start until October, and crops planted at this time will only begin to yield harvests in late 2011 or early 2012.
We have been warning about the situation for months. The response by donor countries has been very generous, but we still need to raise 250 million dollars for the next 6 months.
Mongabay: Population has been rising very rapidly in East Africa over the past few decades. Do you think this has an impact on food availability?
Dena Gudaitis: The world population is projected to rise to 9.1 billion in 2050 from a current 6.7 billion, requiring a 70 percent increase in farm production according to FAO (The Food and Agriculture Organization.)
Mongabay: Do you think the global media has sufficiently covered the story or has it been occurring under a lot of the public's radar?
Dena Gudaitis: There has been extensive media coverage, but of course many other stories capture the public's attention.
Mongabay: When the famine is over how do we ensure something like this doesn't happen again?
| | |
| --- | --- |
| | Refugees in Kenya. Photo by: © Rebecca Richards/WFP. |
Dena Gudaitis: The World Food Program has several programs that help provide social safety- nets to empower and enable people.
For example, our school meals program which provides a nutritious meal to children attending schools and our Purchase for Progress (P4P) initiative which is a five-year pilot project, launched in September 2008, in assisting smallholder farmers by offering them opportunities to access agricultural markets and to become competitive players in the marketplace.
Mongabay: What can people do to help?
Dena Gudaitis: The World Food Programme is currently experiencing a budget shortfall for the next 6 months. We currently need to fundraise around some $250 million dollars to continue our life-saving work in the Horn of Africa.
We can all make a difference: Just 50 US cents per day is enough to feed a hungry child or mother on the edge of survival.
Visit our horn of Africa crisis website to find out more information or text "AID" to 27722 to make a $10 donation that will feed a hungry mother or child for three weeks.
Related articles
Famine spreads: 29,000 young children perish
(08/04/2011) As the UN announces that famine has spread in Somalia to three additional regions (making five in total now), the US has put the first number to the amount of children under 5 who have so far perished from starvation in the last 90 days: 29,000. Nearly half of the total population of Somalia is currently in need of emergency food assistance. Yet, the al Qaeda-linked group al-Shabaab, which controls parts of Somalia, has made bringing assistance to many of the malnourished incredibly difficult, if not impossible. The famine in Somalia has been brought-on by lack of governance combined with crippling droughts throughout East Africa, which some experts have linked to climate change. High food prices worldwide and a lagging response by the international community and donors have made matters only worse.
Tens of thousands starving to death in East Africa
(07/20/2011) As the US media is focused like a laser on theatric debt talks and the UK media is agog at the heinous Rupert Murdoch scandal, millions of people are undergoing a starvation crisis in East Africa. The UN has upgraded the disaster—driven by high food prices, conflict, and prolonged drought linked by some to climate change—to famine in parts of Somalia today. Mark Bowden, UN humanitarian coordinator for Somalia, has said that tens of thousands Somalis have died from malnutrition recently, "the majority of whom were children."
Food security in developing world threatened by climate change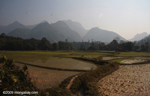 (06/06/2011) If swift action is not taken to prepare farmers in the developing world for hotter, drier, shorter growing seasons, climate change may threaten the lives of hundreds of millions of people by 2050. People in Africa and South Asia are particularly at risk of further impoverishment and hunger in a warmer world. According to the UN, a billion people are already going hungry worldwide.