Cattle pasture and Amazon forest. Photo by: Rhett A. Butler.
Brazil's environmental enforcement agency busted an illegal logging ring following analysis of satellite imagery, reports Globo.
Illegal loggers managed to clear more than 400 hectares of Amazon rainforest in southeast Pará before authorities spotted the crime using Brazil's satellite-based deforestation detection system.. Brazil's environmental enforcement agency, the Institute of the Environment and Natural Resources (IBAMA), responded by dispatching agents to surprise deforesters in the act of clearing rainforest.
In its action, IBAMA officers confiscated a tractor used to haul logs and maintain access roads in the rainforest, two trucks used to transport illegally sourced wood, and 200 liters of diesel. The agency fined the owner of the equipment R$2 million ($1.2 million) for environmental crimes. Based on the equipment found, IBAMA believes that the perpetrators planned to high-grade and then clear-cut at least a thousand hectares of primary forest for cattle pasture.
IBAMA caught three men cutting timber, but as is often the case, a more powerful player—a local landholder wanting to illegally expand his property—had hired the men. Luciano Silva, the coordinator of this IBAMA operation, explained that after the forest has been cleared by workers and converted to pasture, large landholders, known as fazendeiros, will often petition the local Environmental Rural Register (CAR) and attempt to legalize their claims to the newly deforested land. Legally, if the connection between the fazendeiro and the workers clearing land can be proven, he can be fined R$5,000 ($3,100) for each hectare of destroyed forest as an accomplice to environmental crime. Such proof is rarely forthcoming, thus those providing the impetus for deforestation are usually not held responsible.
Also, given IBAMA's extremely poor track record of collecting fines—less than one percent between 2005 and 2010 according to Brazil's Globo news agency—no one may be held accountable for this instance of Amazon rainforest degradation.
Related articles
Brazil's new cabinet-level post in response to surge in deforestation
(05/21/2011) Prompted by a near sixfold increase in Amazon rainforest clearing over the past year, the Brazilian government will form a cabinet post to monitor and respond to deforestation.
Brazil confirms big jump in Amazon deforestation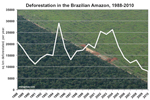 (05/18/2011) New data from the Brazilian government seems to confirm environmentalists' fears that farmers and ranchers are clearing rainforest in anticipation of a weakening of the country's rules governing forest protection. Wednesday, Brazil's National Space Research Agency (INPE) announced a sharp rise in deforestation in March and April relative to the same period last year. INPE's rapid deforestation detection system (DETER) recorded 593 square kilometers of forest clearing during the past two months, a 473 percent increase over the 103.5 sq km chopped down from March-April 2010.
Under pressure from rising deforestation, Brazil's IBAMA establishes 'Zero Deforestation Policy' in the Amazon
(05/17/2011) IBAMA, Brazil's equivalent of the EPA, is suspending 1,300 planned operations for 2011 in order to concentrate on curbing a spike in regional deforestation through a two-pronged strategy of greater institutional presence and reciprocal agreements with local municipal governments. Following a series of meetings in the Amazonian states of Pará, Mato Grosso, and Amazonas between IBAMA and political leaders, landowners, ranchers, and environmentalists, IBAMA announced a "Zero Deforestation Pact" last Wednesday in cooperation with the Federal Public Ministry (Ministério Público Federal). The increased emphasis on Amazonian forest protection follows the release of an IBAMA document obtained by Folha revealing a jump in Amazonian deforestation that the government believes is related to proposed changes to relax the Forest Code, a debate which has given confidence to those deforesting.