Cambodian villagers fighting to save their forest from rubber companies have been rebuked by the local government. Two days in a row local authorities prevented some 400 Cambodian villagers from protesting at the offices of the Vietnam-based CRCK Company, which the villagers contend are destroying their livelihoods by bulldozing large swaths of primary forests. Authorities said they feared the villagers would have grown violent while protesting.
But, according to village representative, Chheang Vuthy, speaking to the Cambodia Daily: "The villagers would not have acted violently. The companies should not be clearing forest even though they have licenses from the government because it affects people's livelihoods."
The Cambodian government has granted a concession of over 6,000 hectares to the rubber company from the 200,000 hectare forest known as Prey Lang. Located between the Mekong and Stung Sen River, nearly half of Prey Lang has never been logged, making it an incredible rarity in Southeast Asia. Tigers, Asian elephants, banteng, gaur, and Asiatic black bears are all still found in Prey Lang. In all 26 to 50 endangered mammals, birds, and reptiles may live in Prey Lang. Still provincial authorities have dubbed Prey Land a 'dull forest'.
| | |
| --- | --- |
| | A part of Prey Lang forest as viewed from Google Earth. The Mekong River is to the east (right side of the image). |
In addition to its wildlife, the largely unprotected forest is also home to a quarter of million people who are dependent on its resources.
At a press conference held by a group comprising over 100 local NGOs, villagers said authorities were using intimidation tactics to halt protests, including send police to gather names of those villages inciting protests.
"[Police] have tried to find many ways to threaten us, but we were protesting to save Prey Lang forest," Chheang Vuthy told the Phnom Penh Post. Governor of the Sandan district, Sim Vanna, denied any knowledge of police gathering names in the villages.
Local authorities say the concession in question is not in communal land and therefore open for development. But the protesters say the companies involved are not being forthright.
"This bulldozing of the forest is done without any environmental impact assessments," Chet Ton, a community organizer with a local NGO, told the Cambodia Daily, "and the companies try to hide [information]."
Yesterday a national lawmaker, Son Chhay, stepping into the fight by appealing to Cambodia's National Assembly President Heng Samrin to come to the villages' aid.
"Please, National Assembly president, use the power of the legislative branch to stop destroying Khmer forests by Vietnamese companies, in order to preserve what's left of the forest for the next generation," Son Chhay said in a letter.
Cambodia is experiencing a rubber boom after the Vietnamese Rubber Enterprise Federation (VREF) invested $600 million. VREF was awarded 100,000 hectares in 2009 and is expected to gain 70,000 hectares more by 2012 according to the Phnom Penh Post.
However, Cambodia's Prime Minister, Hun Sen, has spoken out against going too far with rubber plantation.
"Rubber is at a good price, but it is [wrong] for us to cut down the high trees to plant rubber," he told university students. "We can protect the forest to help reduce climate change."
However, the Prime Minister recently signed over 9,000 hectares of Vereak Chey National Park for conversion to rubber plantations despite it being a protected area.
For more information on Prey Lang: Prey Lang: One Forest, One Future
Facebook page on Prey Lang Forest: Prey Lang: It's Our Forest Too
Related articles
Cambodia approves titanium mine in world's 'most threatened forest'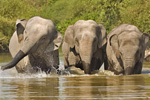 (02/15/2011) The Cambodian government has approved a mine that environmentalists and locals fear will harm wildlife, pollute rivers, and put an end to a burgeoning ecotourism in one of the last pristine areas of what Conservation International (CI) recently dubbed 'the world's most threatened forest'. Prime Minister, Hun Sen, approved the mine concession to the United Khmer Group, granting them 20,400 hectares for strip mining in Cambodia's Cardamom Mountains. The biodiverse, relatively intact forests of the Cardamom Mountains are a part of the Indo-Burma forest hotspot of Southeast Asia, which CI put at the top of their list of the world's most threatened forests. With only 5% of habitat remaining, the forest was found to be more imperiled than the Amazon, the Congo, and even the forests of Indonesia and Malaysia.
One man's mission to save Cambodia's elephants

(05/17/2010) Since winning the prestigious 2010 Goldman Environmental Prize in Asia, Tuy Sereivathana has visited the US and Britain, even shaking hands with US President Barack Obama, yet in his home country of Cambodia he remains simply 'Uncle Elephant'. A lifelong advocate for elephants in the Southeast Asian country, Sereivathana's work has allowed villagers and elephants to live side-by-side. Working with Fauna and Flora International (FFI) he has successfully brought elephant-killing in Cambodia to an end. As if this were not enough, Sereivathana has helped curb the destruction of forests in his native country and built four schools for children who didn't previously have formal education opportunities.
Asia's conversion of forests for industrial rubber plantations hurts the environment
(05/21/2009) Policies promoting industrial rubber plantations over traditional swidden, or slash-and-burn, agriculture across Southeast Asia may carry significant environmental consequences, including loss of biodiversity, reduction of carbon stocks, pollution and degradation of local water supplies, report researchers writing in Science. Conducting field work in the Xishuangbanna prefecture of China's Yunnan province and assessing broader regional trends, Alan Ziegler of the National University of Singapore and colleagues argue that policies favoring agricultural intensification over small-scale slash-and-burn have encouraged the rapid expansion of rubber plantations across more than 500,000 hectares (1,930 square miles) of montane forest in China, Laos, Thailand, Vietnam, Cambodia, and Myanmar. Despite widespread perception among authorities that "swidden cultivation is a destructive system that leads only to forest loss and degradation", the researchers found that the transition to industrial plantations has not necessarily been a boon to the environment.
War and conservation in Cambodia
(06/21/2009) The decades-long conflict in Cambodia devastated not only the human population of the Southeast Asian country but its biodiversity as well. The conflict led to widespread declines of species in the once wildlife-rich nation while steering traditional society towards unsustainable hunting practices, resulting in a situation where wildlife is still in decline in Cambodia, according to a new study from researchers with the World Wildlife Fund (WWF).
Cambodia could earn $100 million under climate deal
(11/06/2006) Cambodia could earn hundreds of millions of dollars through a global warming proposal under consideration this week at U.N. climate negotiations in Nairobi, Kenya. At talks last year in Montreal, a coalition of tropical developing countries lead by Papua New Guinea proposed a rainforest conservation compensation initiative whereby industrialized nations would pay them to protect their forests to offset heat-trapping gas emissions. After endorsements by the World Bank, the United Nations, and the United States, the plan will likely be discussed in greater detail at the Nairobi conference.