1,200 orangutans set for reintroduction into the wild in Indonesian Borneo will be immediately at risk from poaching and illegal logging, warned an orangutan welfare group.
As reported by AFP, the Centre for Orangutan Protection (COP) said that orangutans released into the forest of Muara Wahau in East Kalimantan will be sent into "a killing field" unless authorities take active measures to protect them.
"Without law enforcement and security guarantees from the government, releasing them to the forest is like sending them to a killing field," COP chief Hardi Baktiantoro was quoted as saying by AFP. "Almost all oil palm plantations or mining concessions in this country are heavily guarded by the military or police, so the same should apply to orangutan concessions because orangutans are state assets."
| | |
| --- | --- |
| | Orangutan in Borneo. Photo by: Rhett A. Butler. |
The 86,450 hectares (214,000 acres) of forest in Muara Wahau has suffered from encroachment, illegal logging, and poaching by local communities. Hardi said that COP found baby orangutans being illegally sold for up to 2.5 million rupiah ($280) each.
Orangutan populations have dropped precipitously over the past century due to habitat destruction and hunting. Less than 8,000 remain in Sumatra, while Borneo has around 50,000 of the red apes.
The release is planned by the Borneo Orangutan Survival (BOS) Foundation, which runs rehabilitation centers for orangutans injured, rescued from the illegal pet trade, and orphaned by poaching, logging, or plantation development.
"BOS Foundation has been doing the best they can for orangutans," said Hardi in a statement. "It has been engaging with ranges of efforts to conserve orangutans, right from saving to rehabilitating them."
Hardi noted that care for each orangutan at BOS's rehabilitation centers costs $3500 per year, while it had to pay $1.5 million for the permit to secure the release site in Muara Wahau.
"The incredibly high price still excludes guarantees of security for the forest and all of its biodiversity living inside it," he said. "For orangutans, the lack of government's contribution of securing the forest will serve as a policy to send the big apes into a killing zone. Muara Wahau is a forest zone with a massive forestry crimes."
Related articles
Rehabilitation not enough to solve orangutan crisis in Indonesia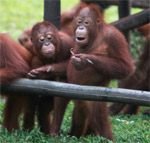 (08/20/2009) A baby orangutan ambles across the grass at the Borneo Orangutan Survival Foundation's Nyaru Menteng rehabilitation center in Central Kalimantan, in the heart of Indonesian Borneo. The ape pauses, picks up a stick and makes his way over to a plastic log, lined with small holes. Breaking the stick in two, he pokes one end into a hole in an effort to extract honey that has been deposited by a conservation worker. His expression shows the tool's use has been fruitful. But he is not alone. To his right another orangutan has turned half a coconut shell into a helmet, two others wrestle on the lawn, and another youngster scales a papaya tree. There are dozens of orangutans, all of which are about the same age. Just outside the compound, dozens of younger orangutans are getting climbing lessons from the Borneo Orangutan Survival Foundation (BOS) staff, while still younger orangutans are being fed milk from bottles in a nearby nursery. Still more orangutans—teenagers and adults—can be found on "Orangutan Island" beyond the center's main grounds. Meanwhile several recently wild orangutans sit in cages. This is a waiting game. BOS hopes to eventually release all of these orangutans back into their natural habitat—the majestic rainforests and swampy peatlands of Central Kalimantan, on the island of Borneo. But for many, this is a fate that may never be realized.
Orangutan guerrillas fight palm oil in Borneo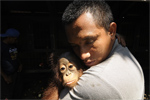 (06/01/2009) Despite worldwide attention and concern, prime orangutan habitat across Sumatra and Borneo continues to be destroyed by loggers and palm oil developers, resulting in the death of up to 3,000 orangutans per year (of a population less than 50,000). Conservation groups like Borneo Orangutan Survival report rescuing record numbers of infant orangutans from oil palm plantations, which are now a far bigger source of orphaned orangutans than the illicit pet trade. The volume of orangutans entering care centers is such that these facilities are running out of room for rescued apes, with translocated individuals sometimes waiting several months until suitable forest is found for reintroduction. Even then they aren't safe; in recent months loggers have started clearing two important reintroduction sites (forests near Bukit Tigapuluh National Park in Sumatra and Mawas in Central Kalimantan). Meanwhile across half a dozen rehabilitation centers in Malaysia and Indonesia, more than 1,000 baby orangutans—their mothers killed by oil palm plantation workers or in the process of forest clearing—are being trained by humans for hopeful reintroduction into the wild, assuming secure habitat can be found. Dismayed by the rising orangutan toll, a grassroots organization in Central Kalimantan is fighting back. Led by Hardi Baktiantoro, the Center for Orangutan Protection (COP) has mounted a guerrilla-style campaign against companies that are destroying orangutan habitat in Kalimantan, the Indonesian part of Borneo.