Japan's dolphin hunt of Dall's porpoise (Phocoenoides dalli) could be making people sick, according to a new study by the Environmental Investigation Agency (EIA) and Campaign Whale. The controversial hunt, which kills some 15,000 dolphins annually, produces cheap meat-for-consumption that on average contains over double Japan's limit on mercury contamination.
"We are very concerned that people in Japan are threatening their health and possibly that of their children by unwittingly eating Dall's porpoise meat that is dangerously contaminated with poisons such as mercury and PCBs," Andy Ottaway, Director of Campaign Whale, said in a press release.
Analyzing 12 samples of commercially-sold Dall's porpoise meat and blubber, the EIA and Campaign Whale found that 11 of the 12 samples were above Japan's limits of mercury (0.4 parts per millions (ppm)) and methyl-mercury (0.3 ppm). On average, the meat and blubber had a mercury content of 1.1 ppm, almost three times the limit.
| | |
| --- | --- |
| | Dall's porpoise meat for sale commercially in Japan.. Photo courtesy of EIA. |
"Customers are never warned that [Dall's porpoise meat] contain(s) high levels of mercury. In fact, they are encouraged to eat a lot," says Clare Perry, EIA Senior Campaigner, who points out that beef is three times more expensive than Dall's porpoise meat in Japan.
The hunt itself has been dubbed "clearly unsustainable" by the Scientific Committee of the International Whaling Commission (IWC). Killed by hand-thrown harpoons in northern Japan, the hunt for Dall's porpoise is the world's largest cetacean (dolphin and whale) hunt in the world. Despite anecdotal evidence that the Dall's porpoise population is declining in the region, the quota has remained steady at some 15,000 animals annually.
Dall's porpoise is classified as Least Concern by the IUCN Red List, which states that the hunt in Japan, and a smaller hunt in Russia, has not yet impacted the overall species, which is found in 11 distinct populations in the northern Pacific.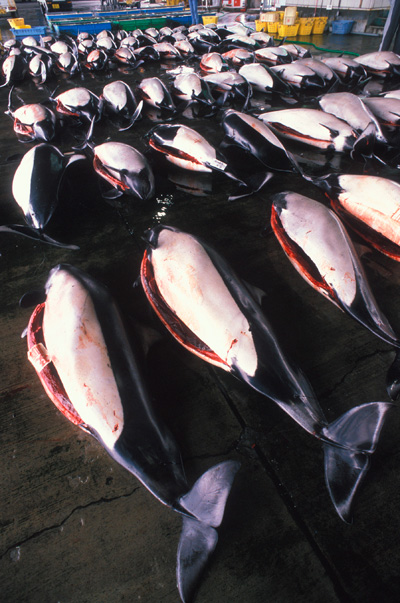 Killed Dall's porpoises in Japan. Photo courtesy of EIA.
Related articles
Slaughter of dolphins and whales begins in cove made famous by film
(09/09/2009) Japan Probe reports that the annual dolphin slaughter by fishermen in the Japanese town of Taiji has begun. The hunt was delayed by the presence of Japanese and foreign press in the cove during the first days when the hunt was supposed to begin.
A new reason to ban whaling: your health
(11/28/2008) Health officials have recommended a ban on the eating of pilot whales, a traditional food source, in the Faroe Islands, reports New Scientist. The build-up of toxins — which bioaccumulate up the food chain as predators feed on tainted organisms — have rendered whale meat harmful to humans.
Japan cancels plan to kill 50 humpback whales
(12/21/2007) Japan has canceled highly controversial plans to kill 50 humpback whales for purported "scietific purposes" (the meat is sold in fish markets) after widespread condemnation from environmentalists and governments. .