Cargill has not suspended its relationship with a palm oil company recently exposed for misleading investors and buyers on its environmental transgressions, reports the Rainforest Action Network (RAN), an activist group campaigning against environmentally-damaging forms of palm oil production.


On August 16 Cargill said it would continue buying from PT Smart, a palm oil grower that had been accused by Greenpeace of destroying rainforests and peatlands in Indonesian Borneo. Cargill made the announcement after PT Smart's parent company Golden Agri Resources (controlled by Sinar Mas) issued a report claiming an audit had cleared it of environmental wrong doing. But three days later, BSI, the auditor involved in the assessment, distanced itself from claims made in the report, releasing a statement noting that PT Smart had indeed engaged in clearing of forests and peatlands in violation of Indonesian law.


"It has come to the attention of BSI Group (BSI) that following the publication of the report 'BSI-CUC Verifying Greenpeace Claims Case: PT SMART Tbk' on 10 August 2010, there have been elements of the report that have been misreported as it has been published and presented," the statement read.
"There was planting on deep peat (> 3 m) in two estates from 2005 – 2008 which is in breach of the Presidential Decree with regards to deep peat issued in 1990. This also contravened SMART's own operating instructions," it said.
| | |
| --- | --- |
| | Cleared peatland – as shown here in PT Kartika Prima Cipta's palm oil concession close to Lake Sentarum National Park, West Kalimantan. © Rante/Greenpeace |
"In Central Kalimantan, all concessions examined were found to have carried out land clearance before the environmental impact assessment was approved."


Since BSI revelations, Cargill has not moved to drop Sinar Mas as a supplier, despite an earlier pledge to do so if the company was found to be destroying rainforests. RAN says this lack of action constitutes a "broken promise" by Cargill.


"Despite this announcement making clear Sinar Mas' culpability for rainforest destruction, Cargill is failing to keep its promise, which was to drop Sinar Mas as a supplier if the company was found to be destroying rainforests," RAN said in a statement. "Cargill's lack of action on Sinar Mas is likely to disappoint several U.S. companies, including General Mills, Kraft and Nestle, who have been actively seeking a responsible source of palm oil."


"It's now clear that Greenpeace's evidence against PT SMART was justified, and that Sinar Mas remains a controversial supplier," said Ashley Schaeffer of Rainforest Action Network (RAN). "Cargill sells to most of America's food companies and their palm oil is everywhere in U.S. grocery stores. Other companies are relying on Cargill to start supplying sustainable palm oil to the US market. This announcement by Cargill is a sign that they'll have to look elsewhere."


The confirmation of forest and peatlands destruction by a Sinar Mas subsidiary has cast a shadow over the Roundtable on Sustainable Palm Oil (RSPO), a body that has devised green certification standards for palm oil. PT Smart is an RSPO member and claims to be abiding by its rules. But the BSI audit has demonstrated otherwise. Now WWF, an environmental group that has been engaging Cargill on palm oil sustainability and a chief sponsor of RSPO, has issued a word of warning to palm oil buyers.


"Companies buying palm oil need to be aware that the only way to ensure sustainable sourcing is to buy certified sustainable palm oil from companies that have been assessed against the RSPO standards," reads the WWF statement.


"Buying from RSPO members is not enough," it continued, alluding to the issue that palm oil companies can claim RSPO membership without actually supplying certified sustainable palm oil.


Cargill did not immediately respond to mongabay.com's request for comment.

UPDATE: Susan Eich, Director of Corporate Responsibility Communications for Cargill, emailed the following on Friday, August 27.

RAN is misrepresenting Cargill's position on PT SMART (Sinar Mas).

Since the allegations were originally made by Greenpeace about PT SMART, Cargill has consistently stated that if the allegations were proven correct and PT SMART did not take corrective action we would delist it as a supplier.



We are encouraged PT SMART has acknowledged areas of non-compliance with the RSPO and its own company policies, that it has committed to taking corrective actions and to strengthening its standard operating procedures to address these.

SMART has committed to rectify the issue, identified in their audit, and getting all their plantations RSPO certified by 2015. We will be speaking with PT SMART and Golden Agri-Resources to understand in more detail their plans and timeframe for implementing corrective actions. We look forward to seeing progress by them on their commitments.
Related articles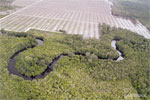 Fraud allegations against Indonesian palm oil giant widen, tarnishing auditors and sustainable palm oil initiative

(08/19/2010) Sinar Mas, an Indonesian conglomerate whose holdings include Asia Pulp and Paper, a paper products brand, and PT Smart, a palm oil producer, was sharply rebuked Wednesday over a recent report where it claimed not to have engaged in destruction of forests and peatlands. At least one of its companies, Golden Agri Resources, may now face an investigation for deliberately misleading shareholders in its corporate filings.