Tourists, conservationists, individuals, and tour companies have launched an international outcry against the Tanzanian authorities in response to the announcement of the planned construction of the trans-Serengeti Highway highway. There is even a Facebook group and an online petition with 5,038 signatures. But the government has responded by saying that the plans are still on course.
In a recent interview, the Tanzanian Minister for Natural Resources and Tourism, Shamsa Mwangunga, made it clear that the decision is simply to fulfill a campaign promise made by President Jakaya Kikwete in 2005, that the fourth phase administration would complete construction of the $480 million Arusha-Musoma road. She said the main reason for constructing the road connecting Arusha-Musoma was to satisfy public interests – the current option is a 418km route that skirts around the southern end of the Serengeti National Park.
| | |
| --- | --- |
| | Driving through the Serengeti migration. Photo courtesy of WildlifeDirect. |
Conservationists argue that this northern part of the Serengeti is untouched and should remain so. A massive road through the area will physically block the migration, introduce invasive species, and lead to greater poaching – ultimately killing the migration altogether. Clearly perturbed by the public outcry, Ms. Mwangunga retorted that, "those criticising the road construction know nothing about what we've planned…We're all keen to preserve our natural resources…We'll never compromise on that".
She claims that the road, which would link Serengeti-Loliondo districts with the national grid of major roads, will not cut cross the Serengeti National Park but would be routed in a manner that will not affect wildlife migration patterns. This she says, will be achieved by having only an unpaved 40-mile stretch of the two-lane tarmac road passing through the national park.
But world renowned conservationist and ex-politician, Richard Leakey is not convinced "We must remember, that the purpose of this highway is to grow the towns of Mwanza and Musoma on Lake Victoria," he stated in an interview on WildlifeDirect's Baraza blog.
"A dirt track may suffice today-afterall, the populations of these towns are only about half a million people each. Projecting forwards say 50 years, and thanks to the new roads, these towns will become cities of 3–4 million people each. The Tanzanians should not be assessing the impact of a narrow strip of road as we envision it today, it will not be a narrow strip of road in 30 or 40 years, that's for sure. There will be a railway line that will parallel it, and there will probably be a 6 lane highway in each direction. This, for certain, will kill the migration."
| | |
| --- | --- |
| | Wildebeest ford the Mara River. Photo courtesy of WildlifeDirect. |
Leakey contends that if that road becomes too difficult to cross because of a continuous line of traffic in either direction, the wildebeest won't make the crossing, and they will be turned back in fear of the road. If the animals cannot complete their migration they will be forced to overgraze their existing range in Tanzania and this will lead to a population crash, and the migration will disappear for all time.
It is unfortunate that the Tanzanian authorities are fighting conservationists over the proposed development instead of realizing that the wildebeest migration is necessarily an integral part of the future development plans of the region. The migration already attracts tens of millions of dollars in tourism revenues for Tanzania, this will continue to grow if the migration is intact, especially with the opening up of the East African community and co-marketing with Kenya.
| | |
| --- | --- |
| | Richard Leakey. Photo courtesy of WildlifeDirect. |
Two alternative routes have been proposed that would allow the movement of trade to western Tanzania by going south of the Serengeti and North into Kenya. It will be longer, and more expensive, but funds should not be a barrier given the importance of the migration. In addition Leakey suggests the Tanzanians consider an elevated road as it crosses the Serengeti so that the animals could move freely below it. Such a road would also become an important means for tourists to visit the Serengeti thus increasing tourism revenues.
It is unfortunate that the Tanzanian government is squandering it's globally recognized conservation friendly reputation which started with the recognition of efforts by their first president Julius Nyerere.
"In accepting the trusteeship of our wildlife we solemnly declare that we will do everything in our power to make sure that our children's grand-children will be able to enjoy this rich and precious inheritance." – Dr. Julius K. Nyerere
"It is a responsibility of the Tanzanian government to play it's role in protecting the countries natural resource asset base for future generations, and by deliberately taking an action that could degrade one of the great spectacles of wildlife on the planet is a very heavy responsibility," Says Richard Leakey.
He urges the Tanzanian government and the financial agency that is backing this scheme to think very carefully about the implications of the road in the next 50 to 100 years, rather than making short sighted political decisions that will have permanent impacts on the environment.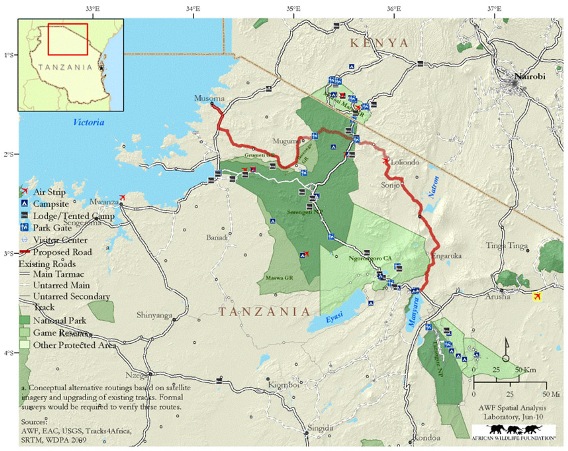 The proposed road would cut through the northern end of Tanzania's Serengeti. AWF has proposed a southern route circumventing the ecosystem in its entirety. Map by the African Wildlife Foundation (AWF). Click to enlarge.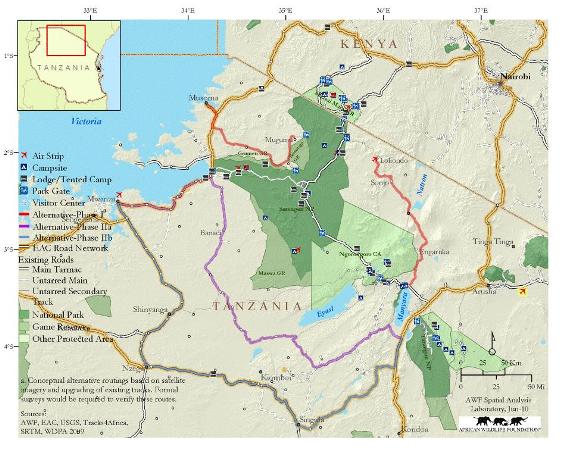 AWF's proposed alternative. Map by the African Wildlife Foundation (AWF). Click to enlarge.
Related articles
Migrations of large mammals in serious declines, six have vanished entirely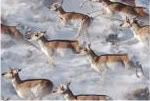 (06/03/2009) Watch any nature documentary and it's sure to include pulse-pounding footage of large herbivores migrating across African plains, Asian steppe, or the Arctic tundra. The images have become iconic: wildebeest forging a crocodile-inhabited river, caribou breaking through snow fields, Saiga running over tall grass. Despite such images of plenty, migrations are declining across the world, and in six cases have disappeared entirely.
Famous Kenyan park experiencing large declines in wildlife

(04/21/2009) In Masai Mara, one of Africa's most treasured parks, researchers have found significant, in some cases catastrophic, declines of wild grazing animals. In fifteen years six of seven hoofed animals—giraffes, warthogs, hartebeest, impala, topis and waterbucks—showed declines. The study published in the British Journal of Zoology confirms what has long been expected: wildlife populations in Masai Mara are plummeting due to increased competition with humans and livestock.
Co-management of conservation areas offers multiple benefits
(12/01/2008) The Serengeti (Tanzania, East Africa)—one of the flagship conservation areas of the world—is the focus of a new paper published in the December issue of Tropical Conservation Science by Jafari R Kideghesho and Paul E Mtoni. The authors argue that conservation in the Serengeti needs to be approached as co-management involving sharing of power, responsibilities, and rights and duties between the government and local resource users. They advocate for intensive community involvement and reactivation of local traditional institutions in co-management approaches.
Conserving wildlife in Tanzania, Africa's most biodiverse country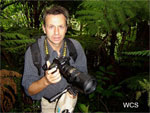 (11/09/2006) With ecosystems ranging from Lake Tanganyika to Mt. Kilimanjaro, Tanzania is the most biodiverse country in Africa. Though Tanzania is world famous for its safari animals, the country is also home to two major biodiversity hotspots: coastal forests of Eastern Africa and the montane forests of the Eastern Arc Mountains. Tanzania has set aside nearly a quarter of its land mass in a network of protected areas and more than one-sixth of the country's income is derived from tourism, much of which comes from nature-oriented travel. Despite these conservation achievements, Tanzania's wildlands and biodiversity are not safe. Fueled by surging population growth and poverty, subsistence agriculture, fuelwood collection, and timber extraction have fragmented and degraded extensive areas that are nominally protected as parks. Hunting and unsustainable use of forest products have further imperiled ecosystems and species. In the near future, climate change looms as a major threat not only to Mt. Kilimanjaro's glaciers, which are expected to disappear within ten years, but also to Tanzania's many endemic plants and animals found in its montane forests. Working to better understand these threats and safeguard Tanzania's biodiversity for future generations is Tim Davenport, Country Director for the Wildlife conservation Society (WCS) in Tanzania.