While rates of forest loss in the Brazilian Amazon have been on the decline since 2004, the incidence of fire is increasing in the region, undermining some of the carbon emissions savings of reduced deforestation rates, report researchers writing in the journal Science.
Fire is widely used in the Amazon as a means to manage land, including to clear vegetation for intensive agriculture (e.g. soy cultivation) and cattle ranching. But fires—which are naturally rare in the Amazon—are prone to escape into adjacent forest areas, especially during dry months when most burning occurs. Some scientists expect drying in the region to worsen as ocean temperatures in the tropical Atlantic rise due to climate change, increasing fire risk. For example increased surfaced temperatures in the tropical Atlantic Atlantic in 2005 triggered the worst drought on record in the Amazon. Rivers dried up, communities were stranded, and tens of thousands of fires raged across thousands of square miles (kilometers) of Amazonia. Researchers estimate the 2005 event released 5 billion tons of carbon dioxide into the atmosphere or more than the combined annual emissions of Japan and Europe. In normal years the Amazon is a net sink for 2 billion tons of CO2.

Tree death caused by understory fire as evidence of fire leakage from surrounding farms
into the edge of an Amazonian forest in Mato Grosso state, southeast Amazonia. Photo by Luiz Aragão
Given the damage wrought by fire management and trends toward increased burning, a number of prominent Amazon scientists have called for strengthening of fire policy in Brazil. Now a new paper by Luiz Aragão of the University of Exeter and Yosio E. Shimabukuro of Brazil's National Institute for Space Research (INPE) argues that REDD, a global plan to reduce deforestation and forest degradation, must include measures to eliminate the use of fire from land management in the Amazon. The authors note that fire occurrence rates in the Amazon have increased in 59% of areas that have reduced deforestation.
"Changes in fire frequency could jeopardize the benefits achieved through UN-REDD as trends in fires are the opposite to trends in deforestation. However despite UN-REDD's vital importance in this region, fire is currently neglected in the emerging UN framework," said Aragão in a statement.
"We need to change the way Amazonian people use and manage their land so that they can do this without fire. They would need financial assistance for machinery, training and technical support to enable them to comply with implementation and maintenance of fire-free management of their land."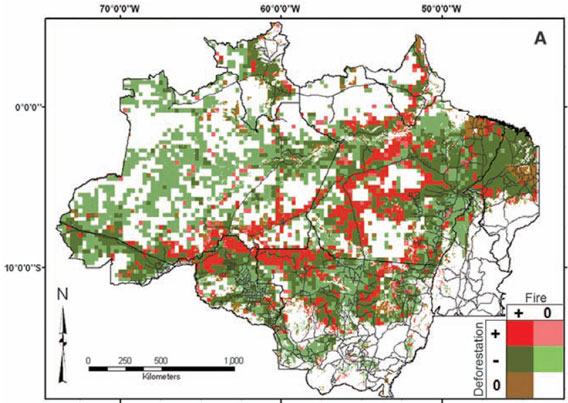 Red cells indicate increased trend in both
deforestation and fires; dark green cells indicate decreased deforestation rates and increased fire
incidence trends. Note the high concentration of fires along roads. Image courtesy of Aragão and Shimabukuro (2010).
Aragão and Shimabukuro estimate that an organized fire policy in the Brazilian Amazon could reduce the incidence of fire by nearly 70 percent, significantly cutting carbon emissions. Such a policy could help the Brazilian government meet its ambitious emissions reductions target for 2020, which includes a goal of reducing Amazon deforestation rates by roughly 70 percent. The plan will be partly financed by foreign donors, whom are expected to make contributions based on Brazil's performance in reducing emissions.
The authors conclude by noting that a failure to adopt an effective fire policy could jeopardize these funds for Brazil as well as REDD programs in other tropical countries.
"Failure to tackle fire use in this region may discourage investors and donors within the REDD framework because of the risk that gains through deforestation reduction may be outweighed by carbon losses resulting from fire."
CITATION: Luiz Aragão and Yosio Shimabukuro. The Incidence of Fire in Amazonian Forests with Implications for REDD. SCIENCE VOL 328 4 JUNE 2010
Related articles
Mysterious decline of small mammals in Bolivia may be linked to burning Amazon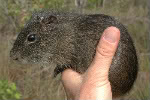 (04/19/2009) During ten years surveying small mammal populations in Bolivia's cerrado, Dr. Louise Emmons with the Smithsonian Institute found that the mammals were suffering precipitous declines, even local extinctions. After ruling out the usual suspects—local fires, rainfall, and flooding—Emmons formed a novel hypothesis regarding the decline. Could a sudden lack of nighttime dew caused by the burning of the Amazon be the cause of the mammal decline?
Drought threatens the Amazon rainforest as a carbon sink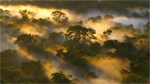 (03/05/2009) Drought in the Amazon is imperiling the rainforest ecosystem and global climate, reports new research published in Science. Analyzing the impact of the severe Amazon drought of 2005, a team of 68 researchers across 13 countries found evidence that rainfall-starved tropical forests lose massive amounts of carbon due to reduced plant growth and dying trees. The 2005 drought — triggered by warming in the tropical North Atlantic rather than el Niño — resulted in a net flux of 5 billion tons of carbon dioxide (CO2) into the atmosphere — more than the combined annual emissions of Japan and Europe — relative to normal years when the Amazon is a net sink for 2 billion tons of CO2.
Smoke from Amazon fires reduces local rainfall
(08/14/2008) Smoke released by fires set to clear the Amazon rainforest inhibit the formation of clouds, thereby reducing rainfall, report researchers writing in the journal Science. The study provides clues on how aerosols from human activity influence cloud cover and ultimately affect climate.
Fire monitoring by satellite becomes key conservation tool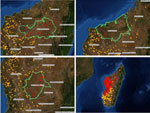 (03/26/2008) Remote sensing is increasingly used as a tool for conservation management. Beyond traditional satellite imagery popularized by Google Earth, new sensing applications are allowing researchers located anywhere in the world to track fires, illegal logging and mining, and deforestation in some of Earth's most isolated regions using a computer or handheld device. The Fire Alert System is one example of an application that is harnessing the power of satellites to deliver key data to conservation managers. Developed by Madagascar's ministry of Environment, the International Resources Group, conservation International using data from the University of Maryland and NASA, the Fire Alert System enables near real-time monitoring of fires anywhere on the island of Madagascar, a hotspot of biological diversity. The system, which sends subscribers regular email alerts on newly-detected burning, will eventually be expanded to include all the world's protected areas, allowing managers to detect not only fires but potentially related activities like road building, logging, and even hunting.
Small fires a big threat to Amazon rainforest biodiversity
(02/27/2008) Small fires have a big impact in the Amazon rainforest, report researchers writing in Philosophical Transactions of the Royal Society B. The findings suggest a dire future for Earth's largest rainforest.
Global warming – not el Nino – drove severe Amazon drought in 2005
(02/20/2008) One of the worst droughts on record in the Amazon was caused by high temperatures in the Atlantic rather than el Nino. The research, published in Philosophical Transactions of the Royal Society B, suggests that human-driven warming is already affecting the climate of Earth's largest rainforest.
Fire policy is key to reducing the impact of drought on the Amazon
(02/19/2008) Gaining control over the setting of fires for land-clearing in the Amazon is key to reducing deforestation and the impact of severe drought on the region's forests, write researchers in a paper published in Philosophical Transactions of the Royal Society B.
Subtle threats could ruin the Amazon rainforest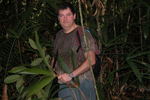 (11/07/2007) While the mention of Amazon destruction usually conjures up images of vast stretches of felled and burned rainforest trees, cattle ranches, and vast soybean farms, some of the biggest threats to the Amazon rainforest are barely perceptible from above. Selective logging — which opens up the forest canopy and allows winds and sunlight to dry leaf litter on the forest floor — and 6-inch high "surface" fires are turning parts of the Amazon into a tinderbox, putting the world's largest rainforest at risk of ever-more severe forest fires. At the same time, market-driven hunting is impoverishing some areas of seed dispersers and predators, making it more difficult for forests to recover. Climate change — an its forecast impacts on the Amazon basin — further looms large over the horizon.
2007 Amazon fires among worst ever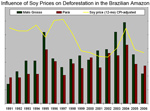 (10/22/2007) By some measures, forest fires in the Amazon are at near-record levels, according to analysis Brazilian satellite data by mongabay.com. A surge in soy and cattle prices may be contributing to an increase in deforestation since last year. Last year environmentalists and the Brazilian government heralded a sharp fall in deforestation rates, the third consecutive annual decline after a peak in 2004. Forest loss in the 2006-2007 season was the lowest since record-keeping began in the late in 1970s. While the government tried to claim credit for the drop, analysts at the time said that commodity prices were a more likely driver of slow down: both cattle and soy prices had declined significantly over the previous months.
Can cattle ranchers and soy farmers save the Amazon?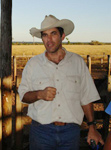 (06/06/2007) John Cain Carter, a Texas rancher who moved to the heart of the Amazon 11 years ago and founded what is perhaps the most innovative organization working in the Amazon, Alianca da Terra, believes the only way to save the Amazon is through the market. Carter says that by giving producers incentives to reduce their impact on the forest, the market can succeed where conservation efforts have failed. What is most remarkable about Alianca's system is that it has the potential to be applied to any commodity anywhere in the world. That means palm oil in Borneo could be certified just as easily as sugar cane in Brazil or sheep in New Zealand. By addressing the supply chain, tracing agricultural products back to the specific fields where they were produced, the system offers perhaps the best market-based solution to combating deforestation. Combining these approaches with large-scale land conservation and scientific research offers what may be the best hope for saving the Amazon.