Rescued sun bears in Sabah, Borneo are getting a new home this week. The Bornean Sun Bear Conservation Center (BSBCC) has finished Phase 1 of its construction of a new home for the bears. Eventually the center will include visitor facilities and observation gallery where tourists will have the chance to watch the bears. For now, though, the bears will enjoy brand new state-of-the-art facilities and, for the first time, access to a pristine forest.
"For most of these bears, it will be their first 'home-coming' into the forest since their captivity into the pet trade at infancy," writes Siew Te Wong, head of the BSBCC, in his blog at Wildlife Direct.
Given that the sun bear is the world's smallest and sports an attractive yellow marking on its chest—hence its name—it is perhaps surprising that the bear isn't better known by the public and has been long-ignored by most conservation groups. BSBCC hopes a visitor center will give the public more knowledge and appreciation for this species, which is classified as Vulnerable by the IUCN Red List.
| | |
| --- | --- |
| | Remarkably adept tree climbers, sun bears like hanging out in high place. Photo courtesy of Siew Te Wong. |
The sun bears cared for by BSBCC were illegally stolen from the forest as infants for the pet trade. They were eventually confiscated by authorities and handed over to Wong for care and, hopefully for some of the bears, full rehabilitation and re-release.
BSBCC is now raising funds for phase 2 of the project, which will include the tourist facilities and an observation deck. Estimated at 300,000 USD, donations to the project will be matched by the Sabah government.
Adjacent to world famous Sepilok Orang Utan Rehabilitation Sanctuary, the new facility will allow visitors not only to view little-seen in the wild sun bears, but also to learn about their ecology and the threats to their survival, such as deforestation, the pet trade, and hunting for food and traditional medicines, including sun bear paws and their bile.
The BSBCC is a joint project between the Sabah Wildlife Department (SWD), Sabah Forestry Department (SFD), and non-profit organization LEAP (Land Empowerment Animals People), which has been instrumental in raising funds for the BSBCC.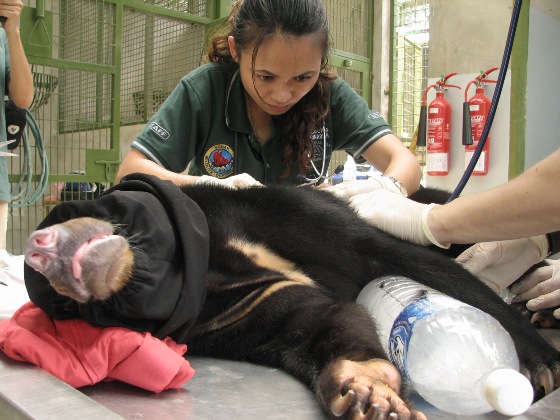 Sun bear being treated for a wound during move. Photo courtesy of Siew Te Wong.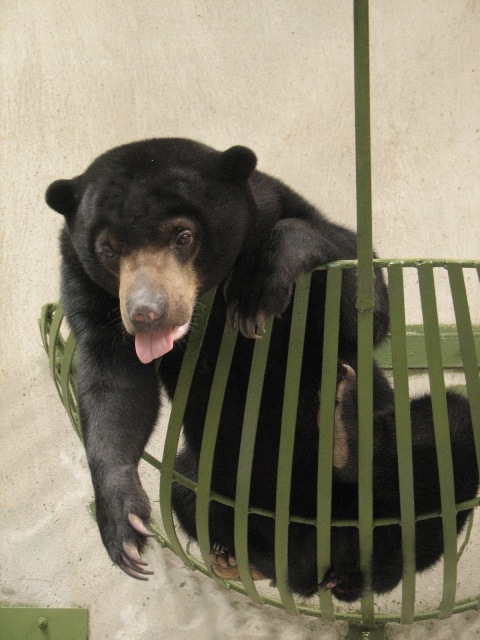 Enjoying new facility. Photo courtesy of Siew Te Wong.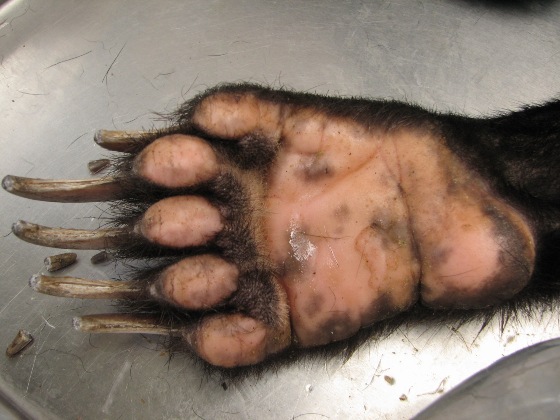 Long claws allow sun bears to scale giant rainforest trees for food and shelter. Photo courtesy of Siew Te Wong.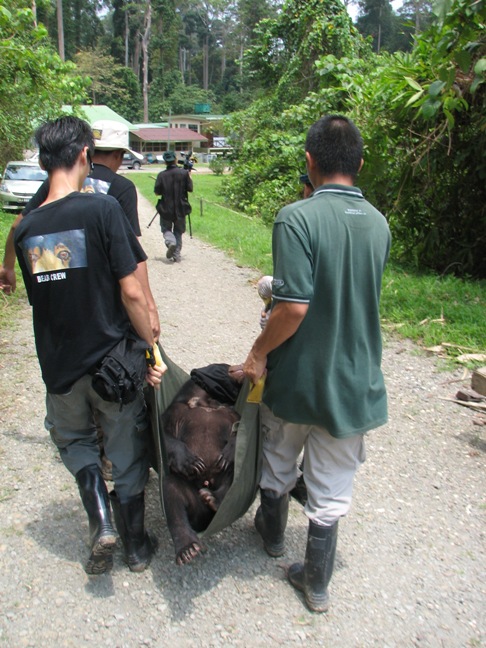 Carrying sun bear from old facility to new one. Photo courtesy of Siew Te Wong.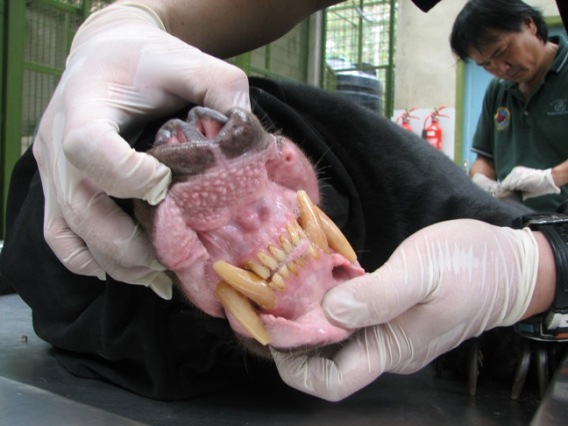 Checking teeth. Photo courtesy of Siew Te Wong.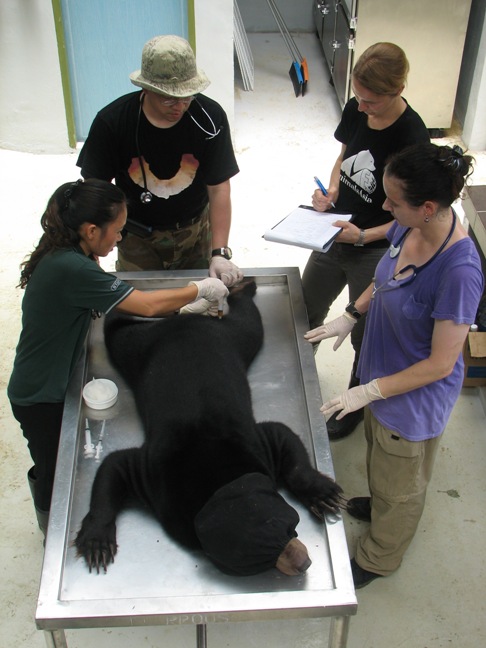 Each bear has a check-up during move. Photo courtesy of Siew Te Wong.
Related articles
Logging, wildlife trade drive sun bears toward extinction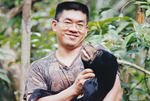 (09/25/2008) Industrial logging, large-scale forest conversion for oil palm plantations, and the illegal wildlife trade have left sun bears the rarest species of bear on the planet. Recognizing their dire status, Siew Te Wong, a Ph.D. candidate at the University of Montana, is working in Malaysia to save the species from extinction. Known as "Sun Bear Man" in some circles, Siew Te Wong is setting up the Bornean Sun Bear Conservation Centre (BSBCC) in Sabah, a Malaysian state on the island of Borneo. The project aims to save sun bears, which have largely overlooked by conservationists, through research, education, rehabilitation, and habitat conservation.
Video: rare footage of the sun bear, the world's smallest, making a nest in the canopy
(12/06/2009) Sun bear expert, Siew Te Wong, has captured rare footage of the world's smallest bear making a nest high in the canopy. The sun bear in the video is a radio-collared individual that Wong is keeping tabs on in Borneo.
Sun Bears reclassified by IUCN as Vulnerable
(11/13/2007) The world's smallest bear has been recently classified as vulnerable by the IUCN due to habitat loss and poaching. Co-chair of the IUCN Bear Specialist Group, Dave Garshelis, states that "although we do not have any reliable population estimates for the sun bear, or any of the other Asian bears for that matter, we fear that bears in Southeast Asia are declining at a particularly rapid rate due to extensive loss of forest habitat combined with rampant poaching."