Malaysia and China have agreed to an $11 billion deal that will turn a vast area of Sarawak, a Malaysian state in northern Borneo, into an industrial corridor for mining and energy development, reports The Financial Times.
The suite of projects includes at least four hydroelectric dams (up to 28,000MW of power), aluminum-smelting and steel plants, coal mines (1.46 billion metric tons), and natural gas development (nearly 41 billion cubic feet), according the state government.
The scheme is expected to drive industrial development in a part of Malaysia that is still largely undeveloped — nomadic tribes and rare wildlife still stalk rainforests in the area. Environmentalists say the projects will displace indigenous groups and destroy important ecosystems, endangered biodiversity and contributing to Malaysia's surging greenhouse gas emissions. Some critics argue the plan also marks a move away from technology and knowledge-based industries of peninsular Malaysia, towards energy-intensive extractive industries. But with Malaysia reeling from an exodus of capital over the past two years, the projects have strong support at the state and federal levels. Officials hope the plan will attract foreign investment to the region.
Related articles
Dams a 'monument of corruption': Baru Bian, new leader of Sarawak's People's Justice Party
(01/12/2010) In an interview with the Bruno Manser Fond, the new leader of the Malaysian state Sarawak's People's Justice Party (PKR), Baru Bian, spoke out against the state government's plans for mega-dams in the middle of the rainforest, as well as continued rainforest destruction and corruption.
Coal plant could damage rainforest reserves, coral reefs, palm oil plantations in Malaysian Borneo
(12/20/2009) A proposed coal-fired power plant in Malaysian Borneo could damage the region's world-renowned coral reefs, pollute air and water supplies, open Sabah's biodiverse rainforests to mining, and undermine the state's effort to promote itself as a destination for "green" investment and ecotourism, warn environmentalists leading an effort to block the project. The scheme, which is backed by the federal Tenaga Nasional Berhad and state energy company, Sabah Electricity Sdn. Bhd, has faced strong opposition and already been forced to re-locate twice since it was conceived more than two years ago. The 300-MW plant is now planned for a coastal area that is situated in the middle of the Coral Triangle/Sulu Sulawesi Marine Ecoregion, an area renowned for astounding levels of biodiversity.
Power, profit, and pollution: dams and the uncertain future of Sarawak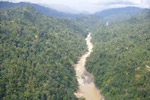 (09/03/2009) Sarawak, land of mystery, legend, and remote upriver tribes. Paradise of lush rainforest and colossal bat-filled caves. Home to unique and bizarre wildlife including flying lemurs, bearcats, orang-utans and rat-eating plants. Center of heavy industry and powerhouse of Southeast Asia. Come again? This jarring image could be the future of Sarawak, a Malaysian state on the island of Borneo, should government plans for a complex of massive hydroelectric dams comes to fruition. The plan, which calls for a network of 12 hydroelectric dams to be built across Sarawak's rainforests by 2020, is proceeding despite strong opposition from Sarawak's citizens, environmental groups, and indigenous human rights organizations. By 2037, as many as 51 dams could be constructed.