The Obama administration squandered a chance this week to show U.S. leadership on climate and forest conservation issues, when Secretary of State Hillary Clinton, during a visit to Jakarta, failed to bring up a new Indonesian government decree allowing conversion of carbon-rich peat forests to oil-palm plantations.
Scientists say the decree, which apparently met the approval of Indonesia's Ministry of the Environment on Wednesday, will result in massive greenhouse gas emissions from the degradation and destruction of peatland ecosystems, which in some years can be the source of up to 8 percent of global CO2 emissions. Draining peat soils to a depth of 60-80 cm as allowed under the decree will release 60-75 tons of carbon per hectare per year, according to Alex Kaat of Wetlands International. Some 2 million hectares of peatlands across Indonesia qualify for conversion, indicating that if fully converted, the decree could result in annual emissions 120-150 million tons of CO2 — the equivalent of adding another Netherlands or Pakistan. Planting the land with oil palm will make only a small dent in the carbon deficit since plantations sequester far less carbon than natural forests. Dr. Susan Page of the University of Leicester estimates that one ton of palm oil produced on peatland results in 15 to 70 tons of emissions over the 25-year lifecycle of a plantation.
| | |
| --- | --- |
| | Healthy forest and recently cleared forest adjacent to Tanjung Puting National Park in Kalimantan (Indonesian Borneo). Photos Rhett Butler |
At this point it is still unclear whether the decree is meant to actually boost palm oil production and appease political interests ahead of elections or simply a ruse to increase Indonesia's potential earnings under a carbon finance mechanism that rewards countries for reducing emissions from deforestation and degradation (to "reduce emissions" a forest needs to be imminently threatened — i.e. concessioned). Regardless, the Obama administration, with the President's popularity in Indonesia, missed a golden opportunity to show the U.S. is serious about its commitment to addressing climate change.
The United States and Indonesia are respectively the second and third largest greenhouse gas emitters. More than 80 percent of Indonesia's emissions result from deforestation and destruction of peatlands rather than the burning of fossil fuels.
Related Articles
Indonesia confirms that peatlands will be converted for plantations
(02/19/2009)
Indonesia's Minister for the Environment has approved a decree that will allow the conversion of carbon-rich peatlands for oil palm plantations, reports The Jakarta Post.
New model uses carbon credits, sustainable palm oil to save Indonesia's rainforests
(02/05/2009)
The World Resources Institute (WRI) has launched an innovative avoided deforestation model that aims to deter conversion of Indonesian rainforest for oil palm plantations. The project, dubbed "POTICO" (Palm Oil, TImber, Carbon Offsets), integrates sustainable palm oil, FSC-certified timber, and carbon offsets in order to "divert new oil palm plantations onto degraded lands and bring the forests that were slated for conversion into certified sustainable forestry".
Palm oil may be single most immediate threat to the greatest number of species
(01/26/2009)
Efforts to slow the rapid expansion of oil palm plantations at the expense of natural forests across Southeast Asia are being hindered by industry-sponsored disinformation campaigns, argue scientists writing in the journal Trends in Ecology and Evolution. The authors, Lian Pin Koh and David S. Wilcove, say that palm oil may constitute the "single most immediate threat to the greatest number of species" by driving the conversion of biologically rich ecosystems — including lowland rainforests and peatlands.
Degraded grasslands better option for palm oil production relative to rainforests, finds study
(12/03/2008)
Producing biofuels from oil palm plantations established on degraded grasslands rather than tropical rainforests and peat lands would result in a net removal of carbon from the atmosphere rather than greenhouse gas emissions, report researchers writing in Conservation Biology. The results confirm that benefits to climate from biofuel production depend greatly on the type of land used for feedstocks.
Oil palm expansion in Indonesian Borneo increased 400-fold from 1991-2007
(10/30/2008)
Annual forest conversion to palm oil plantations increased 400-fold from 1,163 hectares in 1991 to 461,992 hectares in 2007 in Central Kalimantan, on the island of Borneo, reports a new report published by Forest Watch Indonesia, a local NGO.
Rainforest conversion to oil palm causes 83% of wildlife to disappear
(09/15/2008)
Conversion of primary rainforest to an oil palm plantation results in a loss of more than 80 percent of species, reports a new comprehensive review of the impacts of growing palm oil production. The research is published in the journal Trends in Ecology and Evolution.
Biofuels 200 times more expensive than forest conservation for global warming mitigation
(08/27/2008)
The British government should end subsidies for biofuels and instead use the funds to slow destruction of rainforests and tropical peatlands argues a new report issued by a U.K.-based think tank. The study, titled "The Root of the Matter" and published by Policy Exchange, says that "avoided deforestation" would be a more cost-effective way to address climate change, since land use change generates more emissions than the entire global transport sector and offers ancillary benefits including important ecosystem services.
Biofuels can reduce emissions, but not when grown in place of rainforests
(07/22/2008)
Biofuels meant to help alleviate greenhouse gas emissions may be in fact contributing to climate change when grown on converted tropical forest lands, warns a comprehensive study published earlier this month in the journal Environmental Research Letters. Analyzing the carbon debt for biofuel crops grown in ecosystems around the world, Holly Gibbs and colleagues report that "while expansion of biofuels into productive tropical ecosystems will always lead to net carbon emissions for decades to centuries… [expansion] into degraded or already cultivated land will provide almost immediate carbon savings." The results suggest that under the right conditions, biofuels could be part of the effort to reduce humanity's carbon footprint.
Half of oil palm expansion in Malaysia, Indonesia occurs at expense of forests
(05/20/2008)
More than half of the oil palm expansion between 1990 and 2005 Malaysia and Indonesia occurred at expense of forests, reports a new analysis published in the journal conservation Letters. Analyzing data from the United Nations Food and Agriculture Organization, Lian Pin Koh and David S. Wilcove of Princeton University found that 55-59 percent of oil palm expansion in Malaysia and at least 56 percent of that in Indonesia occurred at the expense of forests. Given that oil palm plantations are biologically impoverished relative to primary and secondary forests, the researchers recommend restricting future expansion to pre-existing cropland and degraded habitats.
Unilever calls for ban on rainforest destruction for palm oil
(05/01/2008)
Unilever, the world's largest consumer good company, will start using palm oil from certified sustainable sources this year and aims to have all its palm oil certified by 2015, according to a speech delivered today by CEO Patrick Cescau.
U.S. biofuels policy drives deforestation in Indonesia, the Amazon
(01/17/2008) U.S. incentives for biofuel production are promoting deforestation in southeast Asia and the Amazon by driving up crop prices and displacing energy feedstock production, say researchers. William Laurance, a senior scientist at the Smithsonian Tropical Research Institute in Panama, says that massive subsidies to promote American corn production for ethanol have shifted soy production to Brazil where large areas of cerrado grasslands are being torn up for soybean farms. The expansion of soy in the region is contributing to deforestation in the Amazon.
Is the oil-palm industry using global warming to mislead the public?
(11/23/2007)
Members of the Indonesian Palm Oil Commission are distributing materials that misrepresent the carbon balance of oil-palm plantations, according to accounts from people who have seen presentations by commission members. These officials are apparently arguing that oil-palm plantations store and sequester many times the amount of CO2 as natural forests, and therefore that converting forests for plantations is the best way to fight climate change. In making such claims, these Indonesian representatives evidently are ignoring data that show the opposite, putting the credibility of the oil-palm industry at risk, and undermining efforts to slow deforestation and rein in greenhouse gas emissions.
Environmentalists and palm oil producers should work together
(09/25/2007)
Environmentalists and palm-oil producers are increasingly at odds. Greens groups say palm oil is driving the conversion of tens of thousands of hectares of peatlands and lowland forest in Indonesia, putting wildlife at risk, increasing the vulnerability of forests to fires, and triggering large emissions of greenhouse gases.
Indonesia's peatlands may offer U.S. firms global warming offsets
(08/29/2007)
The following is modified version of a letter I've used to pitch U.S. companies on the concept of carbon finance in Indonesia's peatlands. Discussions are slow and the critical December U.N. climate meeting is fast approaching, so I'm posting this as a tool to help you get American firms interested in avoided deforestation offsets. Please feel free to use, modify, and distribute this letter widely.
Is peat swamp worth more than palm oil plantations?
(07/16/2007)
Could peat swamp be worth more intact for their carbon value than palm oil plantations for their oil? Quick analysis suggests yes, though binding limits on emissions will be needed to trigger the largest ever flow of money from the industrialized world to developing countries. At stake: the bulk of the world's biodiversity.

98% of orangutan habitat gone in next 15 years
(06/11/2007)
Indonesia is losing more than 2.1 million hectares (5.2 million acres) of forest a year to illegal loggers, states a new report from the U.N. Environment Program (UNEP). The report, which estimates the value of illicit timbering at $4 billion annually, warns that 98 percent of Indonesia's lowland forests will be gone by 2022, putting species like the orangutan at risk of extinction in the wild. The report, Last stand of the Orang-utan: State of Emergency, was released Monday at the Convention on International Trade in Endangered Species meeting in The Hague.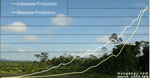 Environmental concerns mount as palm oil production grows
(05/15/2007)
The booming market for palm oil is driving record production but fueling rising concerns over the environmental impact of the supposedly "green" bioenergy source. The two leading producers of palm oil, Malaysia and Indonesia, have rapidly expanded palm oil production in recent years, often at the expense of biodiverse rainforests and carbon-rich peatlands that store billions of tons of greenhouse gases. Environmentalists say that due to these factors, burning of palm oil can at times be more damaging the global climate than the use of fossil fuels.
Dutch plan restricts biofuels that damage environment
(04/29/2007)
The Netherlands has proposed a system to reduce the environmental impact of biofuels production. The country becomes the first in the world to establish such guidelines. Environmentalists have expressed increasing concern for the establishment of energy crops in biodiverse and carbon-rich ecosystems like the peatlands of Indonesia and the Amazon rainforest. They say that conversion of these forests for oil palm and soybeans is threatening endangered species and worsening global warming. Further, they warn, demand for such biomass energy products is driving up prices for food crops.
Palm oil doesn't have to be bad for the environment
(04/04/2007)
As traditionally practiced in southeast Asia, oil palm cultivation is responsible for widespread deforestation that reduces biodiversity, degrades important ecological services, worsens climate change, and traps workers in inequitable conditions sometimes analogous to slavery. This doesn't have to be the case. Following examples set forth by the Roundtable on Sustainable Palm Oil and firms like Golden Hope Plantations Berhad, a Malaysian palm oil producer, oil palm can be cultivated in a manner that helps mitigate climate change, preserves biodiversity, and brings economic opportunities to desperately poor rural populations.
Eco-friendly palm oil could help alleviate poverty in Indonesia
(04/03/2007)
The Associated Press (AP) recently quoted Marcel Silvius, a climate expert at Wetlands International in the Netherlands, as saying palm oil is a failure as a biofuel. This would be a misleading statement and one that doesn't help efforts to devise a workable solution to the multiplicity of issues surrounding the use of palm oil.