Cameroon moves to protect rarest gorilla
mongabay.com
November 26, 2008
The government of Cameroon has created a national park to help protect the world's most endangered great ape: the Cross River gorilla, reports the Wildlife Conservation Society (WCS), a group that provided scientific and technical support for the initiative.
Takamanda National Park forms part of an trans-boundary protected area with Nigeria's Cross River National Park. The reserve is home to 115 Cross River gorillas—one third the population of the world's rarest gorilla which is under threat from hunting, habitat destruction and fragmentation.
"This represents a huge step in ensuring a future for the world's rarest great ape," said Dr. James Deutsch, Director of WCS-Africa. "Making this former forest reserve a national park will effectively protect these gorillas and will continue the conservation partnership between Cameroon and Nigeria."
| | |
| --- | --- |
| | Courtesy of the Wildlife Conservation Society |
The trans-boundary protected area, which allows wildlife to move freely between the African countries, also safeguards populations of forest elephants, chimpanzees, and drills.
Cameroon is one of seven African nations supported by the Congo Basin Forest Partnership and the Central African Regional Program for the Environment (CARPE). The U.S. government, acting through the Department of State and the U.S. Agency for International Development (USAID), has invested more than $60 million in biodiversity conservation in the Congo Basin and helped augment funds for great apes conservation in the region through the U.S. Fish and Wildlife Service administered Great Apes Conservation Fund. The fund is up for renewal in 2010.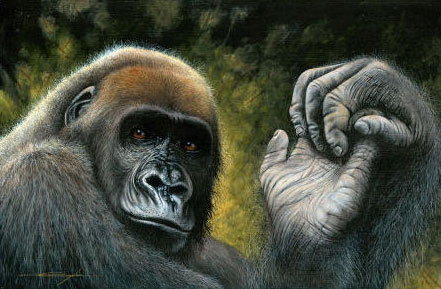 Help support Gross River Gorilla Conservation by buying a limited edition print by Artist Daniel Taylor: Wildlife Art Africa