Cooking oil, palm oil biodiesel can reduce emissions relative to diesel
Cooking oil, palm oil biodiesel can reduce emissions relative to diesel
mongabay.com
November 28, 2007
A lifecycle analysis of biodiesel by Australia's Commonwealth Scientific and Industrial Research Organization (CSIRO) shows that using palm oil derived from existing plantations can be an effective biofuel feedstock for reducing greenhouse gas emissions relative to conventional diesel fuel. However, palm oil sourced from rainforest and peatlands generating emissions 8 to 21 times greater than those from diesel.


The report, The greenhouse and air quality emissions of biodiesel blends in Australia, also assesses emissions and environmental impacts of biodiesel produced from other sources including used cooking oil, tallow (rendered animal fat), and canola. It finds that highest savings — an 87 per cent emission reduction — are achieved by replacing conventional diesel with biodiesel from used cooking oil. Imported palm oil from long established plantations produces an 80 percent savings.


"Palm oil can produce up to an 80 per cent saving in emissions provided it is sourced from pre-1990 plantations," said lead author Dr Tom Beer of CSIRO. "The palm oil source is critical as product from plantations established on recently dried peat swamps or cleared tropical forest will in fact have higher greenhouse gas emissions than regular diesel due to factors such as land clearing."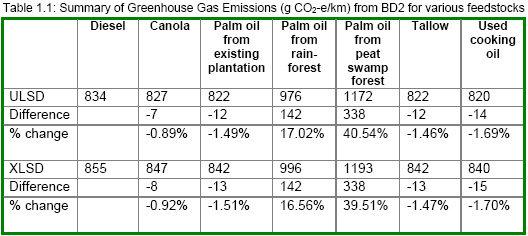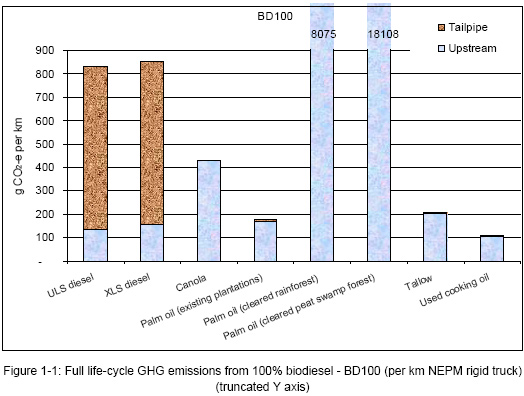 Images courtesy of CSIRO
"The results of this study show biodiesel has the potential to reduce emissions from the transport industry," Dr. Beer added.


The transportation sector is Australia's third largest source of emissions after electricity generation and agriculture.
Credit: Thank you to Biopact for the tip on the report