A Google Earth image of a fishing weir along the Persian Gulf coast.
Google Earth has been once again used by researchers for scientific discovery.
Researchers from the University of British Columbia scoured Google Earth in search of fishing weirs along the coasts of seven Persian Gulf nations. They found some 1,900 fish traps, suggesting that the total fish catch in the Persian Gulf may be up to six times the officially reported level of 5,260 metric tons per year.
The findings, published in ICES Journal of Marine Science, indicate that the traditional fishing approach — which is used widely around the world — has a larger impact than conventionally believed.
"This ancient fishing technique has been around for thousands of years," said Dalal Al-Abdulrazzak, a PhD student with the UBC Fisheries Centre's Sea Around Us Project and the study's lead author, in a statement. "But we haven't been able to truly grasp their impact on our marine resources until now, with the help of modern technology."

A Google Earth image of a fishing weir along the Persian Gulf coast.
The methodology could be used in other regions to provide more accurate fishing estimates, according to co-author Daniel Pauly, the principal investigator with the Sea Around Us Project.
"Time and again we've seen that global fisheries catch data don't add up," said Pauly. "Because countries don't provide reliable information on their fisheries' catches, we need to expand our thinking and look at other sources of information and new technologies to tell us about what's happening in our oceans."
The findings, published in ICES Journal of Marine Science, provide another example of scientists using Google Earth for research. The tool has been used to discover a previously unknown reef off Australia; to document how mammals tend to align themselves in a north-south direction with the Earth's magnetic field lines; to identify unexplored forests; and to map deforestation.
Google Earth is also being used to publish results of research, according to Mark Mulligan of the Environmental Monitoring and Modeling Group at King's College, London.
"Many scientists are publishing the results of their studies (maps and imagery) in Google Earth as a means of enabling policy makers to engage better with the policy outcomes of scientific research," Mulligan told Mongabay.com in 2009.

A Google Earth image of a fishing weir along the Persian Gulf coast.
Related articles
How satellites are used in conservation
(04/13/2009) In October 2008 scientists with the Royal Botanical Garden at Kew discovered a host of previously unknown species in a remote highland forest in Mozambique. The find was no accident: three years earlier, conservationist Julian Bayliss identified the site—Mount Mabu—using Google Earth, a tool that's rapidly becoming a critical part of conservation efforts around the world. As the discovery in Mozambique suggests, remote sensing is being used for a bewildering array of applications, from monitoring sea ice to detecting deforestation to tracking wildlife. The number of uses grows as the technology matures and becomes more widely available. Google Earth may represent a critical point, bringing the power of remote sensing to the masses and allowing anyone with an Internet connection to attach data to a geographic representation of Earth.
Development of Google Earth a watershed moment for the environment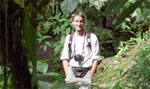 (03/31/2009) Satellites have long been used to detect and monitor environmental change, but capabilities have vastly improved since the early 1970s when Landsat images were first revealed to the public. Today Google Earth has democratized the availability of satellite imagery, putting high resolution images of the planet within reach of anyone with access to the Internet. In the process, Google Earth has emerged as potent tool for conservation, allowing scientists, activists, and even the general public to create compelling presentations that reach and engage the masses. One of the more prolific developers of Google Earth conservation applications is David Tryse. Neither a scientist nor a formal conservationist, Tryse's concern for the welfare of the planet led him develop a KML for the Zoological Society of London's EDGE of Existence program, an initiative to promote awareness of and generating conservation funding for 100 of the world's rarest species. The KML allows people to surf the planet to see photos of endangered species, information about their habitat, and the threats they face. Tryse has since developed a deforestation tracking application, a KML that highlights hydroelectric threats to Borneo's rivers, and oil spills and is working on a new tool that will make it even easier for people to create visualizations on Google Earth. Tryse believes the development of Google Earth is a watershed moment for conservation and the environmental movement.
Photos: Google Earth used to find new species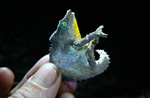 (12/22/2008) Scientists have used Google Earth to find a previously unknown trove of biological diversity in Mozambique, reports the Royal Botanic Gardens in Kew. Scouring satellite images via Google Earth for potential conservation sites at elevations of 1600 meters or more, Julian Bayliss a locally-based conservationist, in 2005 spotted a 7,000-hectare tract of forest on Mount Mabu. The scientifically unexplored forest had previously only been known to villagers. Subsequent expeditions in October and November this year turned up hundreds of species of plants and animals, including some that are new to science.