Corruption and mismanagement in Indonesia's forest sector have cost the government billions of dollars in losses in recent years, including over $7 billion in losses from 2007-2011, Human Rights Watch said in a report released yesterday. The report also blasted the country's "green growth" strategy, saying that despite recent reforms, Indonesia's forestry policies as they are implemented today continue to allow widespread forest clearing and threaten the rights and livelihoods of forest-dependent communities.
"The Indonesian government has been selling the expansion of its forestry sector as an example of sustainable 'green growth' and an antidote to climate change and poverty, but the evidence suggests otherwise," Joe Saunders, deputy program director at Human Rights Watch, said in a release to the media.
"Funds that could be used to improve public welfare are being siphoned off to enrich a handful of people or needlessly lost through mismanagement. And the regional smog crisis suggests the environment and rural livelihoods are the victims, not the beneficiaries, of the government's forest policies."
Mismanagement in Indonesia's forestry sector has serious consequences for human rights and the environment, noted Human Rights Watch in the 61-page report, "The Dark Side of Green Growth: Human Rights Impacts of Weak Governance in Indonesia's Forestry Sector." Indonesia is one of the world's top carbon emitters, largely due to the clearing of forests for agriculture, and increased pressure on land for the expansion of oil palm and pulp plantations has caused violent conflicts to erupt between companies and local communities who believe they have not been adequately compensated for their land.

New oil palm plantation established on peatland outside Palangkaraya, Central Kalimantan.

Loss of livelihood and agrarian conflicts
The report documents three of high-profile conflicts in Lampung province on the island of Sumatra in 2010 and 2011 in which a number of local residents and security personnel were killed. And with thousands of agrarian conflicts reported each year – the president received reports of 8,495 conflicts in 2012 alone – these cases are just the tip of the iceberg, the international rights watchdog said.
According to the report, companies are often not held accountable for failing to honor compensation agreements with communities. At the same time, residents can be harshly punished, often by police and military personnel who have been paid by the company, for reclaiming disputed land or "poaching" palm fruits or timber from land they feel they have not been properly paid for.
The Indonesian government has contributed to escalating conflicts, Human Rights Watch said, by failing to hold companies accountable for violating compensation agreements and by failing to comply with its own regulations for issuing concessions on land claimed by communities.
Under Indonesia's current forest management system, the government often grants concessions for logging or plantation development without first guaranteeing buy in from local communities. This opens the door for land grabs, and the report documents cases in which local communities felt they did not receive proper compensated for land they lost. The report indicates that Indonesia's forest communities, among the country's poorest groups, have been the most harmed under this system.
"This has been an ongoing problem, but it does appear that things are getting worse because of the increasing pressure to convert land for pulp and oil palm concessions," Arvind Ganesan, business and human rights director for Human Rights Watch, told Mongabay-Indonesia in an email. "This demand comes [from] the government's own 'green growth' targets, as well as global demand for paper and biofuel."
"[Plantation] concessions represent a more serious impact on forest-related livelihoods than the logging concessions that were prominent during the 1970s-1990s plywood and veneer boom, as the land is permanently converted to other uses," Ganesan added.

Peat forest in Borneo

Loss of state revenue
From 2007 to 2011, illegal logging and forest sector mismanagement led to $7 billion in losses to the Indonesian government, the report, an update to the 2009 Human Rights Watch report, "Wild Money," found. Those funds, the rights group said, could have been spent to provide important services so some of Indonesia's poorest and most vulnerable communities.
Losses have also been increasing in recent years, despite attempts to reform the sector, with 2011 losses totaling over $2 billion, or more than the country's entire health budget for that year.
Many people in rural areas in Indonesia still lack access to doctors and adequate health care. The report contends that by allowing large-scale losses of revenue from corruption in the forestry sector, the government is missing an opportunity to provide critical services to those communities and is instead allowing funds to be diverted into the pockets of a few wealthy individuals.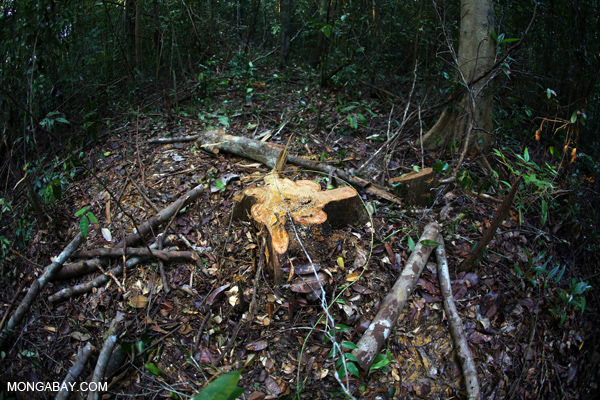 Illegal logging in Borneo

Inadequate reforms?
The report points to three key reforms that have recently come into force – a system to certify timber legality, a moratorium on plantation expansion in forests and peatlands, and Indonesia's new freedom of information law. "Each are important steps to address the problem," Ganesan told Mongabay-Indonesia. "But they do not go far enough and what they do cover hasn't been effectively implemented."
The timber legality certification system, or SVLK, was put in place in part as a response to requirements in the United States and the European Union that prohibit importing of illegally obtained timber. The system tracks the chain of custody of Indonesian timber, auditing companies to ensure that timber is acquired in accordance with Indonesian law. However, the report explained, these audits do not look into whether timber was harvested on land claimed by communities, whether local communities were consulted or gave their free, prior and informed consent, or whether communities were compensated by companies for their lost access to forests.
In its report, Human Rights Watch called Indonesian President Susilo Bambang Yudhoyono's decision in May to renew a two-year moratorium on the issuing of new concessions in primary forests and peatlands a "bold, positive step." However, the group also pointed out a number of serious loopholes. The moratorium is only for new licenses, so concessions issued before the policy was put in place in 2011 are exempt. As a presidential decree, there are also no legal sanctions for violating the policy. And the moratorium is temporary, meant to allow time to reform the country's forestry sector. In the report, Human Rights Watch calls on the Indonesian government to define what specific reforms must take place before the moratorium can be lifted.

PSDH = Timber Royalty Fee, DR = Reforestation Fee. Data source: Indonesian Pulp and Paper Association. Annual reports from International Tropical Timber Organization, and Indonesian Ministry of Forestry. Courtesy of HRW.
Indonesia's Freedom of Information Law, which entered into force in 2010, is another positive step toward forest-sector reform that Human Rights Watch acknowledged in its report, although the group contends that its implementation still falls short.
"The Freedom of Information Act is still not fully implemented and often sporadically enforced, even when the courts order disclosure of information," Ganesan told Mongabay-Indonesia. He further explained that the lack of available forestry information "cripples oversight of the sector and provides avenues for corruption."
The report also addressed Indonesia's recent Constitutional Court ruling, which said the government's practice of granting concessions on customary land was unconstitutional. This ruling could offer some hope for forest communities, Human Rights Watch said. However, the report also warned that the mapping and registration of customary lands necessary to implement this ruling was a "minefield of opportunities for continued corruption and disenfranchisement that could lead to increased conflicts."

Illegal sawmill in Borneo

'Not inherently bad'
While the report challenges Indonesia's "green growth" objectives – claiming that growth in the forest sector as it is occurring today is causing deforestation and carries severe human rights consequences – the group also stressed that better management in the sector could lead to more sustainable and rights-respecting growth.
"Oil palm and pulp plantations are not inherently bad for the environment and human rights, it is the way that these sectors have been implemented," Ganesan told Mongabay-Indonesia. The lagging progress on forest-sector reforms, he explained, has not kept pace with the increasing pressure to expand concessions due to global demand for these products and the government's own growth plans. "[The problem] is more about developing oil palm and pulp in an unsustainable manner and without due regard for human rights."
The solution? For plantation expansion, Ganesan said, concessions should be established on degraded lands, rather than logging natural forests, which is happening under the current system. To avoid conflicts with communities, obtaining free, prior and informed consent is key, and plantation operators should have agreements with communities so that concessions are managed in ways that benefit local residents and give residents access to credible grievance mechanisms.
Related articles