Protected forest in Sabah. Photo by Rhett A. Butler
The Sabah Forestry Department has reclassified 63,700 hectares of rainforest zoned for logging as protected areas.
The reclassification applies to four commercial forest reserves: Malua (33,969 hectares), Mt. Magdalena (6,665 ha), Tambulanan (3,265 ha) and Sungai Tiagau (19,870 ha). It will increase contiguity between the Maliau Basin, Imbak Canyon and Danum Valley conservation areas within the Yayasan Sabah concession area, a million hectare estate that is managed by the Sabah Forestry Department.
The move comes as part of the department's effort to set aside large areas of intact and selectively logged forests for strict conservation. The region has the highest biodiversity on the island of Borneo and includes key habitat for endangered orangutans, Bornean clouded leopards, Sumatran rhinos, and pygmy elephants.
The reclassification also comes shortly after at least 14 elephants were poisoned within the Yayasan concession area. Commercial hunters employed by the plantation sector are leading suspects in the case, which remains unresolved.
| | |
| --- | --- |
| | Map showing Sabah's forest classification in 1990 and 2010. From Reynolds el al (2011) published in Philosophical Transactions of the Royal Society B. |
Local conservationists welcomed the decision.
"The elephant poisoning tragedy earlier this year was a rallying call, and we in the NGO community are ramping up our efforts and collaborating with government," said Cynthia Ong, the Executive Director of Land Empowerment Animals People (LEAP), in a statement. "It is of particular importance that the private sector plays its part."
"We wish to remind Forest Management Unit (FMU) license holders, and both oil palm and timber plantation companies at the borders of the newly upgraded areas of their accountability. Every effort must be made to ensure there is no encroachment into these forest reserves by poachers and others who may have their own motives."
Beyond setting aside new conservation areas, the Sabah Forestry Department is also pushing concession holders toward less damaging forest management practices, including selective harvesting of secondary forests under standards set by the Forestry Stewardship Council (FSC). Destructive logging practices in the past is a large reason why revenue from timber within the Yayasan Sabah area are in decline. Declining timber revenue has lately created intense political pressure to re-gazette some of the forest estate for oil palm plantations, which environmentalists say could be a disaster for resident wildlife. Sabah already has a larger area of oil palm plantations than protected forests.
"We are in a critical region, at a critical time," said Ong. "Political courage and leadership from government is essential. Such courage and leadership from all sectors – civil society, industry and communities, is equally important for us to make shifts to tip the balance towards deep sustainability for all."
Related articles
Unidentified toxin caused the deaths of Borneo elephants
(04/18/2013) After three months, officials still don't know for certain what killed at least 14 Bornean elephants (Elephas maximus borneensis) in the Malaysian state of Sabah. However tests do indicate that the herd perished from a "caustic intoxicant," possibly ingested accidentally or just as easily intentionally poisoned. A distinct subspecies, Bornean elephants are the world's smallest with a population that has fallen to around 2,000 on the island.
Malaysian NGOs boldly demand forest conservation action in Borneo
(02/28/2013) In an unusually bold statement catalyzed by the deaths of 14 rare elephants, six Malaysian NGOs today called on the Sabah state government to pursue 'a more conservation focused agenda' in managing the state's forests. The demand comes shortly after the death of 14 endangered pygmy elephants — thought poisoned by an oil palm plantation developer — thrust Sabah's environmental problems into the international spotlight.
Sabah protects 700 sq mi of rainforest in Borneo
(08/30/2012) Sabah, a state in Malaysian Borneo, has reclassified 183,000 hectares (700 sq km) of forest zoned for logging concessions as protected areas.
Industrial logging leaves a poor legacy in Borneo's rainforests
(07/17/2012) For most people "Borneo" conjures up an image of a wild and distant land of rainforests, exotic beasts, and nomadic tribes. But that place increasingly exists only in one's imagination, for the forests of world's third largest island have been rapidly and relentlessly logged, burned, and bulldozed in recent decades, leaving only a sliver of its once magnificent forests intact. Flying over Sabah, a Malaysian state that covers about 10 percent of Borneo, the damage is clear. Oil palm plantations have metastasized across the landscape. Where forest remains, it is usually degraded. Rivers flow brown with mud.
In pictures: Rainforests to palm oil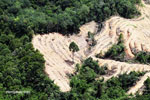 (07/02/2012) In late May I had the opportunity to fly from Kota Kinabalu in Malaysian Borneo to Imbak Canyon and back. These are some of my photos. Historically Borneo was covered by a range of habitats, including dense tropical rainforests, swampy peatlands, and natural grasslands. But its lowland forests have been aggressively logged for timber and then converted for oil palm plantations.
Malaysia to phase out Borneo logging in parts of Sabah state
(03/16/2006) The Malaysian state of Sabah on the island of Borneo announced it will phase out logging in large parts of its remaining rainforests. Sabah, once home to some of the world's most biodiverse forests, was largely logged out during the 1980s and 1990s but some parts of the state still support wild populations of endangered orangutans. In recent years, the Malaysian government has set aside protected areas and sponsored reforestation projects in the state.