On Thursday roughly 200 indigenous people launched an occupation of a key construction site for the controversial Belo Monte dam in the Brazilian Amazon. The protestors, who represent communities that will be affected by the massive dam, are demanding immediate suspension of all work on hydroelectric projects on the Xingu, Tapajós and Teles Pires rivers until they are properly consulted, according to a coalition of environmental groups opposing the projects.
The protestors include members of the Juruna, Kayapó, Xipaya, Kuruaya, Asurini, Parakanã, Arara, and Munduruku tribes. Non-indigenous fishermen and riverine community members that will also be affected by Belo Monte have also reportedly joined the demonstration. Organizers say the occupation will continue "indefinitely or until the federal government meets their demands."
"Today's protest demonstrates the relentless resistance of a growing group of united peoples against Belo Monte, Tapajós and destructive dams throughout the Amazon," said Leila Salazar-Lopez, Amazon Watch Program Director, in a statement. "These are the final moments to change course as construction closes in on the Xingu and other lifeline rivers of the Amazon."

Protest at one of the main construction sites of the Belo Monte Dam complex in the municipality of Victoria de Xingu. Photos ©Ruy Sposati/CIMI

Belo Monte has been the site of several protests since the Brazilian government finalized approval of Belo Monte. Indigenous groups, local fishermen, and environmentalists are strongly opposed to the project, which will divert nearly 80 percent of the flow of the Xingu river, one of the Amazon's mightiest tributaries. The dam will flood tens of thousands of hectares of land, displace more than 15,000 people, and could push several endemic fish species to extinction. Belo Monte, which will operate at less than 40 percent of capacity despite its $15 billion dollar price tag, will require additional upstream dams to be commercially viable, according to independent analysts, potentially amplifying the project's impact.
Belo Monte and other dams on the Xingu represent just a small fraction of the hydropower projects being developed by Brazil in the Amazon Basin. According to an analysis published last year, 231 dams are currently planned in the Brazilian Amazon alone. Another 15 are slated for Peru and Bolivia.
Ecologists say there are myriad problems with large dams in tropical ecosystems, especially when built on the scale envisioned in the Amazon. Large dams interfere with the hydrological cycle and nutrient flows through an ecosystem, while restricting or blocking access to breeding and feeding grounds for migratory fish species. Meanwhile areas inundated with water can generate substantial greenhouse gas emissions. Design flaws in some tropical dams, which draw methane from the base of their reservoirs, can exacerbate climate impacts. Finally flooding in the reservoir area can displace communities traditionally dependent on rivers, while creating hardship downstream from degraded fisheries.
Number of hydropower by country of the Amazon, by type and phase
Planned
Current
Country
< 30MW
> 30MW
Total
< 30MW
> 30MW
Total
Total
Brasil
176
55
231
87
22
109
340
Perú
2
9
11
31
2
33
44
Bolivia
1
3
4
1
9
10
14
Ecuador
10
10
10
Venezuela
6
6
6
Colombia
1
1
1
Guyane Française
1
1
1
Suriname
1
1
1
total
179
67
246
120
51
171
417
Related articles
Indigenous group: Brazil using military to force Amazon dams
(04/08/2013) An Amazonian community has threatened to "go to war" with the Brazilian government after what they say is a military incursion into their land by dam builders. The Munduruku indigenous group in Para state say they have been betrayed by the authorities, who are pushing ahead with plans to build a cascade of hydropower plants on the Tapajós river without their permission.
Dams are rapidly damning the Amazon
(12/08/2012) Dam-builders seeking to unlock the hydroelectric potential of the Amazon are putting the world's mightiest river and rainforest at risk, suggests a new assessment that charts the rapid expansion of dams in the region.
Brazil decree opens tribal lands to mining, dams in 'national interest'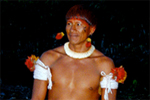 (07/26/2012) A directive signed Monday by Brazil's Solicitor-General could hamper the efforts of indigenous tribes to win government recognition of their traditional lands, reports Survival International, a human rights group focused on native peoples. The directive 'opens up all indigenous areas to mineral, dams, roads, military bases and other developments of 'national interest' without the need to consult with or address concerns of indigenous peoples', according to an expert familiar with the directive.
Dams are 'centerpiece of greenwashing' in the Amazon
(06/25/2012) Brazil's ambitious plans to build 30 dams in the Amazon basin could trump the country's efforts to protect the world's largest rainforest, said a leading Amazon scientist speaking at the annual meeting of the Association for Tropical Biology and Conservation (ATBC) in Bonito, Brazil.
Tropical dams are a false solution to climate change
(05/27/2012) Tropical dams emit considerably more greenhouse gas emissions than their temperate counterparts yet are being treated as a solution to climate change, warns a report published in Nature Climate Change.
Will mega-dams destroy the Amazon?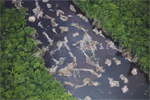 (04/18/2012) More than 150 new dams planned across the Amazon basin could significantly disrupt the ecological connectivity of the Amazon River to the Andes with substantial impacts for fish populations, nutrient cycling, and the health of Earth's largest rainforest, warns a comprehensive study published in the journal PLoS ONE. Scouring public data and submitting information requests to governments, researchers Matt Finer of Save America's Forests and Clinton Jenkins of North Carolina State University documented plans for new dams in Bolivia, Brazil, Colombia, Ecuador, and Peru.
Pictures: Destruction of the Amazon's Xingu River begins for Belo Monte Dam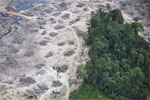 (04/18/2012) The Xingu River will never be the same. Construction of Belo Monte Dam has begun in the Brazilian Amazon, as shown by these photos taken by Greenpeace, some of the first images of the hugely controversial project. Indigenous groups have opposed the dam vigorously for decades, fearing that it will upend their way of life. Environmentalists warn that the impacts of the dam—deforestation, methane emissions, and an irreparable changes to the Xingu River's ecosystem—far outweigh any benefits. The dam, which would be the world's third largest, is expected to displace 16,000 people according to the government, though some NGOs put the number at 40,000. The dam will flood over 40,000 hectares of pristine rainforest, an area nearly seven times the size of Manhattan.