WWF and the Wildlife Conversation Society (WCS) are issuing an immediate call for action as they report that poachers are killing sizable numbers of forest elephants near the Dzanga-Sangha protected areas in the Central African Republic (CAR). The two large conservation groups have evacuated their staff from the area after a government coup, but local rangers are still trying to determine the scale of the killing while defending remaining elephants. In total the conservation groups believe the parks are home to over 3,000 elephants.
"The elephant poaching crisis—driven by insatiable ivory demand—is so severe that no area is safe, not even the World Heritage Site Dzanga-Sangha where both WWF and WCS have now worked for the conservation of elephants for decades," Jim Leape, WWF Director General said. "Heroic rangers are standing firm in the face of immense danger, but they alone cannot safeguard the special species and places the world treasures."
The crisis is believed to have been kick-started by the ousting of long-time president, François Bozize. Poachers appear to be taking advantage of the resulting governmental chaos, while the Associated Press reports that the rebels may be connected to the elephants poachers.
Although the conversation groups don't know yet how many elephants have been killed, according to a press release they believe the number "may be extensive." Patrols through the forest have stopped due to instability, and the groups report that elephant meat is being sold in the area openly.

Forest elephant killed by poachers being inspected by game guards. Dzanga-Ndoki National Park, Central African Replublic (CAR). Photo by: © Martin Harvey/WWF.
"Given the total absence of any type of law enforcement and rule of law in the area, there is elephant meat all over the place," Bas Huijbregts, WWF policy head against poaching in Central Africa, told the AP.
WWF and WCS have jointly called on the Central African Republic (CAR) government and neighboring states for increased security in the region not just for the elephants, but to protect locals from worsening lawlessness and conflict.
The slaughter of elephants for their ivory has escalated in recent years as demand for ivory has shot-up in East Asia. Estimates predict that some 30,000 elephants are being killed annually for their tusks. Forest elephants have taken the brunt of the illegal trade. A recent study found that poachers, working in increasingly sophisticated networks with heavy gunnery, have killed an astounding 62 percent of the world's forest elephants in the last ten years. According to some scientists, forest elephants (Loxodonta cyclotis) are a distinct species from the more well-known bush elephant.
To deal with the continent-wide elephant crisis, governments are meeting next week to discuss ways to stem the killing.
"When meeting next week, Central African governments must urgently join forces against this criminal activity that is also threatening the stability and economic development of their countries," says Leape. "I encourage them in the strongest terms to take a stand against wildlife crime and together declare that poaching and illicit trafficking will not be tolerated."

Forest elephant in the Dzanga-Ndoki Dzanga-Sangha protected areas in the Central African Republic (CAR). Photo by: © Cristian Samper.

Forest elephant (Loxodonta cyclotis) displaying rounded ears and straight trunk in an intimidating gesture towards another elephant in Dzanga Bai, a forest clearing in Dzanga Sangha Protected Area, CAR. Photo by: © Carlos Drew/WWF.
Related articles
Infamous elephant poacher turns cannibal in the Congo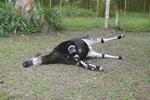 (04/03/2013) Early on a Sunday morning last summer, the villagers of Epulu awoke to the sounds of shots and screaming. In the eastern reaches of the Democratic Republic of the Congo, that can often mean another round of violence and ethnic murder is under way. In this case, however, something even more horrific was afoot.
Poachers enlisting impoverished wildlife rangers as accomplices in elephant, rhino killing
(04/01/2013) Corruption among wildlife rangers is becoming a serious impediment in the fight against poaching, fuelled by soaring levels of cash offered by criminal poacher syndicates, senior conservation chiefs have admitted. Rangers in countries as diverse as Tanzania and Cambodia are being bribed by increasingly organised poaching gangs keen to supply ivory, rhino horn and tiger parts to meet huge consumer demand in Asia.
A thousand soldiers sent after marauding elephant poachers [warning: graphic photos]
(03/26/2013) Eight Central African nations have announced they will send a thousand soldiers after poachers responsible for slaughtering 89 elephants, including over 30 pregnant mothers, in Chad earlier this month. The mobilization of soldiers and law enforcement officers could be a sign that Central African countries are beginning to take elephant poaching, which has decimated populations across Africa, more seriously.
Poachers slaughter 89 elephants in Chad, including over 30 pregnant mothers [warning: graphic photos]
(03/19/2013) In what is being called the worst elephant massacre in Africa this year, poachers have recently killed as many as 89 elephants in Chad. Stephanie Vergniault, the Chairman of SOS Elephants in Chad, says the elephants were slaughtered in a two-day period late last week near Tikem, on the southwest border of Chad and Cameroon. At least 30 of the elephants were pregnant. Images from a television news report show what appear to be an elephant still connected to its umbilical cord on the ground. Separately, 12 calves were also slaughtered.
Elephant woes: conservationists mixed on elephant actions at CITES
(03/14/2013) Conservationists couldn't agree if the glass was half-full or half-empty on action to protect elephants at the Convention on International Trade in Endangered Species (CITES) in Bangkok, Thailand. Elephants, especially in Africa, have faced a massive rise in poaching over the last decade with tens-of-thousands shot dead every year. Forests elephants in central Africa have been especially targeted: new research estimates that an astounding 60 percent of the world's forest elephants have been slaughtered for their tusks in the last ten years alone. While conservationists had hopes that CITES would move aggressively against elephant poaching, the results were a decidedly mixed-bag.
Prayers for dying elephants: Buddhists hold prayer ceremony for elephants decimated by poachers
(03/11/2013) Buddhist leaders prayed for slaughtered African elephants in Bangkok, Thailand last week, reports WWF. During a special merit-making ceremony, often reserved for the recently deceased, Buddhist monks, abbots, and leaders prayed for the tens-of-thousands of elephants that have been killed for their ivory tusks. Bangkok is currently hosting an international meeting of the Convention on International Trade in Endangered Species (CITES), where the elephant crisis is being discussed.
Seeing the forest through the elephants: slaughtered elephants taking rainforest trees with them
(03/11/2013) Elephants are vanishing. The booming illegal ivory trade is decimating the world's largest land animal, but no place has been harder hit than the Congo basin and its forest elephants (Loxodonta cyclotis). The numbers are staggering: a single park in Gabon, Minkebe National Park, has seen 11,100 forest elephants killed in the last eight years; Okapi Faunal Reserve in the Democratic Republic of the Congo has lost 75 percent of its elephants in fifteen years; and a new study in PLoS ONE estimates that in total 60 percent of the world's forest elephants have been killed in the last decade alone. But what does that mean for the Congo forest?
What happened to the elephants of Bouba Ndjida? [warning: graphic photos]
(03/07/2013) A new report released by the Wildlife Conservation Society says that poachers have killed a staggering 62 percent of Africa's forest elephants in the last decade. The insatiable demand for elephant ivory hails mainly from China and Thailand, which is ironically hosting this year's CITES (CoP16) meeting. The meeting will continue until March 13 2013. The study is based on a survey of five elephant range states including Cameroon. Cameroon is the home of Bouba Ndjida National Park, where the dizzying massacre of 650 elephants occurred last year.
62% of all Africa's forest elephants killed in 10 years (warning: graphic images)
(03/04/2013) More than 60 percent of Africa's forest elephants have been killed in the past decade due to the ivory trade, reports a new study published in the online journal PLOS ONE. The study warns that the diminutive elephant species — genetically distinct from the better-known savanna elephant — is rapidly heading toward extinction.
Thailand's Prime Minister commits to ending ivory trade
(03/04/2013) Yesterday, Thailand's Prime Minister, Yingluck Shinawatra, committed to ending the ivory trade in her country. Her announcement came during the opening of the Convention on the International Trade in Endangered Species of Fauna and Flora (CITES) in Bangkok, which seeks to regulate trade in biodiversity across borders. Wildlife groups say that Thailand's legal trade in domestic ivory—international ivory is illegal of course—has created an easy opening for smugglers from abroad. Currently the ivory trade in Thailand is estimated to be second only to that of China.