Independent air samples by locals have yielded "a soup of toxic chemicals" in Mayflower, Arkansas where an Exxon Mobil pipeline burst on March 29th spilling some 5,000 barrels of tar sands oil, known as bitumen. Chemicals detected included several linked to cancer, reproductive problems, and neurological impacts such as benzene and ethylbenzene. Air samples were taken by community leader and University of Central Arkansas student April Lane a day after the spill. However, the Environment Protection Agency (EPA)'s and Exxon Mobil's air samples have yielded chemical levels below harm except in the direct clean-up area, according to the Arkansas Department of Health (ADH).
"Thirty toxic hydrocarbons were measured above the detection limits. Each of the thirty hydrocarbons measured in the Mayflower release is a toxic chemical on its own and may pose a threat to human health depending on various exposure and individual factors," says Dr. Neil Carman with the Lone Star Chapter of Sierra Club and former Texas Commission on Environmental Quality. "Total toxic hydrocarbons were detected at more than 88,000 parts per billion in the ambient air and present a complex airborne mixture or soup of toxic chemicals that residents may have been exposed to from the Mayflower tar sands bitumen spill."
Oil mined from the Alberta tar sands, known as bitumen, is significantly different than traditional crude: heavier than normal oil, bitumen is treated with several toxic chemicals (such as benzene) in order to lighten it. In an event of an oil spill such as this, bitumen is also radically more challenging to clean up as it sinks in water instead of floating.
In addition to collecting independent air samples, Lane has also been interviewing local residents of Mayflower.
"Even four weeks later, residents are still feeling symptoms from the chemical exposure," she says in a statement. "People have consistently talked about gastrointestinal problems, headaches, respiratory problems, skin irritation including chemical burns, and extreme fatigue."
A member of the Faulkner County Citizens Advisory Group, Lane has been trained in air sampling by the Bucket Brigade program from Global Community Monitor.
Air sampling has also been conducted by the EPA and Exxon Mobil. While Exxon Mobil has admitted that toxic chemicals, such as benzene, were found in the air shortly after the spill, it now says the air is safe. The Arkansas Department of Health has stated that despite local complaints, air samples showed no danger to people aside from the off-limits area where clean-up was occurring.
"State and Federal need to step up immediately to document and prevent any further health issues associated with the Exxon oil spill," Ruth Breech, a Bucket Brigade trainer with Global Community Monitor said. "Agencies need to share information in a manner to ensure informed decision making and enable access to necessary resources such as medical treatment for chemical exposure."
Despite the health and environmental concerns, Exxon Mobil has kept reporters out of the spill area, including a no-fly zone over the impacted area, which is still ongoing a month later. Much of the information coming in has come from local groups and activists.
The spill has intensified the already heated debate over the Keystone XL Pipeline which would carry 800,000 barrels a day of tar sands oil 1,700 miles from Canada to the Gulf of Mexico for international trade.

Tar sands oil spill from the Pegasus pipeline contaminates marsh, killing wildlife. Photo by: Karen E. Seagrave/Greenpeace.

Mayflower neighborhood after oil spill. Photo by: Karen E. Seagrave/Greenpeace.
Related articles
Tar sands oil spill: ruptured pipe pours 200,000 gallons of oil into suburban neighborhood (photos)
(04/04/2013) Last Saturday, an oil pipeline carrying tar sands oil from Canada ruptured in Mayflower, Arkansas spilling between 3,500-5,000 barrels of crude (at most 210,000 gallons) into neighborhood streets and lawns. Families from 22 homes have been evacuated while clean-up crews have scrambled to contain the spill. ExxonMobil, which runs the 65-year-old Pegasus pipeline, has stated it will pay for any damage, however critics say the oil spill is more evidence that the Obama Administration should turn down the Keystone XL tar sands pipeline.
Over 35,000 march on Washington demanding climate action and rejection of Canada's 'carbon bomb'
(02/18/2013) Yesterday over 35,000 people rallied in Washington D.C. for urgent action on climate change, which, according to organizers, was the largest climate march in U.S. history. Activists called on the Obama Administration to do much more to tackle climate change, including rejecting the Keystone XL Pipeline, which would bring carbon-heavy tar sands oil from Canada through the U.S. to a world market.
Thousands of scientists hold mock funeral in Canada to highlight nation's "death of evidence"
(07/11/2012) Carrying signs that said 'Stop Harper's War on Knowledge' and 'Scientists Shouldn't Wear a Muzzle,' Canada's scientists were unusually theatrical yesterday at a rally against the Canadian government's cuts for basic science funding and environmental protections. Scientists, dressed in white coats, carried a coffin to represent "the death of evidence" in Canada, while a costumed grim-reaper led the way. According to police, around 2,000 joined in the protest.
Featured Video: the true cost of the tar sands
(03/15/2012) What's the big deal about the tar sands? Canadian photographer Garth Lenz presents the local environmental and social concerns presented by the tar sands in a concise, impassioned speech in a TEDx talk in Victoria, Canada.
Tar sands emit more carbon than previously estimated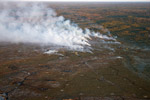 (03/12/2012) Environmentalists have targeted the oil-producing tar sands in Canada in part because its crude comes with heftier carbon emissions than conventional sources. Now, a new study in the Proceedings of the National Academy of Sciences (PNAS) has found an additional source of carbon that has been unaccounted for: peatlands. Mining the oil in the tar sands, dubbed "oil sands" by the industry, will require the wholesale destruction of nearly 30,000 hectares of peatlands, emitting between 11.4 and 47.3 million metric tons of additional carbon.
TransCanada to build southern half of Keystone to avoid State Department approval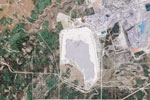 (02/29/2012) Keystone XL is becoming the project that refuses to die: TransCanada, the company behind the pipeline, has said it plans to build the southern half of the pipeline while it waits to determine a new route for the northern section. The company does not need approval from the State Department, which turned down the entire pipeline in January, to build the southern half from Texas to Oklahoma. However, the Obama Administration has embraced the idea. Carrying carbon-intensive tar sands oil down from Canada to a global market, the proposed pipeline galvanized environmental and climate activists last year, resulting in several large protests and civil disobedience actions.
Big oil makes $137 billion, gives 28 percent back to themselves
(02/13/2012) The world's top five oil companies—BP, Chevron, Conoco Phillips, Exxon Mobil, and Royal Dutch Shell—made a record $137 billion in 2011 beating out the previous record in 2008, reports Climate Progress. Still even as the companies made record profits they produced 4 percent less oil than the prior year.