Frost crystals at the entrance of Ledyanaya Lenskaya Cave. Photo by: Vladimir V. Alexioglo.
While nations around the world have committed to keeping temperatures from rising 2 degrees Celsius (3.6 degrees Fahrenheit) above the pre-industrial era, new research published in Science suggests that the global climate could hit a tipping point at just 1.5 degrees Celsius (2.5 degrees Fahrenheit). Studying cave stalactites and stalagmites in Siberia, scientists found that at about 1.5 degrees Celsius the Siberian permafrost melts, potentially releasing a greenhouse gas bomb of 1,000 giga-tonnes, according to some experts.
Turning to cave formations—stalactites and stalagmites—to reconstruct past climates in Siberian Russia, the scientists found that Russia had little permafrost around 400,000 years ago when the world was about 1.5 degrees warmer than the past 10,000 years (or the length of human civilization).
"The stalactites and stalagmites from these caves are a way of looking back in time to see how warm periods similar to our modern climate affect how far permafrost extends across Siberia," lead author Anton Vaks of Oxford University's Department of Earth Sciences explains. The stalactites and stalagmites do not grow under permafrost conditions, but only when ice melt or rain is available. Therefore these cave formations act as signals for what past climate looked like.
According to the study, the only time the permafrost melted in the last half million years was between 424,000 and 374,000 years ago when temperatures globally hit the 1.5 degree Celsius mark. So far global temperatures have risen 0.8 degrees Celsius (1.4 degrees Fahrenheit) in just the last two hundred or so years with two thirds of that rise coming since 1980.
"As permafrost covers 24 percent of the land surface of the Northern hemisphere significant thawing could affect vast areas and release giga-tonnes of carbon," Vaks says. Once permafrost melts, sunlight and bacteria will attack previously-frozen plant material, releasing carbon and methane into the atmosphere. Though at this point there is considerable debate about how much greenhouse gas emissions would actually hit the atmosphere.
Despite such concerns, experts say that reaching, and surpassing, 1.5 degrees Celsius is practically inevitable given that global greenhouse gas emissions continue to rise year-after-year. Many emissions are considered "locked-in" since fossil fuel-driven power plants have already been built or are currently being constructed. Still, many vulnerable and island nations have called on the global target to be reduced from 2 degrees Celsius to 1.5 degrees. But even making the 2 degree target is looking increasingly unlikely, unless, perhaps, scientists literally start pulling carbon out of the atmosphere or the world's fossil fuel plants are shut-down.
Whatever comes, the experts say it's time to start incorporating permafrost melt into current climate models.

Large Ice Hall in Ledyanaya Lenskaya Cave located inside continuous permafrost. Photo by: Sebastian FM Breitenbach.
CITATION: A. Vaks; A.J. Mason; A.L. Thomas; G.M. Henderson; O.S. Gutareva; A.M. Kononov; S.F.M. Breitenbach; E. Avirmed; A.V. Osinzev. Speleothems Reveal 500,000-Year History of Siberian Permafrost. Science. 2013.
Related articles
Arctic warms to highest level yet as researchers fear tipping points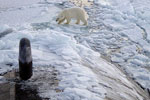 (02/13/2012) Last year the Arctic, which is warming faster than anywhere else on Earth due to global climate change, experienced its warmest twelve months yet. According to recent data by NASA, average Arctic temperatures in 2011 were 2.28 degrees Celsius (4.1 degrees Fahrenheit) above those recorded from 1951-1980. As the Arctic warms, imperiling its biodiversity and indigenous people, researchers are increasingly concerned that the region will hit climatic tipping points that could severely impact the rest of the world. A recent commentary in Nature Climate Change highlighted a number of tipping points that keep scientists awake at night.
Massive methane leak in Arctic could trigger abrupt warming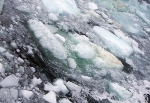 (03/04/2010) Methane, a greenhouse gas 30 times more potent than carbon, is spewing from what was believed to be an impermeable barrier in Siberia in amounts equal to methane releases from the world's oceans. The discovery has lead researchers to fear the possibility of abrupt climate warming. According to the study published in Science, subsea permafrost below the East Siberian Arctic Shelf has become compromised, leaking vast amounts of methane into the atmosphere.
Climate change doubles coastal erosion in Alaska over 5-year period
(02/18/2009) Coastal erosion along a 64-kilometer (40-mile) stretch of Alaska's Beaufort Sea doubled between 2002 and 2007, report researchers, who link the development to "declining sea ice extent, increasing summertime sea-surface temperature, rising sea level, and increases in storm power and corresponding wave action."
Melting permafrost will be major driver of global warming
(09/01/2008) The thawing of permafrost in northern latitudes will become a major source of greenhouse gas emissions, according to a new study that more than doubles previous estimates of the amount of carbon stored in the frozen soils of Alaska and Siberia.
Arctic sea ice volume plunges over a third in less than 10 years
(02/18/2013) Few places are changing as rapidly as the Arctic due to global warming. Last year, scientists were stunned when the Arctic's seasonal ice extent fell to record low that was 18 percent below the previous one set in 2007. But new research in Geophysical Research Letters finds that the volume of ice is melting away just as quickly: satellite and ocean-based measurement have found that Arctic sea ice has fallen by 36 percent in Autumn since 2003. In winter, the ice volume has dropped 9 percent.
Over 35,000 march on Washington demanding climate action and rejection of Canada's 'carbon bomb'
(02/18/2013) Yesterday over 35,000 people rallied in Washington D.C. for urgent action on climate change, which, according to organizers, was the largest climate march in U.S. history. Activists called on the Obama Administration to do much more to tackle climate change, including rejecting the Keystone XL Pipeline, which would bring carbon-heavy tar sands oil from Canada through the U.S. to a world market.
Will Amazon species lose the climate change race?
(02/14/2013) Deforestation could increase the risk of biodiversity loss in the Amazon by forcing species to migrate further in order to remain at equilibrium with changing climates, says new research. "As migration models are made more realistic through the inclusion of multiple climatic, biotic, abiotic and human factors, the predicted distances between current and future climate analogues invariably increases," Kenneth Feeley, lead author of the paper published in Global Change Biology, told mongabay.com.
Obama connects climate science and policy in State of the Union
(02/13/2013) After several years of silence on climate change, U.S. President Barack Obama has begun speaking out following his re-election last November. The President surprised many by giving climate change a central role in his inauguration speech last month, and he followed-up in his State of the Union speech last night when he called on congress to "pursue a bipartisan, market-based solution to climate change," but added that the administration would take action itself if congress failed.
Head of IMF: climate change is 'the greatest economic challenge of the 21st century'
(02/06/2013) Climate change not debt or austerity is "the greatest economic challenge of the 21st Century," according to Christine Lagarde, the head of the International Monetary Fund (IMF). Speaking at the World Economic Forum in Davos, Switzerland, Lagarde painted a stark picture of the challenges the world faces when up against rising temperatures.