Male specimen of new species: Iridopelma oliveirai. Photo courtesy of R. Bertani.
If you suffer from acute arachnophobia, this is the perfect Halloween discovery for you: a spider expert has discovered nine new species of arboreal (tree-dwelling) tarantulas in the Brazil. Although tarantula diversity is highest in the Amazon rainforest, the new species are all found in lesser-known Brazilian ecosystems like the Atlantic Forest, of which less than 7 percent remains, and the cerrado, a massive savannah that is being rapidly lost to agriculture and cattle ranching.
"Instead of the seven species formerly known in the region, we now have sixteen", says Rogério Bertani with the Instituto Butantan in Sao Paulo, Brazil, who investigated three different tarantula genera in his country. According to the paper these genera—Pachistopelma, Typhochlaena, Iridopelma—are "the least understood both taxonomically and biologically."
Arboreal tarantulas are generally smaller and leaner than their more well-known terrestrial cousins. Longer legs allow them to adroitly climb up and down
trees.
"In a resurrected genus with a mysterious single species known from 1841, we have now five species," Bertani says of the genus, Typhochlaena. "These are the smallest arboreal tarantulas in the world, and their analysis suggests the genus to be very old, so they can be considered relicts of a formerly more widely distributed taxon".
These species are both rare and cryptic, Bertain writes, noting that there are "only forty specimens" of the five species in museums.
Bertani also uncovered a new species in the Pachistopelma genus, Pachistopelma bromelicola. Both known species "inhabit tank bromeliads exclusively," according to the paper. Tank bromeliads are flowers that survive off other plants (epiphytes) and sport leaves that create a pitcher-like shape for water-collection. Spiders can survive there by hunting insects looking for water.
Another new species, Iridopelma katiae, was discovered on a table top mountain with few trees. It has also taken to bromeliads, which Bertani says is "one of the few places for an arboreal tarantula to live that offer water and a retreat against the intense sunlight."
All of the species are likely threatened given their high endemism. Habitat loss remains the primary threat, but Bertani also warns that the species' bright colors may make them targets for the illegal pet trade.

A female Typhochlaena seladonia. Photo courtesy of R. Bertani.

Backside of Iridopelma katiae peeking out of bromeliad. Photo courtesy of R. Bertani.

Female Iridopelma marcoi. Photo courtesy of R. Bertani.
CITATION: Bertani R (2012) Revision, cladistic analysis and biogeography of Typhochlaena C. L. Koch, 1850, Pachistopelma Pocock, 1901 and Iridopelma Pocock, 1901 (Araneae, Theraphosidae, Aviculariinae). ZooKeys 230: 1-94. doi: 10.3897/zookeys.230.3500
Related articles
Arachnopocalypse: with birds away, the spiders play in Guam
(09/17/2012) The island of Guam is drowning in spiders. New research in the open-access journal PLOS ONE has found that in the wet season, Guam's arachnid population booms to around 40 times higher than adjacent islands. Scientists say this is because Guam, a U.S. territory in the Pacific, has lost its insect-eating forest birds. Guam's forests were once rich in birdlife until the invasion of non-native brown tree snake (Boiga irregularis) in the 1940s decimated biodiverse bird communities. Now, the island is not only overrun with snakes, but spiders too.
Velociraptor spider discovered in Oregon cave (pictures)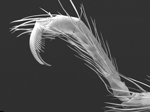 (08/17/2012) Scouring the caves of Southwest Oregon, scientists have made the incredible discovery of a fearsome apex predator with massive, sickle claws. No, it's not the Velociraptor from Jurassic Park: it's a large spider that is so unique scientists were forced to create a new taxonomic family for it. This is the first new spider family to be discovered in North America in over 130 years. 'This is something completely new,' lead author of a paper on the species, Charles Griswold with the California Academy of Sciences, told SFGate. 'It's a historic event.'
Blue tarantula, walking cactus, and a worm from Hell: the top 10 new species of 2011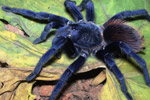 (05/23/2012) A sneezing monkey, a blue tarantula, and an extinct walking cactus are just three of the remarkable new species listed in the annual Top Ten New Species put together by the International Institute for Species Exploration at Arizona State University. This year's list includes a wide-variety of life forms from fungi to flower and invertebrate to primate.
Photos: Halloween creepy-crawlies of the natural world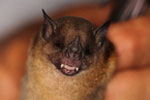 (10/31/2011) Everyone loves the beautiful animals, the playful orangutans, the rolly-polly pandas, the regal tigers, the wise elephants, the awe-inspiring whales, the silly penguins—and it shows. Aside from gracing calendars and starring in movies, these species receive millions in conservation funds and have no shortage of researchers devoted to them. But what about the ugly, crawly, shiver-inducing species? What about those animals that crawl instead of bound,that are slimy instead of furry, that inhabit the deep dark place of the world.