Malayan tiger. Photo by Rhett A. Butler.
While founded with good intentions, wildlife trade bans may in some cases be worsening the plight of some endangered species, argues a commentary published in the journal Tropical Conservation Science.
Looking at three animals listed under the CITES (Convention on International Trade in Endangered Species of Wild Fauna and Flora) — tigers, elephants and rhinos — Kirsten Conrad of AsiaCat argues that a moratorium on legal trade has exacerbated illegal trafficking by boosting prices and moving all commerce to the black market. She says the situation is worsened by poor law enforcement, ambiguous property rights, and demand rooted in "strong traditional affiliation".
Conrad argues that conservationists should carefully evaluate a radical option: legalizing commercial trade in some species.
"Given the abject failure of the trade ban to stem the decline of wild populations in the case of tigers, rhinos and elephants, legal trade needs to be given due consideration," Conrad writes. "Put another way, the solution to controlling the illegal market may be to outcompete it."
Conrad admits her proposal faces strong opposition from the conservation community.
"The specter of slaughtering tigers, shaving off rhino horn and selling off elephants is sure to raise
a heated debate. Yet data on the continuing decline of wild populations and persistence of
poaching should not be denied."

Baby savanna elephants in Kenya. Photo by Rhett A. Butler.
Conrad's proposal is indeed controversial. Two years ago Alasdair Cameron of the Environmental Investigation Agency (EIA) argued passionately against Conrad's idea of legalizing trade in tiger parts from farm-raised cats. EIA recently released a statement arguing that the legal trade in elephant ivory has provided cover for the illegal trade. The result: 25,000 elephants slaughtered for ivory in 2011 alone, according to a National Geographic story that came out last weekend.
Nonetheless Conrad maintains the status quo isn't working.
"When certain consumers will pay dearly, there is a significant profit to be made, trade networks are well established, ownership is vague, the animals are worth more dead than alive, and the odds of getting caught are slim, how can a trade ban be effective?"
CITATION: Conrad, K. 2012. Trade bans: a perfect storm for poaching? Tropical Conservation Science
Vol. 5(3):245-254.
Related articles
Rebuttal: Slaughtering farmed-raised tigers won't save tigers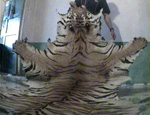 (11/18/2010) A recent interview with Kirsten Conrad on how legalizing the tiger trade could possibly save wild tigers sparked off some heated reactions, ranging from well-thought out to deeply emotional. While, we at mongabay.com were not at all surprised by this, we felt it was a good idea to allow a critic of tiger-farming and legalizing the trade to officially respond. The issue of tiger conservation is especially relevant as government officials from tiger range states and conservationists from around the world are arriving in St. Petersburg to attend next week's World Bank 'Tiger Summit'. The summit hopes to reach an agreement on a last-ditch effort to save the world's largest cat from extinction.
Would legalizing the trade in tiger parts save the tiger?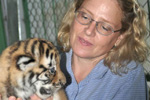 (11/15/2010) Just the mention of the idea is enough to send shivers down many tiger conservationists' spines: re-legalize the trade in tiger parts. The trade has been largely illegal since 1975 under the Convention on International Trade in Endangered Species (CITES). The concept was, of course, a reasonable one: if we ban killing tigers for traditional medicine and decorative items worldwide then poaching will stop, the trade will dry up, and tigers
will be saved. But 35 years later that has not happened—far from it. "Words such as 'collapse' are now being used to describe the [tiger's] situation both in terms of population and habitat. Wild tiger numbers continue to drop so that we have about 3,500 today across 13 range states occupying just 7% of their original habitat. It's universally acknowledged that we're losing the battle," Kirsten Conrad, tiger conservation expert, told mongabay.com in a recent interview.
Tiger farming and traditional Chinese medicine

(06/27/2010) The number of wild tigers has plummeted from 25,000-30,000 animals 50 years ago to around 3,200 today. A large part of the drop is from habitat loss and fragmentation. Tiger habitat has been reduced by 40 percent over the last decade, and tigers now occupy less than 7 percent of their historical range. Poaching has also contributed significantly to these dramatic population declines, particularly to supply parts for use in traditional medicine. In an interview with Laurel Neme, Grace Ge Gabriel, Asia Regional Director for the International Fund for Animal Welfare (IFAW), notes that, although the Chinese government has made significant efforts to reduce demand for tiger products by eliminating tiger bone from the official pharmacopeias, raising consumer awareness and identifying cheaper and more effective herbal alternatives to tiger bone for use in TCM, tiger farms threaten to reopen demand for tiger products by breeding tigers excessively, stockpiling tiger carcasses, and stoking demand by making and selling wine made from tiger bone.