Fan coral off the coast of Belize. Photo by: Rhett A. Butler.
Only 8 percent of the Caribbean's reefs today retain coral, according to a new report by the International Union for Conservation of Nature (IUCN). With input and data from 36 scientists, the report paints a bleak picture of coral decline across the region, threatening fisheries, tourism, and marine life in general.
"The major causes of coral decline are well known and include overfishing, pollution, disease and bleaching caused by rising temperatures resulting from the burning of fossil fuels," explains Carl Gustaf Lundin, Director of IUCN's Global Marine and Polar Program, in a press statement.
Forty years ago, over half of the reefs in the Caribbean sported coral. But after decades of human impacts, only remote reefs in the region show coral growth up to 30 percent, still just over half that found in 1970.
The decline of algae-eating species like parrotfish and sea urchins, have left many reefs overrun by stifling algae. In addition, warming waters due to climate change have also contributed to region-wide coral loss. Symbiotic algae, known as zooxanthellae, abandon the coral when water heats up, an occurrence known as bleaching.
"For those that are very skeptical of what's happening with climate change, I would say reality is not in their favor," Lundin told National Geographic.
Overfishing remains a problem in some places, such as Jamaica, and nutrient runoff pollution from land an issue in others like the U.S. Virgin Islands.
The report calls for better fishing regulations in the region, more efforts to tackle nutrient runoff, an increase in marine protected areas, and global cuts in greenhouse gas emissions.
"Looking forward, there is an urgent need to immediately and drastically reduce all human impacts if coral reefs and the vitally important fisheries that depend on them are to survive in the decades to come," Lundin says.
A larger, more detailed, report on the region's coral reefs will be released in March of next year.
Related articles
Deforestation is killing Madagascar's coral reefs
(09/05/2012) Sediment carried by rivers draining deforested areas in Madagascar is smothering local coral reefs, increasing the incidence of disease and suppressing growth, report new studies.
Coral calcification rates fall 44% on Australia's Great Barrier Reef
(09/04/2012) Calcification rates by reef-building coral communities on Australia's Great Barrier Reef have slowed by nearly half over the past 40 years, a sign that the world's coral reefs are facing a grave range of threats, reports a new study published in the Journal of Geophysical Research – Biogeosciences.
Strangest island in the Caribbean may be a sanctuary for critically endangered coral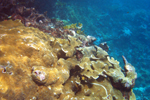 (07/16/2012) Don't feel bad if you've never heard of Navassa Island, even though it's actually part of the U.S. according to the Guano Islands Act of 1856. This uninhabited speck between Haiti and Jamaica, barely bigger than New York City's Central Park, has a bizarre and bloody history—and may be a crucial refuge for endangered coral in the Caribbean.
Indonesia green news: 70% of Indonesia's coral reefs damaged; Authorities exploring corruption charges in Tripa
(07/15/2012) 70 percent of Indonesia's coral reefs have some degree of damage found an assessment by the Indonesian Institute of Sciences (Lembaga Ilmu Pengetahuan Indonesia or LIPI). Coral reef monitoring carried out in 77 regions across Indonesia found only 30 percent of the archipelago's coral reefs are in good condition. 37 percent have low levels of damage, while a third are severely damaged. Reef damage is caused by a variety of factors including explosive fishing, mining waste, and bleaching driven by global warming.
2,600 scientists: climate change killing the world's coral reefs
(07/10/2012) In an unprecedented show of concern, 2,600 (and rising) of the world's top marine scientists have released a Consensus Statement on Climate Change and Coral Reefs that raises alarm bells about the state of the world's reefs as they are pummeled by rising temperatures and ocean acidification, both caused by greenhouse gas emissions. The statement was released at the 12th International Coral Reef Symposium.
Australia sets aside 40 percent of its waters for protection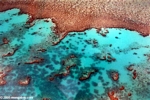 (06/14/2012) In an announcement to coincide with the beginnings of the UN's Rio+20 Summit on Sustainable Development, Australia has announced ambitious plans to protect 3.1 million square kilometers (1.19 million square miles) of its ocean, including the Coral Sea. If enacted, the proposition will increase Australia's marine protected areas from 27 to 60, covering about 40 percent of Australia's waters.
Carnage in Komodo: world-famous reef destroyed by poachers' bombs
(04/25/2012) Illegal fishermen have been utilizing homemade bombs to kill fish off the coast of Komodo Island, Indonesia, reports the Associated Press (AP); the bombs have not only injured fish populations in the protected area, but has also blasted biodiverse coral reefs popular with tourists. A scuba teacher told the AP that a section of Tatawa Besar coral reef, a popular diving spot, had been "blasted, ripped off, turned upside down."
Carbon emissions paving way for mass extinction in oceans
(03/05/2012) Human emissions of carbon dioxide may be acidifying the oceans at a rate not seen in 300 million years, according to new research published in Science. The ground-breaking study, which measures for the first time the rate of current acidification compared with other occurrences going back 300 million years, warns that carbon emissions, unchecked, will likely lead to a mass extinction in the world's oceans. Acidification particularly threatens species dependent on calcium carbonate (a chemical compound that drops as the ocean acidifies) such as coral reefs, marine mollusks, and even some plankton. As these species vanish, thousands of others that depend on them are likely to follow.