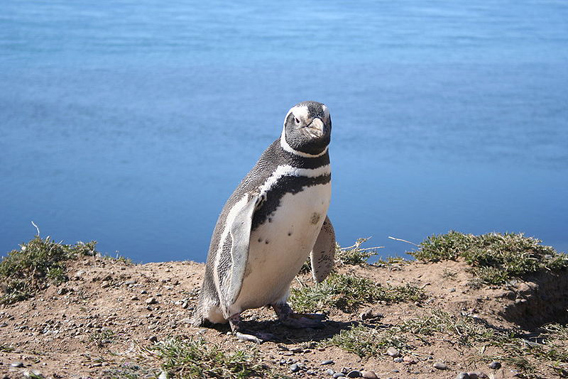 Magellanic penguin in Patagonia. Photo by: Michaël Catanzariti.
In recent weeks, 512 Magellanic penguins (Spheniscus magellanicus) have washed up dead in Brazilian state of Rio Grande do Sul. Although badly composed, researchers do not see any obvious signs why the penguins died, especially in such numbers. Marine biologists are currently performing autopsies on carcasses and hope to determine cause of death within a few weeks.
Magellanic penguins are currently migrating from Patagonia to southern Brazil, an athletic journey that often leaves a few dead, but rarely at this scale.
The Magellanic penguin is listed as Near Threatened by the IUCN Red List. The largest threat to the species is oil pollution, which researchers estimate kills over 40,000 birds annually. Loss of prey due to overfishing is another concern. The total population of this species is estimated at 1.3 million.
Penguins are some of the world's most imperiled birds. Currently 60 percent of the world's penguin species are considered threatened with extinction, if the Near Threatened category is included that percentage jumps to 70. Overfishing, pollution, and climate change are largely considered the most pervasive threats to the world's penguins.
Related articles
Scientists count penguins by satellite, find twice as many as expected (photos)
(04/14/2012) The population of emperor penguins in Antarctica is nearly twice as high as previously estimated according to a new satellite-based assessment.
PHOTO: Adorable penguin chicks score their own blog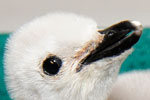 (11/15/2011) A new blog, dubbed the Real Chicks of Central Park, is allowing visitors an intimate look at eight impossibly-cute penguin chicks. Including video, photos, and interviews the blog is an attempt to raise awareness about penguins. The highlighted chicks include four gentoo penguins (Pygoscelis papua) and four chinstrap penguins (Pygoscelis antarcticus).
Photos: New Zealand oil disaster kills over 1200 birds to date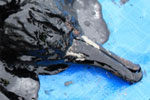 (10/16/2011) According to the New Zealand government an oil spill from a grounded container ship in the Bay of Plenty has killed 1,250 seabirds with hundreds of others in rescue centers. However, conservationists say the avian death-toll is far higher with most contaminated birds simply vanishing in the sea. "The number of birds being found washed up on the beaches will be a very small proportion of the birds being affected," explained Karen Baird, Seabird Conservation Advocate with NGO Forest & Bird.
Sowing the seeds to save the Patagonian Sea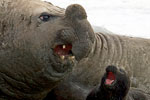 (09/07/2011) With wild waters and shores, the Patagonia Sea is home to a great menagerie of marine animals: from penguins to elephants seals, albatrosses to squid, and sea lions to southern right whales. The sea lies at crossroads between more northern latitudes and the cold bitter water of the Southern Ocean, which surround Antarctica. However the region is also a heavy fishing ground, putting pressure on a number of species and imperiling the very ecosystem that supplies the industry. Conservation efforts, spearheaded by marine conservationist Claudio Campagna and colleagues with the Wildlife Conservation Society (WCS), are in the early stages. Campagna, who often writes about the importance of language in the fight for preservation, has pushed to rename the area to focus on its stunning wildlife.
The great penguin rescue: far-flung community cooperates, sacrifices to save 4,000 penguins from oil spill
(04/18/2011) One of the world remotest communities, the UK's Tristan da Cunha archipelago, has come together to save 4,000 endangered penguins following a devastating oil spill, reports the Guardian. Last month a freighter ran aground on Nightingale Island releasing 1,500 tons of oil, potentially devastating the local population of northern rockhopper penguins (Eudyptes moseleyi), which are listed as Endangered by the IUCN Red List. However, fortunately for the penguins, the tiny community of 260 people living on the Tristan da Cunha archipelago were unwilling to give up on the oiled birds.
Antarctic penguins losing to climate change through 80% krill decline
(04/11/2011) Climate change has hit species of Antarctic penguins by causing a staggering decline in their prey: krill. A new study in the Proceedings of the National Academy of Sciences (PNAS) has found that both chinstrap penguins (Pygoscelis antarcticus) and Adélie penguins (Pygoscelis adeliae) have seen their populations decline likely do to less krill, instead of habitat changes. Since 1970 krill populations have fallen by 80% in the Southern Ocean surrounding Antarctica. Because krill require sea ice to reproduce, shrinking sea ice from climate change has made it more difficult for them to breed.