Sunrise in Cancun, Mexico, where the 2010 UN Climate Summit was held. Photo by: Rhett A. Butler.
Last week, Mexico's Senate passed an aggressive and comprehensive climate change bill, making it the first developing nation and only the second country to do so, after the UK. The bill, which far outshines anything achieved by its far wealthier northern neighbors, sets ambitious targets for cutting emissions while creating new incentive programs for clean energy. Largely dependent on fossil fuels, Mexico is approximately the 11th highest greenhouse gas emitter in the world.
"Mexico is aware this is the end of the oil era, so we need to implement this fiscal reform—and if we go through it, we'll be able to do without this oil," Porfirio Munoz Ledo, a Mexican politician, told the BBC.
The new law, which passed the Senate unanimously, pledges to cut greenhouse gas emissions by 30 percent from business as usual by 2020 and slash emissions in half by 2050 from 2000 levels. In addition, the country has set a goal of having 35 percent of its energy come from clean sources by 2024. Big polluters will now be required to track and report emissions, and fossil fuel subsidies are on their way out.
To oversee the law, the country is establishing a top-level Climate Change Commission.
The key now, according to experts, is for Mexico's government to fully implement and utilize the new law.
"This law's true significance hinges on the extent to which the government uses its discretionary authority to fully implement and strengthen the law's provisions. Done right, Mexico can both produce a powerful tool to fight climate change and maximize the law's economic opportunities for the Mexican people and industry," Jennifer Haverkamp, International Climate Program Director at Environmental Defense Fund (EDF), said. "For the bill to have passed with broad support from all parties in both chambers of Congress augers well for the future."
Related articles
U.S. suffers warmest March, breaking over 15,000 record temperatures
(04/11/2012) March was the warmest ever recorded in the U.S. with record-keeping going back to 1895, according to new data by the National Oceanic and Atmospheric Administration (NOAA). But the month wasn't just a record-breaker, it was shockingly aberrant: an extreme heatwave throughout much of the eastern and central U.S. shattered 15,272 day and nighttime records across the U.S. In all March 2012 was 0.5 degrees Fahrenheit above the previous warmest March in 1910, and an astounding 8.6 degrees Fahrenheit above the 20th Century average for March in the U.S.
"Don't be so silly" about climate change: Mohamed Nasheed on The Daily Show
(04/04/2012) Mohamed Nasheed, former president of the Maldives, told the world on The Daily Show Monday night: "Just don't be so silly" about climate change. Nasheed, who in February was forced to resign his presidency, is visiting the U.S. to meet with government officials as well as to push for climate action during the release of a new documentary film about his presidency, entitled The Island President.
Oceans heating up for over 100 years
(04/02/2012) In 1872 the HMS Challenger pulled out from Portsmouth, England to begin an unprecedented scientific expedition of the world's oceans. During its over three year journey the HMS Challenger not only collected thousands of new species and sounded unknown ocean depths, but also took hundreds of temperature readings—data which is now proving invaluable to our understanding of climate change.
"Strong evidence" linking extreme heatwaves, floods, and droughts to climate change
(03/28/2012) As North America recovers from what noted meteorologist Jeff Masters has called "the most incredible spring heatwave in U.S. and Canadian recorded history," a new paper argues that climate change is playing an important role in a world that appears increasingly pummeled by extreme weather. Published in Nature Climate Change, the paper surveys recent studies of climate change and extreme weather and finds "strong evidence" of a link between a warming world and the frequency and intensity of droughts, floods, and heatwaves—such as the one that turned winter into summer in the U.S.
Six nations, including U.S., set up climate initiative to target short-term greenhouse gases
(02/20/2012) With global negotiations to tackle carbon emissions progressing interminably, nations are seeking roundabout ways to combat global climate change. U.S. Secretary of State, Hillary Clinton, announced in India last week a new six nation initiative to target non-carbon greenhouse gases, including soot (also known as "black carbon"), methane, and hydro-fluorocarbons (HFCs). Reductions of these emissions would not only impact short-term climate change, but also improve health and agriculture worldwide according to a recent study in Science.
Arctic warms to highest level yet as researchers fear tipping points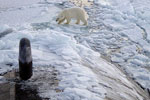 (02/13/2012) Last year the Arctic, which is warming faster than anywhere else on Earth due to global climate change, experienced its warmest twelve months yet. According to recent data by NASA, average Arctic temperatures in 2011 were 2.28 degrees Celsius (4.1 degrees Fahrenheit) above those recorded from 1951-1980. As the Arctic warms, imperiling its biodiversity and indigenous people, researchers are increasingly concerned that the region will hit climatic tipping points that could severely impact the rest of the world. A recent commentary in Nature Climate Change highlighted a number of tipping points that keep scientists awake at night.