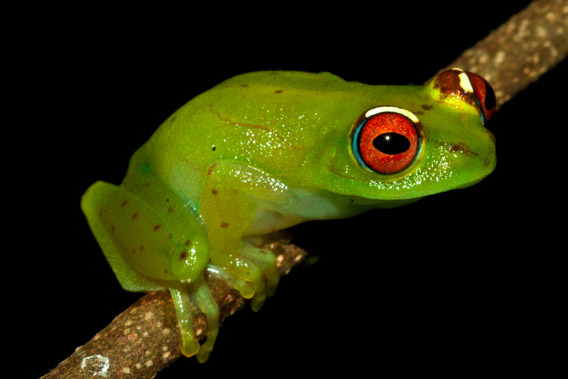 Confirmed new frog species from Betampona Forest Reserve in the Boophis genus. Photo by: Gonçalo M. Rosa.
A forest less than half the size of Manhattan sports an astounding number of frogs, according to a new paper in Biodiversity Conservation. Two surveys of Madagascar's Betampona Nature Reserve, which covers 2,228 hectares, has uncovered 76 unique frogs, 36 of which may be new to science. To put this in perspective: the U.S. and Canada combined contain just 88 frog species, but cover an area nearly a million times larger than Betampona.
Lead author of the paper, Gonçalo M. Rosa, told mongabay.com that the reason why this forest held so many frog species "is still a mystery." He notes that up to 24 of the species in the forest may be endemic, i.e. found no-where else in the world but in tiny Betampona.
"And that's why these numbers are so extraordinary (especially compared with other tropical forests)," Rosa exclaims. "Betampona is also considered a botanical 'hotspot' with 20 of the 100 most endangered Malagasy plants found within its borders!"
| | |
| --- | --- |
| | Sahaindrana waterfalls in Betampona Forest Reserve. Photo by: Gonçalo M. Rosa. |
Rosa and colleagues are currently examining the potentially new frogs from all angles to determine which ones are in fact new to science, including studying the frogs' morphology, calls, and genetics. He says such an approach is "essential nowadays to sort out the real status of a species claimed to be 'new' based only on one aspect."
Found on the eastern coast of Madagascar, Betampona conserves one of the last surviving lowland forests in the country. The forest fragment is so small that it could fit over five times into the Walt Disney World Resort in Florida. Yet Madagascar's dwindling forest land continues to be under assault by widespread slash-and-burn agriculture, overexploitation, logging and bushmeat hunting, all fueled by widespread poverty, poor governance, and overpopulation. Not just home to frogs, Betampona also harbors eleven lemur species, including the Critically Endangered black-and-white ruffed lemur (Varecia variegata). In addition, a recent study in mongabay.com's open access journal Tropical Conservation Science found that Betampona had one of the world's richest semblance of tree and shrub species with researchers cataloguing 244 species in less than one hectare.
But, says Rosa, this biological jewel, less than half the size of Manhattan, is not fully secure.
"Betampona now represents a rainforest island surrounded by degraded areas. The conservation issues facing Betampona are similar to those already quoted for many other forests and massifs such as illegal logging or bushmeat: although we consider the Betampona amphibian fauna to be at risk because of the small size of the reserve and of its isolation from other forests and other amphibian populations. This could lead to a general impoverishment of the amphibian fauna living there, such as observed in other fragmented forests."
Rosa also notes that an alien plant species, guava (Psidium guajava), is providing a new challenge for the reserve. Still, there is hope for the frogs, says Rosa, who calls the reserve "one of the best-managed protected areas in Madagascar."
| | |
| --- | --- |
| | Confirmed new frog species from Betampona Forest Reserve in the Platypelis genus. Photo by: Gonçalo M. Rosa. |
"Betampona reserve is currently under the management of Madagascar Fauna Group and Madagascar National Parks. The high level of training of the guides working at Betampona has allowed an incredible continued control of the reserve," he says.
Around 70 percent of Madagascar's species are endemic to the island. Having been separated from the mainland for tens-of-million of years, Madagascar is a massive biological laboratory where species evolved in long-isolation. The island is now home to all of the world's lemurs, half of the world's chameleons including species the size of a fingernail, bizarre tenrecs, and an incredible diversity of frogs, among other wonders.

Another confirmed new frog species from Betampona Forest Reserve in the Platypelis genus. Photo by: Gonçalo M. Rosa.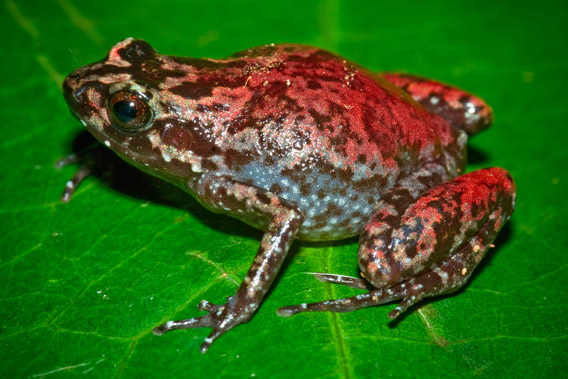 New species in the Stumpffia genus. Photo by: Gonçalo M. Rosa.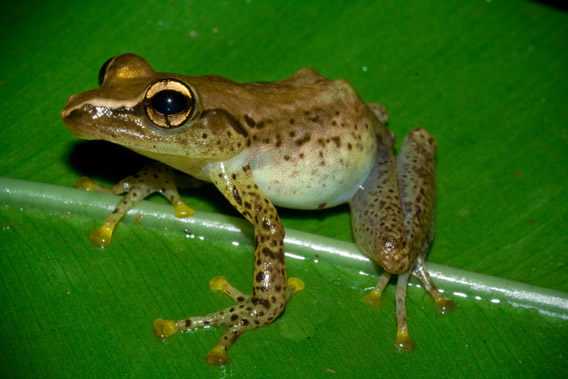 New species in the Guibemantis genus. Photo by: Gonçalo M. Rosa.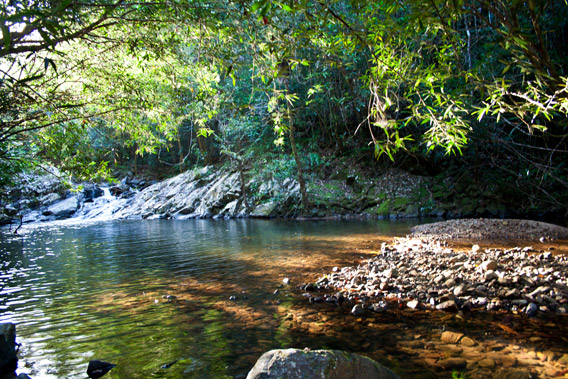 Fontsimavo River in Betampona. Photo by: Gonçalo M. Rosa.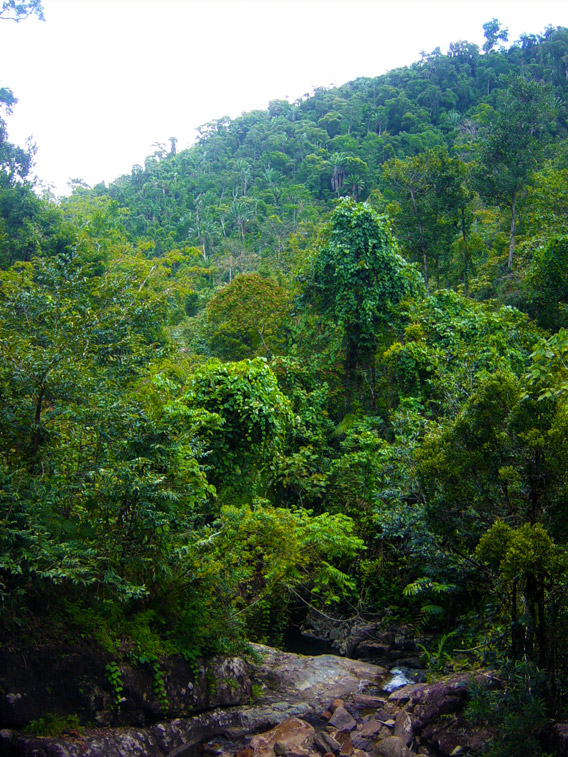 Menavato Mountain in Betampona. Photo by: Gonçalo M. Rosa.
CITATION:Goncalo M. Rosa, Franco Andreone, Angelica Crottini, J. Susanne Hauswaldt, Jean Noel, Nirhy H. Rabibisoa, Miora O. Randriambahiniarime, Rui Rebelo, Christopher J. Raxworthy. The amphibians of the relict Betampona low-elevation
rainforest, eastern Madagascar: an application
of the integrative taxonomy approach to biodiversity
assessments. Biodiversity Conservation. 2012. DOI 10.1007/s10531-012-0262-x.
Related articles
Photo: World's smallest chameleon discovered in Madagascar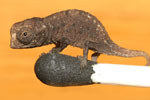 (02/15/2012) Scientists have discovered four new species of super-tiny chameleons in Madagascar, according to a new paper in PLoS ONE. The smallest of the new species, Brookesia micra, is found only on the small island of Nosy Hara and has been dubbed the smallest chameleon in the world, measuring from nose to tail 29 millimeters (1.14 inches) at its largest. Scientists believe it represents a notable example of island dwarfism.
Baby boom: 18 of the world's rarest duck born
(04/06/2012) The global population of one of the world's rarest birds just increased 43 percent. The Durrell Wildlife Conservation Trust is reporting that 18 Madagascar pochards — the world's rarest duck — hatched and are now being reared at a facility in Madagascar. The breeding program is a joint effort between Durrell, the Wildfowl & Wetlands Trust (WWT), the Peregrine Fund, Asity Madagascar and the Government of Madagascar.
Cute baby animal photos of the day: twin Malagasy giant jumping rats born at London Zoo
(02/28/2012) Twin Malagasy giant jumping rats (Hypogeomys antimena) were born in the Zoological Society of London's (ZSL) zoo in London this month. Found only on the island of Madagascar, also home to the world's lemurs, these rodents are the biggest on the island. These large rodents take the ecological place of rabbits in Madagascar, but unlike other rodents they form lifelong monogamous pairs and reproduce very slowly.
Innovative conservation: wild silk, endangered species, and poverty in Madagascar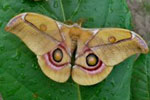 (02/20/2012) For anyone who works in conservation in Madagascar, confronting the complex difficulties of widespread poverty is a part of the job. But with the wealth of Madagascar's wildlife rapidly diminishing— such as lemurs, miniature chameleons, and hedgehog-looking tenrecs found no-where else in the world—the island-nation has become a testing ground for innovative conservation programs that focus on tackling entrenched poverty to save dwindling species and degraded places. The local NGO, the Madagascar Organization of Silk Workers or SEPALI, along with its U.S. partner Conservation through Poverty Alleviation (CPALI), is one such innovative program. In order to alleviate local pressure on the newly-established Makira Protected Area, SEPALI is aiding local farmers in artisanal silk production from endemic moths. The program uses Madagascar's famed wildlife to help create more economically stable communities.
Scientists create high resolution, 3D maps of forests in Madagascar
(02/15/2012) A team of scientists has created the first high resolution maps of remote forests in Madagascar. The effort, which is written up in the journal Carbon Balance and Management, will help more accurately register the amount of carbon stored in Madagascar's forests, potentially giving the impoverished country access to carbon-based finance under the proposed REDD (Reducing Emissions from Deforestation and forest Degradation) program.
How lemurs fight climate change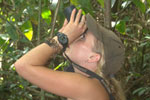 (01/09/2012) Kara Moses may have never become a biologist if not for a coin toss. The coin, which came up heads and decided Moses' direction in college, has led her on a sinuous path from studying lemurs in captivity to environmental writing, and back to lemurs, only this time tracking them in their natural habitat. Her recent research on ruffed lemurs is attracting attention for documenting the seed dispersal capabilities of Critically Endangered ruffed lemurs as well as theorizing connections between Madagascar's lemurs and the carbon storage capacity of its forests. Focusing on the black-and-white ruffed lemur's (Varecia variegata) ecological role as a seed disperser—animals that play a major role in spreading a plant's seeds far-and-wide—Moses suggests that not only do the lemurs disperse key tree species, but they could be instrumental in dispersing big species that store large amounts of carbon.
Cultural shifts in Madagascar drive lemur-killing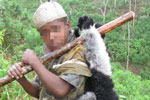 (12/15/2011) Conservationists have often found that some cultural norms, religious beliefs, and taboos play a role in holding back traditional peoples from overusing their environment. Examples of such beliefs include days wherein one cannot hunt or fish, or certain species or regions that are off limits to exploitation. But the influence of the modern world can rapidly extinguish such beliefs, sometimes for the better, in other cases not. In many parts of Madagascar, lemurs are off the menu. These primates, found only in Madagascar, play a big role in Malagasy 'fady' or taboo-related folk stories: lemurs are protectors and, in some cases, even relatives. However, according to a new paper in PLoS ONE an influx of migrants, widespread poverty, lack domestic meat, and poor law enforcement has caused a sudden rise in eating lemurs, many of which are already near-extinction due to habitat loss.
Madagascar tree diversity among the highest worldwide

(12/12/2011) In terms of biodiversity, the hugely imperiled forests of Madagascar may be among the world's richest. Researchers estimate that the island off the coast of Africa is home to at least 10,000 tree and shrub species with over 90 percent of them found no-where else in the world. With little baseline data collected on Madagascar's ecosystems, a new study, the first ever of tree diversity in Madagascar lowland rainforests, hopes to begin the process. Published in mongabay.com's open access journal Tropical Conservation Science, the new study surveyed tree species in eastern Madagascar's Betampona Special Reserve.