Notorious wildlife trafficker Anson Wong has been freed from prison after a court reduced his five-year term, reports Malaysian state media. Wong had served 17-and-a-half-months for illegally exporting nearly 100 reptiles from Malaysia.
Wong was arrested in 2010 after a luggage malfunction led Malaysia Airlines security staff revealed he was illegally carrying 95 boa constrictors, two rhinoceros vipers and one matamata turtle on his flight from Penang to Jakarta.
Wong has been in trouble with the law before. In 2000 he plead guilty to wildlife trafficking in the US and was sentenced to 71 months in jail. Meanwhile in 2009 authorities in the United States raided U.S. Global Exotics, a pet supplier that had been sourcing its animals from Wong's company, CBS Wildlife and Sungai Rusa Wildlife. Nevertheless Malaysian authorities have generally been hesitant to interfere in his operations, according to The Lizard King, a book by Bryan Christy that exposed his trafficking activities.
In recent years Malaysia has emerged as a hub for smuggled wildlife, according to The Lizard King.
Related articles
The dark side of new species discovery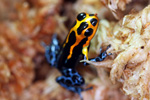 (12/21/2011) Scientists and the public usually rejoice when a new species is discovered. But biologist Bryan Stuart has learned the hard way that the discovery of new species, especially when that species is commercially valuable, has a dark side-one that could potentially wipe out the new species before protections can be put in place. Stuart has discovered 27 species unknown previously to scientists – so far. That includes 22 species of frogs, three types of snakes, and two salamanders. His experience with one of these, a warty salamander from Laos with striking markings (Laotriton laoensis), opened his eyes to a dark side of scientific discovery: commercial overexploitation before protections are in place. Shortly after Stuart described the previously unknown species Paramesotriton laoensis in a scientific paper published in 2002, commercial dealers began collecting this Lao newt for sale into the pet trade. In essence, the dealers used Stuart's geographic description in the paper as a "roadmap" to find the rare newt.
Snake laundering rampant in the Indonesian reptile export market
(11/21/2011) Breeding farms in Indonesia are being used to launder illegally caught wildlife, finds a new study published in the journal Biological Conservation. The research is based on surveys of traders who supply the market for green pythons, a non-venomous snake popular in the pet trade for its many color forms. The authors tracked pythons from their point of capture in Indonesian New Guinea and Maluku to breeding farms in Jakarta where the snakes are exported for the pet trade as 'captive-bred'. They found that 80 percent of snakes exported annually from Indonesia are illegally wild-caught.