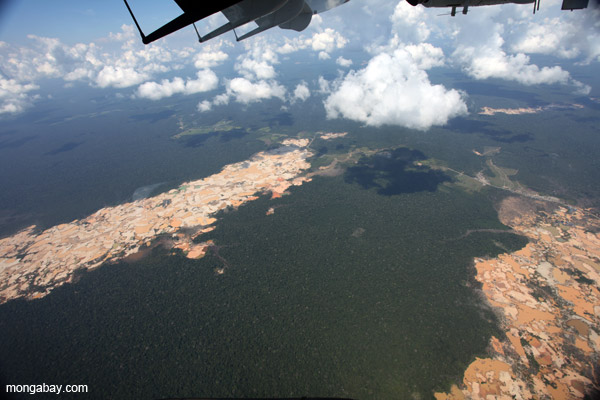 Gold mining in Peru's Tambopata region, Department of Madre de Dios. Photo by Rhett A. Butler.
Peru's Defense Ministry destroyed at least 75 illegal dredges and seized 15 vehicles from gold miners operating illegally in one of the most biodiverse parts of the Amazon rainforest.
The dredges were destroyed along the Inambari, Madre de Dios, Tambopata and Malinowski rivers, tributaries of the Amazon River in Peru's Madre de Dios Department. Illegal gold mining in rampant in the region and has been associated with water pollution, bioaccumulation of toxic mercury in fish, social conflict, deforestation, and bushmeat hunting. Illegal mining has even expanded into protected areas.
The recent action was coordinated with the Public Ministry, the Ministry of Environment, and the Ministry of Interior. The operation, conducted under Emergency Decree 007-2011, involves 1,500 troops and is expected to last 30 days, according to the Defense Ministry. Authorities plan to take control over rivers where illegal mining is occurring.
Related articles
High gold price triggers rainforest devastation in Peru
(10/11/2011) As the price of gold inches upward on international markets, a dead zone is spreading across the southern Peruvian rain forest. Tourists flying to Manu or Tambopata, the crown jewels of the country's Amazonian parks, get a jarring view of a muddy, cratered moonscape … and then another … and another in what the country boasts is its capital of biodiversity. While alluvial gold mining in the Amazon is probably older than the Incas, miners using motorized suction equipment, huge floating dredges and backhoes are plowing through the landscape on an unprecedented scale, leaving treeless scars visible from outer space. Sources close to the Peruvian Environment Ministry say the government is considering declaring an environmental emergency in the region, but emergency measures passed two years ago were not enough to contain the destruction, and some observers doubt that a new decree would have any more impact.