As the US media is focused like a laser on theatric debt talks and the UK media is agog at the heinous Rupert Murdoch scandal, millions of people are undergoing a starvation crisis in East Africa. The UN has upgraded the disaster—driven by high food prices, conflict, and prolonged drought linked by some to climate change—to famine in parts of Somalia today. Mark Bowden, UN humanitarian coordinator for Somalia, has said that tens of thousands Somalis have died from malnutrition recently, "the majority of whom were children."
The upgrade of the disaster includes two regions in southern Somalia—lower Shabelle and southern Bakool—both controlled by Shabaab Islamist who are battling with Somalia's government for control. Affiliated with al-Qaeda, the group has recently lifted a ban on food aid for the regions.
According to the UN Children's Fund (UNICEF) famine is defined as an estimated mortality rate of over 2 people per 10,000 every day, a malnutrition rate of over 30 percent for children under five, and 20 percent of households experiencing extreme food shortages.
Despite the severity of the crisis, which is also devastating parts of Kenya, Uganda, Ethiopia, and Dijbouti, emergency aid money is not flowing in fast enough. The aid group Oxfam says an additional $800 million is needed to save people on-the ground. The UN is asking for an additional $300 million for Somalia alone.
"There is no time to waste if we are to avoid massive loss of life. We must not stand by and watch this tragedy unfold before our eyes. The world has been slow to recognize the severity of this crisis, but there is no longer any excuse for inaction," Fran Equiza, Oxfam's regional director, said in a statement.
Refugee camps have been set up in Kenya and Ethiopia for Somalians fleeing the disaster. However, the refugee camps are vastly overstretched. Over a thousand Somalians are fleeing their country every day, many of them are arriving in a refugee camp called Dadaab built for 90,000 people, but currently holding over 380,000 people. People, especially children, are dying on the journey to the camp and within the camp itself.
"The situation on the ground is very worrying at the moment because people are moving in quite large numbers into Ethiopia and Kenya," Bowden said. "They're moving because they lost all their stock as a result of the drought. They've run through their reserves and they see no other hope but to move at this stage." Livestock is essential in this part of the world, often providing a family's only income. With livestock perishing from drought, families are left bereft.
"Every day of delay in assistance is literally a matter of life or death for children and their families in the famine affected areas," Bowden added.
After announcing an additional $28 million in aid for Somalia, US Secretary of State, Hilary Clinton, urged the international community to give more to alleviate the crisis. The US has given over $450 million so far to the region, however the funds come with catches that make it difficult to get to Somalian areas in need. Notably, the most recent pledge comes without conditions.
While the people of East Africa are accustomed to drought periods, the current and long-lasting drought is the worst in 60 years. Rains have not come for two seasons and droughts are coming quicker than in the past.
"It is extremely alarming that the incidents of drought seem to be occurring more and more regularly," David Orr of the United Nations World Food Program (WFP) explained to Deutsche Welle in an interview "There was a gap. The general view was that extreme weather events were occurring every 11 years. Then it came down to five or six years. But the last drought in this region occurred in 2007 and 2009. So they do seem to be happening with increasing regularity, undoubtedly as a result of climate change.
A study this year in Climate Dynamics found that drier conditions in East Africa would likely persist in the future due to climate change.
"We anticipate that average precipitation totals in Kenya and Ethiopia will continue decreasing or remain below the historical average," said USGS scientist Chris Funk. "The decreased rainfall in eastern Africa is most pronounced in the March to June season, when substantial rainfall usually occurs. Although drought is one reason for food shortages, it is exacerbated by stagnating agricultural development and continued population growth."
However, Philip Thorton with Kenya's International Livestock Research Institute and Scotland's Institute of Atmospheric and Environmental Sciences, told the UPI that one cannot say yet whether East Africa is actually becoming drier overall.
"There is no hard, general evidence of this and it is very difficult as yet to see where the statistical trends of rainfall in the region are heading but these will of course become apparent in time," he said.
While climate change is expected to worsen droughts in many parts of the world, Oxfam states that the ultimate failure that leads to a famine is political: "crop failure and poverty leave people vulnerable to starvation—but famine only occurs with political failure."
Equiza of Oxfam added that the international community is in part to blame for how bad things have gotten.
"There has been a catastrophic breakdown of the world's collective responsibility to act," she said. "Several rich governments are guilty of willful neglect as the aid effort to avert catastrophe in East Africa limps along."
In all it's estimated that 11 million people in East Africa are being impacted by the crisis.
Related articles
Worst drought in 60 years brings starvation fears to East Africa
(06/30/2011) A prolonged drought in East Africa is bringing many of the region's impoverished to their knees: the World Food Program (WFP) is warning that 10 million people in the region are facing severe shortages. While not dubbed a famine yet, experts say it could become one. Meanwhile, a recent study by FEWS NET/USGS has revealed that the current drought is the worst in 11 of 15 East African regions since 1950-51. Worsening droughts are one of the predictions for the region as the world grows warmer.
Food security in developing world threatened by climate change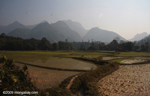 (06/06/2011) If swift action is not taken to prepare farmers in the developing world for hotter, drier, shorter growing seasons, climate change may threaten the lives of hundreds of millions of people by 2050. People in Africa and South Asia are particularly at risk of further impoverishment and hunger in a warmer world. According to the UN, a billion people are already going hungry worldwide.
Numerous causes, including climate change, behind record food prices
(02/07/2011) Food prices hit a record high in January according to the UN's Food and Agriculture Organization (FAO), threatening the world's poor. Rising 3.4% since December, the FAO stated that prices reached the highest point since the agency began tracking food prices in 1990. Given the complexity of world markets and agriculture, experts have pointed to a number of reasons behind the rise including rising meat and dairy consumption, the commodity boom, fresh water scarcity, soil erosion, biofuels, growing human population, and a warming world that has exacerbated extreme weather events like last year's heatwave in Russia.