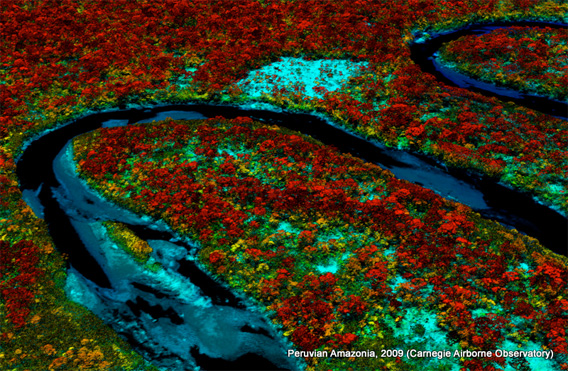 Tambopata rainforest in Peru as mapped by CAO.
A new airplane-based remote-sensing and analysis system will enable scientists to catalog tree species as they create three-dimensional maps of tropical forests.
Unveiled today at the Hiller Aviation Museum in San Carlos, California by Greg Asner of the Carnegie Institution's Department of Global Ecology at Stanford University, the newest version of the Carnegie Airborne Observatory (CAO) will offer powerful insights into the composition and biology of tropical forests.
"With CAO II we'll be able not only map the extent of a forest, but its quality and composition," Asner, director of CAO, told mongabay.com.
CAO combines optical, chemical, and laser sensors aboard aircraft to create high-resolution, three-dimensional maps of vegetation structure. These maps can be used to detect small changes in forest canopy structure from selective logging, measure biomass in dense tropical rainforests, and distinguish between plant species. It has the potential to inventory biodiversity across 40,000 acres of rainforest per day by detecting the chemical and spectral (light-reflecting) properties of individual plant species across a diverse landscape.
| | |
| --- | --- |
| | The Carnegie Airborne Observatory (top) and the Airborne Taxonomic Mapping System (bottom). |
For this to happen, Asner and his team first had to build up a catalog of the chemical and spectral properties nearly 5,000 plant species collected during extensive field work. Then Asner's team worked with engineers at NASA's Jet Propulsion Laboratory to build the Airborne Taxonomic Mapping System (AToMS), the most advanced airborne imaging spectrometer ever developed.
Asner plans to put the system to work immediately. Over the next three months he and his team will conduct aerial and on-the-ground surveys of the Western Amazon, which houses the most biodiverse rainforests on the planet. The immediate goal is to assess the impact of last year's catastrophic drought on forests of the Peruvian and Colombian Amazon. Initial work suggests these forests, which have long been thought to be among the most resilient to climate change, were particularly affected by the drought, which was the worst on record and came just five years after a "hundred-year drought" in 2005. Asner says the data collected during the mission will help researchers understand how the Amazon is changing.
The new system will support ongoing work to quantify carbon stocks, which is critical to the REDD+ (Reducing Emissions from Deforestation and Degradation) program. REDD+ will compensate tropical countries for protecting forests.
To support REDD efforts, Asner's team has developed an advanced satellite-based carbon mapping tool for use by tropical countries. Asner is now working with Google Earth to make the tool more widely available.
Related articles
80% of rainforests could adversely impacted by logging, deforestation, climate change by 2100
(08/05/2010) The world's tropical forests may suffer large-scale degradation and deforestation by the end of the century if current logging and climate change trends persist, finds a new analysis published in Conservation Letters.
Google Earth boosts deforestation monitoring capabilities
(02/07/2010) Google has taken a step towards ramping up the deforestation monitoring capabilities the Google Earth Engine by contracting Massachusetts-based Clark Labs to develop an online version of its Land Change Modeler application.
Selective logging occurs in 28 percent of world's rainforests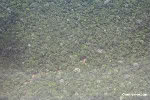 (01/13/2009) New satellite research presented for the first time at a symposium entitled "Will the rainforests survive?" showed that selective logging is impacting over a quarter of the world's rainforests. Gregory Asner from the Carnegie Institution presented the "first true global estimate of selective logging" which showed that 5.5 million square kilometers of the rainforest has already seen selective logging or is slated to be logged in the near future.
Google Earth to monitor deforestation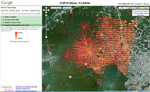 (12/10/2009) It what could be a critical development in helping tropical countries monitor deforestation, Google has unveiled a partnership with scientists using advanced remote sensing technology to rapidly analyze and map forest cover in extremely high resolution. The effort could help countries detect deforestation shortly after it occurs making it easier to prevent further forest clearing.
How satellites are used in conservation
(04/13/2009) In October 2008 scientists with the Royal Botanical Garden at Kew discovered a host of previously unknown species in a remote highland forest in Mozambique. The find was no accident: three years earlier, conservationist Julian Bayliss identified the site—Mount Mabu—using Google Earth, a tool that's rapidly becoming a critical part of conservation efforts around the world. As the discovery in Mozambique suggests, remote sensing is being used for a bewildering array of applications, from monitoring sea ice to detecting deforestation to tracking wildlife. The number of uses grows as the technology matures and becomes more widely available. Google Earth may represent a critical point, bringing the power of remote sensing to the masses and allowing anyone with an Internet connection to attach data to a geographic representation of Earth.