Selectively logged forests and timber plantations can serve as habitat for orangutans, suggesting that populations of the endangered ape may be more resilient than previously believed, reports research published in the journal PlosONE.
The study, conducted by a team of researchers led by Erik Meijaard of Jakarta-based People and Nature Consulting International, found roughly equivalent population densities between natural forest areas and two pulp and paper plantation concessions in East Kalimantan, Indonesian Borneo.
"This is important news for orangutan conservation because this iconic species is highly endangered with extinction in the wild," said Meijaard. "Their native habitat in Indonesia and Malaysia has been much reduced in size and fragmented, and hunting of these apes continues in many parts of their range."
| | |
| --- | --- |
| | Orangutan in Borneo. Photo by: Rhett A. Butler. |
The research found that Bornean orangutans use both secondary forest and acacia plantations for feeding and nesting, although the authors note "it remains unclear whether such landscapes can maintain long-term viable populations."
Meijaard and colleagues say more research is needed to determine how differences in food availability between plantations and natural forests affects orangutan behavior and viability in the long-term.
"The key finding of this study is that orangutans use acacia plantation landscapes," the authors write. "This does not mean that plantations have the same conservation value as natural forests, but, at least for orangutans, they have some value that in the past has not been sufficiently recognized."
"It is still too early to know whether these populations are transient individuals in search of new forest habitat, or whether this area is part of a recolonization process from nearby over-degraded forests. The long-term viability of these populations also requires further study."
| | |
| --- | --- |
| | Borneo orangutan |
Despite the cautionary tone of the researchers, the findings will almost certainly be championed by the pulp and paper industry, which has been criticized by environmentalists for converting natural forests into plantations.
Orangutan conservationists however can take heart in that there may be substantially more habitat for red apes than previously estimated. As it is, roughly 75 percent of Borneo's 50,000 or so orangutans are believed to live outside protected areas.
"The conservation implications of these findings are important, suggesting that we must make efforts to enhance the orangutan's chances of survival in plantation forests and the surrounding matrix habitats," the authors write.
Instead of translocating orangutans when they are encountered within plantations, they instead "recommend solutions that resolve orangutan management issues in situ by trying to reconcile ecological needs of the species with the economic development goals of plantations, for example by increasing the size and interconnectedness of conservation areas and adjacent forested habitat."
Meijaard and colleagues conclude by emphasizing the need to acknowledge all potential orangutan habitats in developing management plans to save the species.
| | |
| --- | --- |
| | Orangutan in Borneo, photo by Rhett Butler |
"Tropical forests are likely to undergo further degradation and fragmentation. The present example of orangutans in pulp and paper plantation emphasizes the urgent need for the conservation science community to focus on the potential of multifunctional forest and plantation landscapes to provide at least some resources to endangered wildlife. The majority of orangutans occur outside national parks [42], and unfortunately many of their habitats will be used for commercial timber extraction, and converted to timber plantations and other plantations such as oil palm (Elaeis guineensis)."
"We need to know whether and which species use, and can survive in, degraded habitats that make up the matrix outside forest reserves and how their survival could be supported through better management of the entire landscape. Focusing mainly on the management of contiguous, intact reserves and ignoring the conservation opportunities of such multifunctional landscapes would be a lost opportunity for conservation."
Citation: Meijaard E, Albar G, Nardiyono, Rayadin Y, Ancrenaz M, et al. (2010) Unexpected Ecological Resilience in Bornean Orangutans and Implications for Pulp and Paper Plantation Management. PLoS ONE 5(9): e12813. doi:10.1371/journal.pone.0012813
Related articles
Orangutan populations collapse in pristine forest areas
(08/12/2010) Orangutan encounter rates have fallen six-fold in Borneo over the past 150 years, report researchers writing in the journal PLoS One. Erik Meijaard, an ecologist with People and Nature Consulting International, and colleagues compared present-day encounter rates with collection rates from naturalists working in the mid-19th Century. They found orangutans are much rarer today even in pristine forest areas. The results suggest hunting is taking a toll on orangutan populations.
Indonesian people-not international donors or orangutan conservationists-will determine the ultimate fate of Indonesia's forests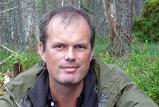 (07/29/2010) Many of the environmental issues facing Indonesia are embodied in the plight of the orangutan, the red ape that inhabits the islands of Borneo and Sumatra. Orangutan populations have plummeted over the past century, a result of hunting, habitat loss, the pet trade, and human-ape conflict. Accordingly, governments, charities, and concerned individuals have ploughed tens of millions of dollars into orangutan conservation, but have little to show in terms of slowing or reversing the decline. The same can be said about forest conservation in Indonesia: while massive amounts of money have been put toward protecting and sustainable using forests, the sum is dwarfed by the returns from converting forests into timber, rice, paper, and palm oil. So orangutans—and forests—continue to lose out to economic development, at least as conventionally pursued. Poor governance means that even when well-intentioned measures are in place, they are often undermined by corruption, apathy, or poorly-designed policies. So is there a future for Indonesia's red apes and their forest home? Erik Meijaard, an ecologist who has worked in Indonesia since 1993 and is considered a world authority on orangutan populations, is cautiously optimistic, although he sees no 'silver bullet' solutions.
Rehabilitation not enough to solve orangutan crisis in Indonesia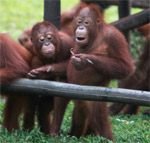 (08/20/2009) A baby orangutan ambles across the grass at the Borneo Orangutan Survival Foundation's Nyaru Menteng rehabilitation center in Central Kalimantan, in the heart of Indonesian Borneo. The ape pauses, picks up a stick and makes his way over to a plastic log, lined with small holes. Breaking the stick in two, he pokes one end into a hole in an effort to extract honey that has been deposited by a conservation worker. His expression shows the tool's use has been fruitful. But he is not alone. To his right another orangutan has turned half a coconut shell into a helmet, two others wrestle on the lawn, and another youngster scales a papaya tree. There are dozens of orangutans, all of which are about the same age. Just outside the compound, dozens of younger orangutans are getting climbing lessons from the Borneo Orangutan Survival Foundation (BOS) staff, while still younger orangutans are being fed milk from bottles in a nearby nursery. Still more orangutans—teenagers and adults—can be found on "Orangutan Island" beyond the center's main grounds. Meanwhile several recently wild orangutans sit in cages. This is a waiting game. BOS hopes to eventually release all of these orangutans back into their natural habitat—the majestic rainforests and swampy peatlands of Central Kalimantan, on the island of Borneo. But for many, this is a fate that may never be realized.