Cargill will engage one of its major palm oil suppliers after an independent audit confirmed that the Indonesian company has been destroying rainforests and peatlands in Borneo to establish oil palm plantations.
The company, PT Smart (SMART), and its owner Golden Agri-Resources, earlier this month tried to spin the audit to claim that it cleared the company of environmental wrongdoing but were quickly rebuked by one of the auditors involved in the investigation. The Ranforest Action Network (RAN), an activist group campaigning against unsustainable palm oil, subsequently used the episode to pressure Cargill on its earlier commitment to drop SMART as a supplier if it was found to be engaged in forest destruction and did not clean up its operations. On Thursday, RAN issued a statement accusing Cargill of breaking its promise to end its relationship with Sinar Mas, the conglomerate that controls PT Smart and Golden Agri-Resources.
"Despite this announcement making clear Sinar Mas' culpability for rainforest destruction, Cargill is failing to keep its promise, which was to drop Sinar Mas as a supplier if the company was found to be destroying rainforests," RAN said in the press release.
But on Friday, Cargill rejected RAN's claim, saying the environmental group was "misrepresenting" the agricultural giant's position.
| | |
| --- | --- |
| | Draining and clearing of peat forest in Central Kalimantan, Indonesia. Photo by Rhett A. Butler. |
"RAN is misrepresenting Cargill's position on PT SMART (Sinar Mas)," Susan Eich, Director of Corporate Responsibility Communications for Cargill, said via email.
"Since the allegations were originally made by Greenpeace about PT SMART, Cargill has consistently stated that if the allegations were proven correct and PT SMART did not take corrective action we would delist it as a supplier."


Eich said Cargill is "encouraged PT SMART has acknowledged areas of non-compliance with the RSPO and its own company policies" and "that it has committed to taking corrective actions and to strengthening its standard operating procedures to address these."
"SMART has committed to rectify the issue, identified in their audit, and getting all their plantations RSPO certified by 2015. We will be speaking with PT SMART and Golden Agri-Resources to understand in more detail their plans and timeframe for implementing corrective actions. We look forward to seeing progress by them on their commitments."


The audit found that SMART failed to conduct environmental impact assessments on eight of the 11 concessions audited. The activity violated Indonesian law, internal policies, and rules under the Roundtable on Sustainable Palm Oil (RSPO), a certification standard.
The audit's findings largely confirmed the accuracy of a 2008 Greenpeace report that accused SMART of destroying biodiverse rainforests and carbon-dense peatlands.
The Rainforest Action Network is pushing Cargill to adopt strong palm oil sourcing policies to ensure production doesn't led to degradation of peat swamps and deforestation.
Palm oil is used widely as cooking oil and in processed food products. But expansion of oil palm plantations over the past 20 years has emerged as one of the biggest drivers of deforestation in Indonesia and Malaysia, the leading producers of the vegetable oil.
Related articles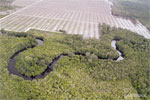 Fraud allegations against Indonesian palm oil giant widen, tarnishing auditors and sustainable palm oil initiative

(08/19/2010) Sinar Mas, an Indonesian conglomerate whose holdings include Asia Pulp and Paper, a paper products brand, and PT Smart, a palm oil producer, was sharply rebuked Wednesday over a recent report where it claimed not to have engaged in destruction of forests and peatlands. At least one of its companies, Golden Agri Resources, may now face an investigation for deliberately misleading shareholders in its corporate filings.
Longtime target of green groups, Cargill, to supply sustainably-certified palm oil to Unilever
(07/30/2010) Agriculture giant Cargill has announced an agreement to supply Unilever with 10,000 metric tons of palm oil sustainably-certified from the Round Table for Sustainable Palm Oil (RSPO). Cargill has often come under fire from green groups for being linked to the rainforest destruction. The Dutch-English company Unilever—the world's biggest buyer of palm oil—has been trying to move its palm oil sources away from deforestation with a goal of sourcing only 'sustainable' palm oil by 2015.