Indonesia will revoke existing forestry licenses to cut down natural forests under the billion dollar deal climate deal signed with Norway last week, reports Reuters.
Agus Purnomo, head of the secretariat of Indonesia's National Climate Change Council, told Sunanda Creagh of Reuters that part of the billion dollars pledged by Norway would be used to compensate palm oil developers and timber companies that would lose forest concessions under the emissions mitigation program. Compensation would come in the form of cash and land swaps in other areas.
"When you revoke licenses, when you cancel things, it involves money," Purnomo was quoted as saying. "It's not that we will cancel all licenses but (only) if there is a need to do so" in order to preserve primary forest.
| | |
| --- | --- |
| | Oil palm plantation development on peatlands in Kalimantan (Indonesian Borneo) in May 2010. Photo by Rhett A. Butler. |
Purnomo said that palm oil and pulp and paper companies would be most affected by the plan.
"But I am not ruling out any possibility. The spirit of the agreement was to save the remaining natural forest and peatland and we will do whatever humanly possibly to make it happen, within the legal context of Indonesia," he told Reuters.
"If we have to go through cancellations in the court system, we will do it."
Concession holders will be informed within six months whether their permits will be revoked. Holders must have a valid permit to receive compensation.
"Some of them don't have a valid permit, they are just making a claim," he said. "If they don't have a valid permit, we are not going to compensate. If they are getting it through bribery, we are not going to give [compensation]."
Moratorium
Meeting in Oslo, Norway last week, Indonesian president Susilo Bambang Yudhoyono announced a two-year moratorium on new concessions in peatlands and virgin forest areas. At the meeting, Norway said it would provide $1 billion in finance for forest conservation efforts in Indonesia, while other industrialized nations — including United States, France, Germany, Britain, Australia, and Japan — also made substantial commitments ($4 billion in total) to launch a program to reduce deforestation and forest degradation worldwide. The scheme — dubbed REDD+ — would pay tropical nations to conserve and sustainably manage their forests.
| | |
| --- | --- |
| | Rainforest in North Sumatra. Photo by Rhett A. Butler. |
Trailing only Brazil in annual forest loss and losing more than 1 million square kilometers (418,000 sq mi) of forest between 2000 and 2005, Indonesia is viewed as a key participant in efforts to reduce global deforestation and slow climate change. More than 80 percent of Indonesia's emissions result from deforestation and degradation of carbon-rich ecosystems like peatlands, according to data from the World Resources Institute. Most deforestation in Indonesia is driven by the forestry sector, including oil palm and timber plantation developers, who have strongly opposed past efforts to rein in forest destruction.
With funding from Norway in place, Indonesia is now set to pursue the aggressive emissions reduction target set last year by President Yudhoyono last year. Under the plan, Indonesia will cut emissions a minimum of 26 percent — and up to 41 percent — from projected levels by 2020.
CITATION: Sunanda Creagh. Indonesia to scrap permits to save forests-official. Reuters May 31
Related articles
Indonesia announces moratorium on granting new forest concessions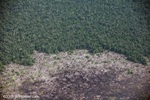 (05/28/2010) With one of the highest rates of deforestation in the world, the world's third largest greenhouse gas emissions due mostly to forest loss, and with a rich biodiversity that is fighting to survive amid large-scale habitat loss, Indonesia today announced a deal that may be the beginning of stopping forest loss in the Southeast Asian country. Indonesia announced a two year moratorium on granting new concessions of rainforest and peat forest for clearing in Oslo, Norway, however concessions already granted to companies will not be stopped. The announcement came as Indonesia received 1 billion US dollars from Norway to help the country stop deforestation.
Indonesian government report recommends moratorium on peatlands conversion
(01/19/2010) A study issued by Indonesian government recommends a moratorium on peatlands conversion in order to meet its greenhouse gas emissions target pledged for 2020, reports the Jakarta Post. The report, commissioned by the National Development Planning Agency (Bappenas), says that conversion of peatlands accounts for 50 percent of Indonesia's greenhouse gas emissions but only one percent of GDP. A ban on conversion would therefore be a cost-effective way for the country to achieve its goal of reducing carbon emissions 26 percent from a projected baseline by 2020. But the recommendation is likely to face strong resistance from plantation developers eager to expand operations in peatland areas. Last year the Agricultural Ministry lifted a moratorium on the conversion of peatlands of less than 3 meters in depth for oil palm plantations. Environmentalists said the move would release billions of tons of carbon dioxide.
REDD must address corruption to save rainforests in Indonesia, says report
(01/13/2010) The Indonesian government squandered billions of dollars in funds set aside for reforestation through corruption and mismanagement in the 1990s, raising important questions as the country prepares for the influx of money from a proposed climate change mitigation scheme known as REDD+ (reduced emissions from deforestation and degradation), warns a new report released Tuesday by the Center for International Forestry Research (CIFOR), a forest policy research group.
Consumers should help pay the bill for 'greener' palm oil
(01/12/2010) Palm oil is one of the world's most traded and versatile agricultural commodities. It can be used as edible vegetable oil, industrial lubricant, raw material in cosmetic and skincare products and feedstock for biofuel production. Growing global demand for palm oil and the ensuing cropland expansion has been blamed for a wide range of environmental ills, including tropical deforestation, peatland degradation, biodiversity loss and CO2 emissions. In response to these concerns, a group of stakeholders—including activists, investors, producers and retailers—formed the Roundtable on Sustainable Palm Oil (RSPO) to develop a certification scheme for palm oil produced through environmentally- and socially-responsible ways. It is widely anticipated that the creation of a premium market for RSPO-certified sustainable palm oil (CSPO) would incentivize palm oil producers to improve their management practices.
40% of lowland forests in Sumatra and Indonesian Borneo cleared in 15 years
(11/10/2009) Forty percent of lowland forests in Sumatra and Kalimantan (Indonesian Borneo) were cleared from 1990 to 2005, reports a new high resolution assessment of land cover change in Indonesia.
Palm oil companies trade plantation concessions for carbon credits from forest conservation
(07/22/2009) Indonesian palm oil producers are eying forest conservation projects as a way to supplement earnings via the nascent carbon market, reports Reuters.