In a discovery at the bottom of the world that could have implications on the search for extraterrestrial life, researchers were astounded to find an amphipod swimming beneath a massive Antarctic ice sheet.
The amphipod—a shrimp-like creature—was caught on video swimming 600 feet below the ice, where the NASA team expected to find no higher life form than some microbes.
"We were operating on the presumption that nothing's there," NASA ice scientist Robert Bindschadler told the Associated Press. "It was a shrimp you'd enjoy having on your plate […] We were just gaga over it,"
The bright orange 3-inch Lyssianasid amphipod was precocious enough to land on the NASA camera's cable.
The team also pulled up a tentacle which they believed belonged to a foot-long jellyfish—another animal they never expected to find in the hostile environment.
One of the questions related to this discovery is where do these species find food to survive on?
Whatever the answer turns out of be, researchers say that if higher life forms such as amphipods and jellyfish are capable of surviving in this hostile environment, it bodes well for discoveries on distant worlds.
Video of amphipod beneath Antarctic ice produced by the Associated Press.
Related articles
First footage captured of giant sea serpent of the deep: the oarfish
(02/09/2010) Scientists have captured what they believe to be the first footage ever of the oarfish, the species likely responsible for legends told of sea serpents.

(01/13/2010) A number of media outlets are reporting a new type of depression: you could call it the Avatar blues. Some people seeing the new blockbuster film report becoming depressed afterwards because the world of Avatar, sporting six-legged creatures, flying lizards, and glowing organisms, is not real. Yet, to director James Cameron's credit, the alien world of Pandora is based on our own biological paradise—Earth. The wonders of Avatar are all around us, you just have to know where to look.
EBay bid to name new shrimp species raises $2,900 for conservation from NBA star
(12/07/2009) Former NBA basketball player for the Chicago Bulls, Luc Longley, has won the EBay auction to name a wild looking red-polka dotted shrimp species. Longley won with a bid of 3,600 Australian dollars (2,900 US dollars): all of the funds go to the Australian Marine Conservation Society (AMCS). He named the shrimp Lebbeus clarehanna as a gift for his daughter, Clare Hanna Longley's fifteenth birthday.
Videos and Photos: over 17,000 species discovered in waters beyond the sun's reach

(11/23/2009) Deep, deep below the ocean's surface, in a world of ever-present darkness, one would expect few, if any, species would thrive. However, recent expeditions by the Census of Marine Life (CoML) have found an incredible array of strange, diverse, and amazing creatures. To date a total of 17,650 species are now known to live in frigid, nearly lightless waters beyond the photic zone—where enough light occurs for photosynthesis—approximately 200 meters deep. Nearly 6,000 of these occur in even harsher ecosystems, below depths of 1,000 meters or 0.62 miles down.
Three new species discovered in mile-long underwater cave

(09/01/2009) There are few places in the world more remote, more dangerous, and more unexplored than underwater caves. Cave diving—exploring these unknown abysses—has yielded many strange species unknown to science. A recent expedition to an underwater cave on Lanzarote, one of the Canary Islands, was no exception. Researchers discovered two species of worm smaller than a grain of rice and a primitive poisonous crustacean.
Newly discovered deep sea worms throw bioluminescent 'bombs'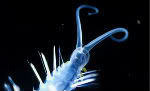 (08/20/2009) Researchers from Scripps Institution of Oceanography at UC San Diego have announced in Science the discovery of seven new species of deep sea worms, five of which drop orb-like parts of their body which cause a brilliant green display of bioluminescence. For this reason researchers have nicknamed them the 'green bombers'. The worms are not just new species, but a clade of animals entirely unknown to science until now.
Will jellyfish take over the world?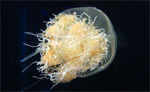 (06/16/2009) It could be a plot of a (bad) science-fiction film: a man-made disaster creates spawns of millions upon millions of jellyfish which rapidly take over the ocean. Humans, starving for mahi-mahi and Chilean seabass, turn to jellyfish, which becomes the new tuna (after the tuna fishery has collapsed, of course). Fish sticks become jelly-sticks, and fish-and-chips becomes jelly-and-chips. The sci-fi film could end with the ominous image of a jellyfish evolving terrestrial limbs and pulling itself onto land—readying itself for a new conquest.
Extremophiles discovered below Antarctic glacier are remnants of marine life
(04/16/2009) Living in isolation for millions of years, cut off from sunlight and oxygen, surviving by breathing iron beneath an Antarctic glacier—such are the conditions of newly-discovered microbes living under Taylor Glacier in Antarctica's desert-waste, the McMurdo Dry Valleys.