Only the porbeagle shark received protection today from the Convention on International Trade in Endangered Species (CITES). Seven other shark species failed to win international protection despite plummeting populations due to overfishing.
Once again, Japan led the opposition to regulating the trade in white-tipped sharks and scalloped hammerheads, including two look-alike species: the great hammerhead and the smooth hammerhead. Japan has dominated the CITES meeting, successfully leading resistance to banning the trade in the Critically Endangered Atlantic bluefin tuna and against monitoring the coral trade.
"The devastating result this morning sees hammerheads and oceanic whitetip sharks join the Atlantic bluefin, and red and pink corals, as victims of short-term economic interest winning out over efforts to save species from extinction at this CITES meeting," Greenpeace International Oceans Campaigner Oliver Knowles said.
| | |
| --- | --- |
| | Oceanic whitetip shark loses vote for protection today at CITES. Photo by: Peter Koelbl. |
Sharks are increasingly targeted for shark fin soup, a delicacy in many Asian countries, including Japan. The trade has decimated some species, for examples the scalloped hammerhead has dropped by 98 percent in some regions while the oceanic whitetip sharks has decline by 90 percent in the central Pacific Ocean and 99 percent in the Gulf of Mexico.
The measures to protect the sharks was put forward by the US, the EU, and the tiny Pacific nation of Palau. Stuart Beck, Palau's Ambassador to the United Nations, said the fight to save sharks is not over: "We will continue to pursue our efforts to protect sharks from eradication by the decadent and cruel process of shark-finning" whereby sharks' fins are cut off while the animal is still alive, and the sharks is thrown back into the ocean to die. Beck added, "I am sure that, properly prepared, bald eagle is delicious. But, as civilized people, we simply do not eat it."
"The shark fin trade which is responsible for the killing of up to 73 million sharks each year remains largely unregulated," said Matt Rand, director of global shark conservation for the Pew Environment Group. "Today's votes only help porbeagle populations. Even with scientific data showing that many shark populations are plummeting, international fisheries management bodies and now international conservation forums mostly favor commerce over protection. Individual nations need to answer the call to protect threatened species if sharks are to remain in our oceans."
The only winner today, the porbeagle shark, is caught both for its prized-meat and its large fins. The species is a cousin to the great white shark.
The spiny dogfish also lost a vote for protection. This shark has a two year gestation making it incredibly vulnerable to overfishing.
| | |
| --- | --- |
| | The porbeagle was the only shark to gain protection at CITES. Photo courtesy of NOAA. |
"Sharks have been on our planet for more than 400 million years," Rand said. "But if governments do not act, many shark species will not last—even iconic species like the hammerheads. Most species reproduce late in life, have few young and simply do not have the capacity to recover from commercial overfishing and global trade."
Two other shark species—the sandbar shark and the dusky shark—were removed from proposals before reaching the voting stage.
"Governments at CITES have in the past had a good track record of protecting rare species, but can they rise to the challenge of protecting species which are now seriously depleted, and simultaneously worth a lot of money? Sadly, the signs from this meeting are not good. It's clear that more and more governments attending CITES are not trying to protect species, but safeguard what they see as 'commodities' that they can continue trading," concluded Knowles, adding that "proposal after proposal designed to protect massively overfished marine species have failed to pass at CITES. It's an appalling result, the impacts of which will effect our marine environment for generations to come."
While CITES has largely failed the world's marine species, the international body voted yesterday to against allowing sales of ivory from Tanzania and Zambia, fearing that it would worsen the current poaching crisis against the world's elephants.
Marine biologist, Jennifer Jacquet, recently said in her blog, Guilty Planet that CITES failure to protect marine life was "another failure to see fish as wildlife."
UPDATE: On the last day of the CITES meeting the probeagle shark lost its recently-gained protection. Pushed by Asian countries, a re-vote overturned the previous votes on the porbeagle shark. Not a single marine species gained protection from the meeting.
Related articles
(03/17/2010) An effort to bolster conservation measures for plummeting shark populations was defeated yesterday at the Convention on International Trade in Endangered Species (CITES), according to the AP. The nonbinding measure would have increased transparency in the shark trade and produced research on illegal fishing for sharks.
Sharks swim safe around the Maldives
(03/11/2010) Sharks that dwell in the Maldives can breathe a sigh of relief: the island nation has declared 90,000 square kilometers of the Indian Ocean a safe-haven for sharks, banning shark fishing as well as any trade in shark fins.
UN to protect seven migratory sharks, but Australia opts out
(02/17/2010) One hundred and thirteen countries have signed on to an agreement to protect seven migratory sharks currently threatened with extinction byway of the Convention on the Conservation of Migratory Species of Wild Animals (CMS), according to the UN Environment Program (UNEP). The agreement prohibits hunting, fishing, or deliberate killing of the great white shark, basking shark, whale shark, porbeagle shark, spiny dogfish, as well as the shortfin and longfin mako sharks. However, Australia has declared it will ignore certain protections.
Actions taken to save sharks 'disappointing'
(11/15/2009) Environmentalists say that the International Commissions for the Conservation of Atlantic Tuna (ICCAT) did not do enough in their yearly meeting to protect the ocean's sharks.
Over 30 percent of open ocean sharks and rays face extinction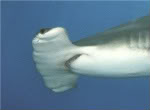 (06/25/2009) The first global study of open ocean (pelagic) sharks and rays found that 32 percent of the species are threatened with extinction largely due to overfishing and bycatch, making pelagic sharks and rays more threatened than birds (12 percent), mammals (20 percent), and even amphibians (31 percent), which are considered to be undergoing an extinction crisis. The situation worsens when only sharks taken in high-seas fisheries are considered: 52 percent of these species are threatened.