The words we choose matter. Benjamin Lee Whorf, an influential American linguist theorized that the language one speaks directly impacts our thoughts; he is quoted as saying, "language shapes the way we think, and determines what we can think about". If this is the case then those who believe in conservation must select their words wisely.
My wife and I recently traveled to Africa where we visited wildlife parks in both Zimbabwe and Botswana. The animals we encountered and the scenes we were fortunate enough to witness proved so beautiful and wondrous that I have a difficult time describing them—at least in any way that accurately depicts the experience.
| | |
| --- | --- |
| | Male impala in Zimbabwe. Photo by: Tiffany Roufs |
Although our trip was amazing, an aspect of it troubled me as we left. The first instance was at Chobe National Park in Botswana when our guide referred to the impalas we were watching as 'Africa's McDonalds'. The reason for this, he explained—after he didn't get the requisite chuckles he may have expected—was because impalas have black marks on their rump, outlined by white, and when their tail is positioned just so the marks appear to make an 'M'. It's not a great likeness of the ubiquitous McDonalds logo, but somehow the antelope attained the nickname—also apparently because they are 'fast food' for lions—and now can't shake it off.
I was a little troubled that the guide didn't take that moment to tell us something about the impala's natural history: such as its ability to jump nine meters (thirty feet), or the fact that it is active both during the day and the night, or that its social structure is flexible enough to change group structures depending on food availability.
It was a small thing, all in all, so I didn't think about it again until we visited a private wildlife park in Zimbabwe, and our guide told us the same thing. Only this guide took it one step further: every time we would see an impala he would boisterously call out 'McDonaaaaalds!' instead of referring to it by its common name, impala, or, I even wondered, why not its scientific name Aepyceros melampus?
| | |
| --- | --- |
| | Zebra in Zimbabwe. Photo by: Tiffany Roufs |
As our trek wore on, I realized this had become a trend. Zebras instead of being zebras were 'donkeys in pajamas!' while, worse of all, was the name give to the waterbuck. This antelope has a white circular mark on its hindquarters, and so the guide called it, 'toilet-seat buck!'—his voice ringing out over the savannah.
Now, this got me thinking. If what we choose to name something matters, if it in a way shapes our perception and thoughts, then what did it mean to tourists that these animals, which they may only see in the wild once in their life, were referred to as 'McDonalds', 'donkeys in pjs', or 'toilet-seat buck'?
Seeing animals in the wild, watching the way they move about their natural environment should be an experience of awe and profound respect. It should be a moment to remember. But if one's guide is calling the animal's nicknames that are silly and even demeaning, how can one really see these animals for what they are?
Both the reserve in Zimbabwe and the park in Botswana exist, at least in part, for the conservation of species, yet how could conservation be a success if we demean the species we asking people to help conserve?
This train of thought led me to other phrases common in African lingo. In Africa, parks and reserves are called 'game parks'. This is leftover language from the time when the majority of these places were literally for the purpose of 'game', i.e. shooting animals with rifles. While there are still true 'game parks' in Africa (where someone can pay to shoot pretty much any species) the majority of reserves are places for the conservation of wildlife. Why not then call these parks what they are: 'wildlife parks' instead of 'game parks'?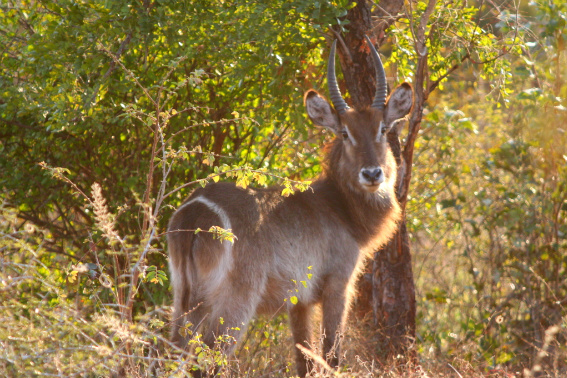 Male waterbuck in Zimbabwe. Photo by Tiffany Roufs.
Related articles
Discovering nature's wonder in order to save it, an interview with Jaboury Ghazoul

(09/08/2009) Sometimes we lose sight of the forest by staring at the trees. When this happens we need something jarring and eloquent to pull us back to view the big picture again. This is what tropical ecologist Jaboury Ghazoul provided during a talk at the Association of Tropical Biology and Conservation (ATBC) meeting this summer in Marburg, Germany. Throwing out a dazzling array of big ideas and even bigger questions—incorporating natural history, biodiversity, morality, philosophy, and art—the enthusiastic Ghazoul left his audience in a state of wonder.
Only one out of 91 antelope species is on the rise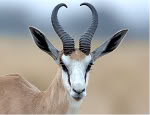 (03/04/2009) The springbok is the only antelope species whose population is on the rise, according to a new review by the Red List for the International Union for Conservation of Nature (IUCN). In addition, over a quarter of the antelopes, 25 species out of 91, are considered threatened with extinction. "Unsustainable harvesting, whether for food or traditional medicine, and human encroachment on their habitat are the main threats facing antelopes," says Dr Philippe Chardonnet, Co-Chair of the IUCN Antelope Specialist Group.
Half of the world's mammal species in decline (update)
(10/06/2008) Half of the world's mammal species are in decline, according to a new assessment of the planet's 5,487 mammals.
One quarter to one third of mammals threatened with extinction
(10/06/2008) One in four of the world's land mammal species and one in three marine mammal species is threatened with extinction, according to an update of the IUCN Red List, the gold standard for the conservation status of global biodiversity.
Cuteness determines whether the public will support saving species from extinction
(07/07/2008) How much would you pay to prevent the extinction of the humpback whale? The giant panda? Or how about the red-cockaded woodpecker, the striped shiner, or the water vole? With finite funds and increasing threats to species, should such decision be made on popularity, perceived utility, or ecology?
Naming rights for newly discovered 'walking frog' to be auctioned for conservation
(05/20/2008) The Amphibian Ark, an initiative to save disappearing amphibians from extinction, will auction of the naming rights of a newly discovered 'walking frog' in Ecuador to raise money for local conservation efforts.