Most European consumers of palm oil are failing to buy eco-certified palm oil, undermining efforts to encourage producers to reduce their impact on the environment, reports WWF.
Analyzing 59 major corporate users of palm oil in Europe, WWF found that only 10 companies are "showing real progress on their commitments to buy and use sustainable palm oil." 19 companies have "taken very little or no action to curb their use of non-certified palm oil," according to the environmental group's new Palm Oil Buyers' Scorecard (1.26 MB PDF), released the week before the 7th Roundtable on Sustainable Palm Oil (RSPO), which sets criteria for certification.
WWF has been a key supporter of RSPO, which includes a range of stakeholders from palm oil producers and distributors to NGOs. The criteria aim to reduce pollution and protect key tropical forest areas. Critics of the scheme say it fails to go far enough to avoid deforestation and biodiversity loss. Confusion over the effectiveness of RSPO might be one reason sales of certified palm oil have been lackluster — less than 20 percent of the 1.05 million tons of certified palm oil produced have been sold since September 2008. Another factor could be the $10-45 price premium on certified palm oil.
Nevertheless, by releasing the the scorecard, WWF hopes to pressure companies that previously committed to buying "eco-friendly" palm oil.
"WWF welcomes the action of those companies that have moved toward buying certified palm oil," said WWF International's Rod Taylor in a statement. "Although many companies have a long way to go, the performances of the top companies in the Scorecard signal to the rest of the industry that it is possible to turn commitment into action and transform the market."
"Because certified palm oil is now available, it is time to hold major palm oil users to account for their policies and actions."
BEST SCORES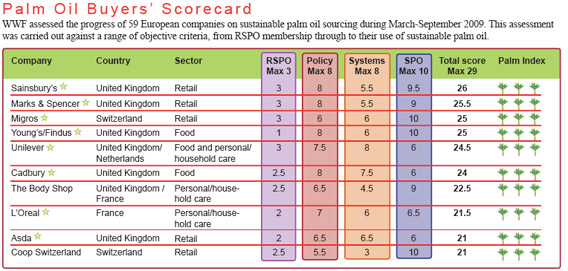 WORST SCORES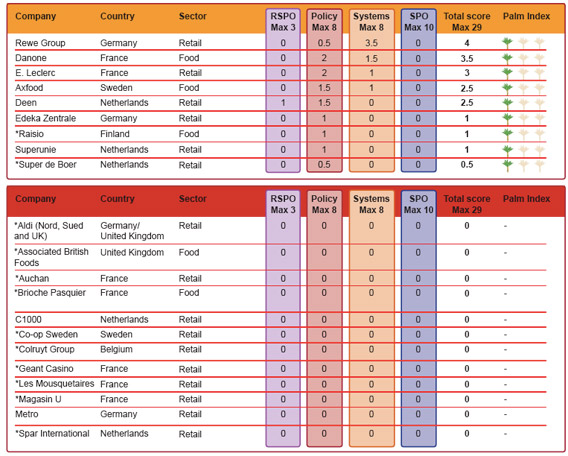 Related
Sales of certified palm oil grow
(10/08/2009) Sales of palm oil certified as being produced at less cost to the environment have accelerated after a slow start, reports the Roundtable on Sustainable Palm Oil (RSPO), the body that developed the criteria for certification.
Palm oil both a leading threat to orangutans and a key source of jobs in Sumatra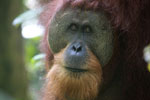 (09/24/2009) Of the world's two species of orangutan, a great ape that shares 96 percent of man's genetic makeup, the Sumatran orangutan is considerably more endangered than its cousin in Borneo. Today there are believed to be fewer than 7,000 Sumatran orangutans in the wild, a consequence of the wildlife trade, hunting, and accelerating destruction of their native forest habitat by loggers, small-scale farmers, and agribusiness. Gunung Leuser National Park in North Sumatra is one of the last strongholds for the species, serving as a refuge among paper pulp concessions and rubber and oil palm plantations. While orangutans are relatively well protected in areas around tourist centers, they are affected by poorly regulated interactions with tourists, which have increased the risk of disease and resulted in high mortality rates among infants near tourist centers like Bukit Lawang. Further, orangutans that range outside the park or live in remote areas or on its margins face conflicts with developers, including loggers, who may or may not know about the existence of the park, and plantation workers, who may kill any orangutans they encounter in the fields. Working to improve the fate of orangutans that find their way into plantations and unprotected community areas is the Orangutan Information Center (OIC), a local NGO that collaborates with the Sumatran Orangutan Society (SOS).
Failure to support greener palm oil may lead industry to abandon environmental measures
(07/08/2009) Consumer apathy towards eco-certified palm oil have undermined efforts to improve the environmental performance of the industry, a top industry official told Reuters.
Consumers show no interest in eco-certified palm oil; WWF threatens naming and shaming campaign
(05/13/2009) Lack of interest in eco-certified palm oil among buyers threatens to undermine efforts to improve the environmental performance of the industry, reports the World Wildlife Fund (WWF).