Near the once-contentious border of Ecuador and Peru in the mountainous forests of the Cordillera del Condor, scientists from Conservation International (CI) conducted a Rapid Assessment Program (RAP), uncovering what they believe are several new species, including four amphibians, one lizard, and seven insects.
"The species that we discovered on this expedition are fascinating and make clear how biologically important this area is – not only because of the wealth of plants and animals that inhabit it but also because of the service that it provides. to local people, like clean water and the opportunities for income from ecotourism. It is crucial that it is protected properly." said Leeanne Alonso, Vice President of CI's RAP.
| | |
| --- | --- |
| | This tiny frog is from the genus Pristimantis and is potentially new to science.It is one of the Andes' smallest terrestrial vertebrates; the maximum body size for males is < 1.3cms (0.5 inches)! Photo by Luis A. Coloma. |
The team focused on the Upper Nanharitza River Basin, which has been geologically isolated from the rest of the Andes, giving it broad potential for new species.
The region is close to becoming a peace park between Ecuador and Peru, which fought over the nations' borders in the late 1990s. CI hopes that these new discoveries will highlight the importance of moving forward to protect the area.
"Preservation of this incredible mountain range is definitely possible, even more so than for many other tropical forests, because of the active role of the local communities are playing in pushing for its protection," Alonso said.
| | |
| --- | --- |
| | The white-faced gnome katydid is potentially new to science. Only two females have been found of this tiny species. It is thought that it could belong to a new genus. Photo by Holgar Braun. |
In addition to the possible new species, the team also discovered several rare and endangered species, including a crystal frog and a population of harlequin frogs, both of which have not been touch by the chytrid fungus, which has devastated amphibians around the world. The team found 11 species during the RAP that are considered threatened globally.
"This is pristine mountain forest, and the flora and fauna of this area was largely undisturbed by people other than local communities – who treated it with respect. But now there are many threats from agriculture, logging and mining, so it is crucial that the global community and the government of Ecuador recognize the importance of this place and give it the strong protection it deserves." said Luis Suarez, Executive Director of CI's Ecuador program.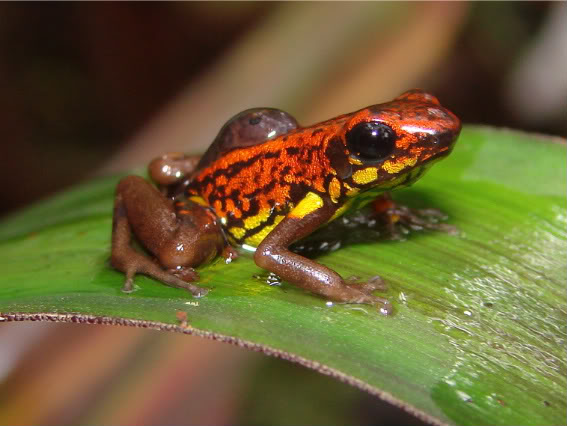 This beautiful poison arrow frog is from the genus Dendrobates and is potentially new to science. Here the male can be seen carrying one of its tadpoles. Photo by: Jessica Deichmann.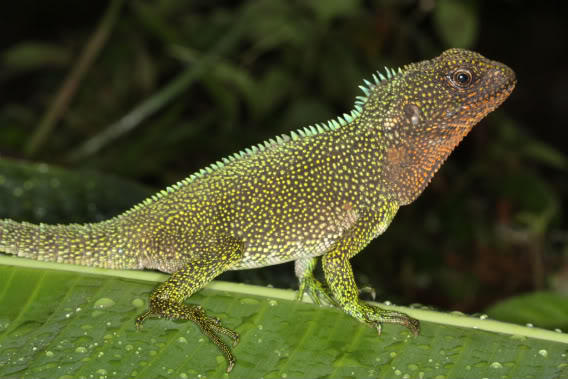 This lizard is from the genus Enyalioides and is potentially new to science. Photo by: Holger Braun.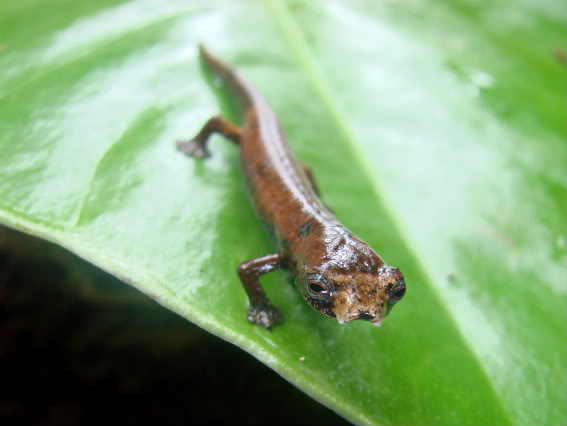 This fascinating looking salamander is from the genus Bolitoglossa and is potentially new to science. Salamanders of this genus are rare, nocturnal amphibians and those found in Ecuador will mostly inhabit forests below 1000 m (3280 ft). Photo by: Jessica Deichmann.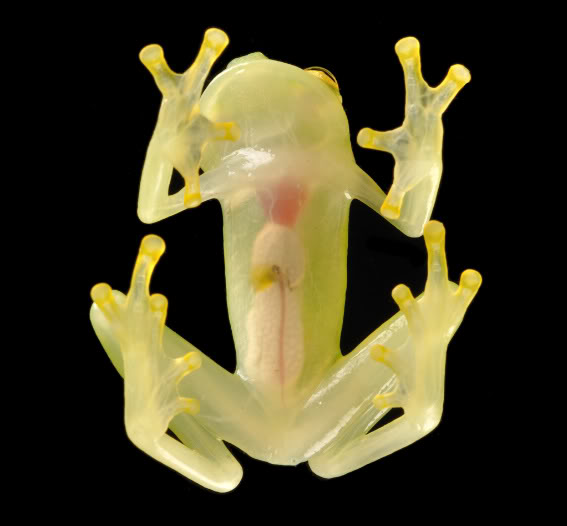 Hyalinobatrachium pellucidum is a species of glass frog or crystal frog (so called because you can see their internal organs through their translucent skin). This species is listed as Endangered by the IUCN Red List. Photo by: Luis Coloma.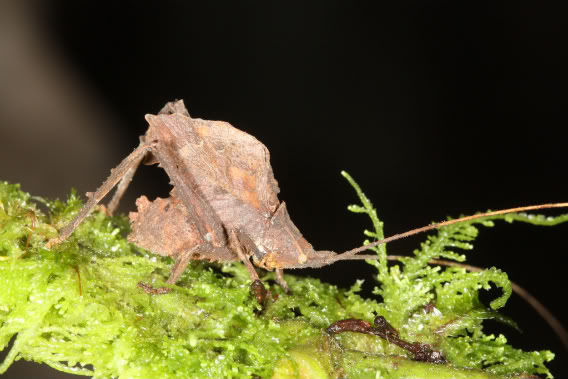 This katydid is potentially new to science and is from the genus, Typophyllum. It produces a series of 3-6 short pulses at slightly above 20 kHz, thus making its call inaudible to the human ear. It lives between 900 and 1,500 m (2,952 and 4,920 feet). Photo by: Holger Braun.

Related articles
Photos: top 10 species discovered in 2008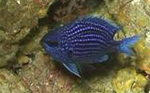 (05/22/2009) Scientists documented 18,516 previously unknown species in 2007, report researchers from the International Institute for Species Exploration at Arizona State University, who also unveiled the "top 10 new species" described in 2008. The "top 10" species include a pea-sized seahorse, caffeine-free coffee, bacteria that live in hairspray, a tiny snake, a two foot long insect from Malaysia, a fossilized specimen of the oldest known live-bearing vertebrate, a snail whose shell twists around four axes, a ghost slug from Wales, a deep blue damselfish, and a palm that flowers itself to death.
Approximately 200 new frogs discovered in Madagascar threatened by political instability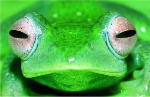 (05/11/2009) Amid the amphibian extinction crisis—where amphibians worldwide are disappearing due to habitat loss, pollution, and a devastating fungal epidemic—the Spanish Scientific Research Council (CSIC) has announced some good news. In a survey of the island-nation of Madagascar they have identified between 129 and 221 new species of frogs. The discovery of so many new species nearly doubles the island's total number of frogs.
Photos: Undocumented species discovered in Papua New Guinea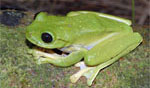 (03/25/2009) Colorful jumping spiders, a tiny frog with a "ringing song" and a striped gecko are among more than 50 previously unknown species discovered during a recent survey in the remote highlands of Papua New Guinea. More than 600 species were documented during the 2008 expedition, which was led by Conservation International (CI) under its Rapid Assessment Program (RAP).