China surpasses the U.S. in CO2 emissions
China surpasses the U.S. in CO2 emissions
mongabay.com

June 20, 2007
China has surpassed the United States as the world's largest producers of greenhouse gas emissions, reports the Netherlands Environmental Assessment Agency (EEA), a group that advises the Dutch government.
According to figures released by the agency, China produced 6,200 million metric tons of carbon dioxide last year, compared with 5,800 million tons for U.S. China's emissions surged by 8.7 percent in 2006, while those from the United States fell by 1.4 percent due to a slowing economy. CO2 emissions in China are now 8 percent higher than in America, whereas last year China's emissions lagged 2 percent behind those of the U.S.
Overall EEA found that global CO2 emissions from fossil fuel use increased by about 2.6 percent in 2006, down from the 3.3 percent increase in 2005. The agency notes that global fossil-fuel related CO2 emissions have increased by over 35% since 1990. The Kyoto Protocol calls for member nations to cut emissions by an average of 5.8 percent from 1990 levels by 2012.
EEA cautions that its estimates of CO2 emissions do not include emissions from flaring and venting of associated gas during oil and gas production or underground coal fires in China, which may contribute another 150-450 megatons of CO2 annually. EEA calculations include emissions from fossil fuel use and industrial processes including cement production.
China's emissions growth is one of the big reasons why the United States and Australia have refused to sign the Kyoto Protocol which calls for emissions limits for industrialized countries but none for developing economies including China, India, and Brazil.
While China has balked on calls to limit its greenhouse gas emissions, earlier this month it announced its first climate change initiative. According to state media, the National Climate Change Program plan calls for China to reduce energy use 20 percent by 2010, promote carbon sink technologies and other adaptive technologies, raise the efficiency of coal-fired power plants, and increase the amount of renewable energy it produces.
| | |
| --- | --- |
| | Carbon dioxide emissions from fossil fuels for the U.S. and China, 1985-2003. Data from EIA. |
While the report was somewhat vague on how China plans to meet these goals–its "key principles" for addressing global warming include "sustainable development and poverty alleviation" and "common but differentiated responsibilities," jargon for putting emissions reductions responsibilities on the shoulders of developed countries–it still presented a plan on climate change well before the United States. Observers believe that China is putting off more meaningful policy until the U.S. commits to action on climate change.
China's emissions are expected to continue growing swiftly in the future due to the country's heavy reliance on coal, a plentiful resource in the country. However, with rising levels of pollution, the government is keen on developing cleaner coal technologies as well as renewable energy sources like solar, tidal, and biomass. Chinese firms have recently invested billions in biofuel crops and infrastructure in Indonesia and the Amazon.
Scientists say carbon dioxide is an important heat-trapping gas that contributes to global warming. Atmospheric CO2 levels have climbed by more than 35 percent since the beginning of the industrial revolution. Fossil fuel combustion, which releases carbon dioxide into the atmosphere, and land-use change, including deforestation, is blamed for the rise. Roughly 80 percent of anthropogenic carbon dioxide results from fossil fuel burning, while about 20 percent is produced by deforestation.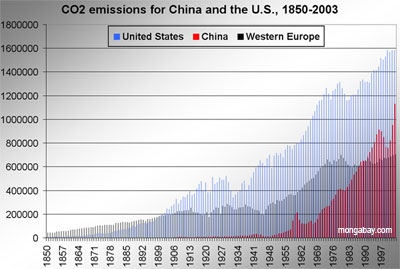 CO2 emissions for China, Europe, and the United States, 1850-2003