China funds massive palm oil plantation in rainforest of Borneo
World Wildlife Fund release
August 12, 2005
Orangutan. Orangutans are still found in the wilds of Borneo, though their numbers are dwindling.
Photo by Jen Caldwell.
WASHINGTON, Aug. 12 — Plans to create the world's largest palm oil plantation along Indonesia's mountainous border with Malaysia could have a devastating impact on the forests, wildlife and indigenous people of Borneo, warns World Wildlife Fund.
The proposed scheme, funded by China and supported by the Indonesian government, is expected to cover an area of 4.4 million acres on the island of Borneo. Most of this mountainous region, part of the "Heart of Borneo," still holds huge tracts of forests supporting endangered species like orangutans and pygmy elephants, and 14 of the island's 20 major rivers originate there. According to WWF, new species have been discovered there at a rate of three per month over the last decade, making the area one of the richest on the globe for biodiversity.
Palm oil — exported to countries like the United States for use in everything from ice cream, cosmetics, chocolate and detergent — is a popular commercial crop in Southeast Asia and significant tracts of natural forest have already been converted to palm tree plantations on Borneo. But according to experts, the area chosen for the massive tree plantation will not be a productive site.
"It doesn't make commercial or conservation sense to rip the forest out of the Heart of Borneo to plant a crop that cannot grow in mountainous conditions," said Dr. Mubariq Ahmad, chief executive director of WWF-Indonesia. "Such a project could have long-lasting, damaging consequences for the people who depend on the area and its massive water resources, which feed the whole island."
Despite Indonesian government assurance that the project would not harm the environment, WWF insists that development of such plantations should follow sustainable and environmental principles that exclude the destruction of forests of high social and biological importance. According to WWF, there is enough degraded, non-forested land in the region to establish oil palm plantations without destroying natural forest.
WWF is part of the Roundtable on Sustainable Palm Oil. The roundtable, together with other stakeholders like the Indonesian Palm Oil Commission, is working to develop palm oil plantations in a sustainable way.
"We only support the establishment of oil palm plantations that are based on sustainable and environmental principles," said Dr Rosediana Suharto, executive chairman of Indonesian Palm Oil Commission. "Since IPOC's task is to promote a positive image of the Indonesian palm oil industry, large scale deforestation is a very sensitive issue. Consumers do not want to be associated with the destruction of rainforests."
"We urge the Indonesian government to work only with responsible palm oil investors who support sustainable palm oil," said Guillermo Castilleja, senior vice president for WWF-US. "Borneo needs sustainable development, not short-term projects that will accelerate the loss of the remaining natural forests in Southeast Asia."
The global WWF network is working to assist Borneo's three nations (Brunei, Indonesia and Malaysia) to conserve the Heart of Borneo — a total of 137,000 square miles of rainforest — through a network of protected areas and sustainably managed forest and through international cooperation led by the island's governments.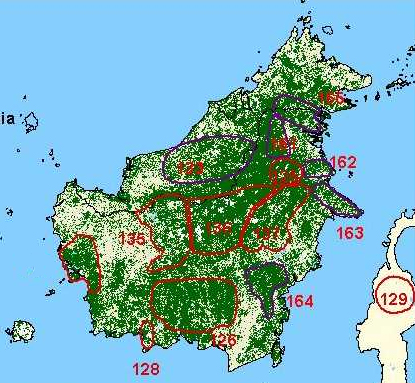 TREES 'Deforestation Hot Spots', overlaid on a digital forest cover classification based on 1 km NOAA AVHRR data.
Achard, F., Eva, H.D., Glinni, A., Mayaux, P., Stibig, H-J., Richards, T., 1998, Identification Of Deforestation Hot Spot Areas In The Humid Tropics, TREES Publications Series B, Research Report No.4, European Commission, Luxembourg
You can learn more about Borneo and WWF at:
This news item is based on WWF press materials.