A new report adds to the growing body of evidence that indigenous peoples are the best protectors of the forests they call home.
The report compares conservation outcomes in lands controlled by indigenous groups against those in government-managed "protection zones" in 28 countries.
The rate of deforestation on customary lands is half what it is elsewhere, the report finds.
The best way to save forests and curb biodiversity loss is to recognize the claims of indigenous peoples to their territories, a new report urges.
Published by the Rights and Resources Initiative (RRI), an international NGO headquartered in Washington, and Victoria Tauli-Corpuz, the UN special rapporteur on indigenous rights, the 28-nation study compares conservation outcomes in lands controlled by indigenous groups against those in government-managed "protection zones."
"This research shows that indigenous peoples and local communities are investing substantially in conserving their forests — up to $1.71 billion in the developing world," the authors write. The figure amounts to between 16 and 23 percent of what the conservation establishment — governments, multilateral organizations, bilateral aid agencies, NGOs, foundations and private entities — spends each year.
Through labor and capital put toward managing, protecting and rehabilitating forests, indigenous communities were found to achieve equal or better conservation outcomes — at a significant discount.
"[Indigenous peoples] are achieving at least equal conservation results with a fraction of the budget of protected areas, making investment in indigenous peoples themselves the most efficient means of protecting forests," according to the study.
The findings add a quantitative dimension to a growing body of literature showing indigenous groups to be forest guardians without peer. Their lands, home to some of the richest forests left, are thought to hold a quarter of the globe's remaining aboveground carbon, and possibly much more.
In the Brazilian Amazon, for example, deforestation in lands inhabited by indigenous peoples was found to be less than 1 percent between 2000 to 2012. Elsewhere in the country it was 7 percent.
From Panama to Peru, Indonesia to India, the rate of deforestation on customary lands is half what it is elsewhere, the report finds. And where the land rights of indigenous communities are formally recognized — currently just 10 percent of the total area they occupy — the difference is even greater, according to RRI.
The problem of bias and 'fortress conservation'
Despite their proven conservation prowess, the environmental community has, generally speaking, been slow to invest in indigenous-led conservation, whether in terms of land tenure advocacy or co-management forestry schemes.
That is partly a product of good old-fashioned prejudice, according to Tauli-Corpuz, the UN rapporteur.
"Governments and NGOs often consider indigenous peoples to be inferior, as peoples who don't know what they're doing [to protect forests]," she says. "So even when they see the evidence, they are still not very active in granting recognition or in inviting indigenous communities to be active participants in initiatives."
Today, with forests being cleared at near record rates, such prejudice is a self-defeating perception for those seeking answers to climate change. Deforestation is known to drive 15 percent of all greenhouse gas emissions, and slowing it remains one of the most effective mitigation steps.
"This conservation research underscores the cost of ignoring communities and their immense contributions to conservation," says Alain Frechette, director of strategic analysis and global engagement at RRI. "Investments in forest protection would be more efficient and more just if allocated to the people who have kept the forests standing up until now."
Importantly, the marginalization of indigenous peoples as communities worthy of participation in the work of conservation is not only misguided, it is a violation of their rights, says Tauli-Corpuz: It undermines the Universal Declaration on the Rights of Indigenous Peoples (UNDRIP), the 1999 international compact that was adopted, in part, to ensure the rights of the indigenous to the territories they have inhabited for generations.
Rather than partnering with the people who live in and depend on forests, conservation initiatives by and large continue to drive them from their lands, she says.
Such a logic of conservation, termed "fortress conservation," views the de-peopling of forests as synonymous to their preservation. And in the conservation community, it is the view that has taken the day: 45 million square kilometers (17 million square miles) – a full 15 percent of the Earth's terrain outside Antarctica – have been assigned protected status in recent decades. And while this has helped preserve a great deal of forestland, it has had a disastrous effect on indigenous life across the globe.
A 2017 analysis of the 25 years between 1990 and 2014 found that more than 250,000 people in 15 countries had been evicted from their lands due to fortress conservation. Last year, Global Witness, an NGO based in London, counted 197 murders of land and environmental activists, around 40 percent of whom were indigenous.
"Protected areas were already protected by the communities who lived on and conserved these lands for generations," says Rukka Sombolinggi, secretary general of AMAN, the main advocacy group for indigenous peoples in Indonesia.
"The idea that conservation requires emptying the land of its customary inhabitants has resulted in untold harm to these communities – and the lands they protect."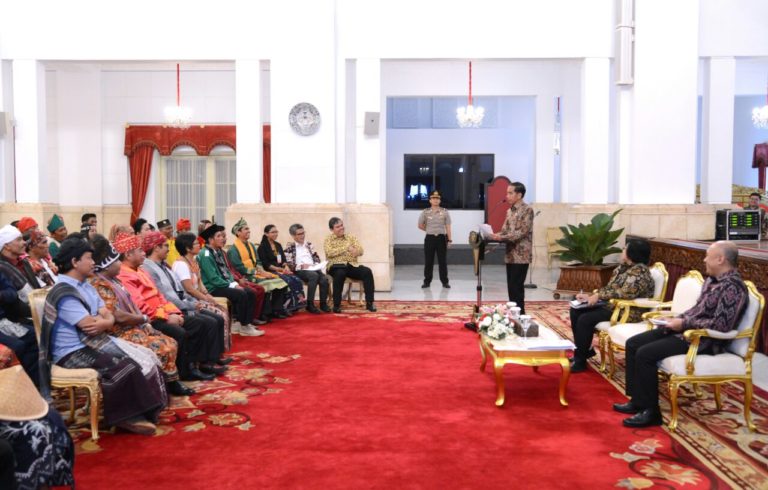 Indonesian President Joko Widodo (standing) addresses indigenous leaders at a meeting in Jakarta in March 2017. Last year, the Jokowi administration recognized the rights of 18 indigenous communities to their territories, rezoning a total of 164 square kilometers as customary forests. AMAN is demanding much more. Photo courtesy of the Presidential Press Bureau.
Toward a rights-based conservation
Over the next two-and-a-half years, the conservation community will seek to assign protected status to another 2 percent of the globe, requiring major investments in conservation. To do so while continuing to sideline indigenous peoples would be a grave error, the authors write.
"In the last 14 years, there has been only limited improvement in the recognition of human rights for the millions of indigenous peoples and local communities living in or near protected areas, despite commitments by governments and conservation organizations and compelling evidence of the positive and cost-effective conservation role of communities," according to the report.
Embracing a rights-based conservation paradigm works for, not against, forests, Tauli-Corpuz adds, and the time is now for a course correction in the bread and butter of the conservation movement: funding.
"We need to ensure [conservation] resources start flowing to indigenous persons themselves…that they are given to communities [directly] so that the ways they do conservation and protection can be empowered and enhanced."
"It's time to take down the wall of fortress conservation."
Banner: H. Okri, chief of the Kasepuhan Cisitu indigenous community on the Indonesian island of Java. Photo by Marit Hverven/Norad/Flickr.