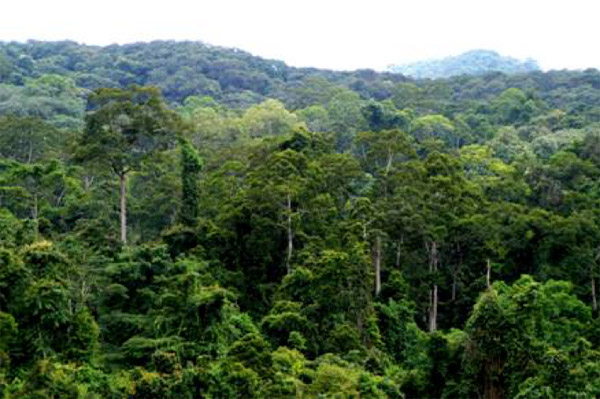 Lowland Forest profile characteristic of southern Yunnan Province's threatened rainforests. Image Credit: Hua Zhu, 2008, Tropical Conservation Science.
China's southern Yunnan Province straddles the Myanmar border where the Mekong River flows, and the lowland tropics meet montane forests. This region is valued not only for its high biodiversity, but also its ability to support multiple distinct rainforest types at various elevations.
The region's biodiversity is currently under threat from encroachment by expanding monoculture rubber plantations. The Bulong Nature Preserve was established in 2008 to meet this challenge, and to ensure the protection of the region's high species diversity and distinguishing floristic composition.
In a recent study published in Mongabay.com's open access journal Tropical Conservation Science, Chinese researchers surveyed the changes in species composition and diversity across altitudes within the newly established nature preserve. They identified three very distinct vegetation types in three altitudinal zones: a tropical seasonal rainforest below 1,100 meters (3,609 feet); a lower montane evergreen broad-leaved forest at 1,100-1,600 meters (3,609-5,249 feet); and a montane rainforest above 1,600 meters (5,249 feet).
The preserve's biodiversity within these three zones is rich: A total of 1,657 species of seed plants in 758 genera and 146 families were recorded. Tropical families (61 percent) and genera (81 percent) comprise the majority of the flora, and tropical Asian genera make up the highest percentage, showing the close affinity of the flora with tropical Asian (Indo-Malaysia) flora, despite the high latitude (22° North). The changes in forest composition with altitude are especially conspicuous, the researchers say.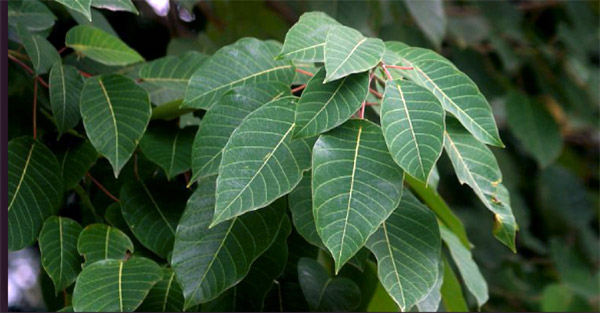 Sapium baccatum, a pioneer species in Bulong Nature Preserve that is quick to establish itself in land impacted by anthropogenic activities such as rubber farming and swidden agriculture. Image credit: Antonie van den bos.
The Bulong Nature Preserve encompasses more than 24,000 hectares (92.6 square miles) of state-owned land, plus an additional 10,800 hectares (41.7 square miles) of collective-owned land. The newly completed comprehensive plant species survey allowed the researchers to describe the diversity of the floristic zones, in order to determine how that diversity might best be conserved by preserve managers.
Researchers identified a dramatic change in diversity and richness of seed plants as they moved from altitude zone to zone. They found particularly high diversity and richness in the lowland and middle montane zones, while the forests in the lower montane zone had the lowest diversity.
The greater presence of rare species in the lowland forest zone and middle montane, as well as the dominance of Fagacae (oaks and beeches) in the lower montane, suggest that the lowland montane zone is likely composed largely of secondary growth – reflective of lower precipitation and historically frequent fires.

Rubber tree plantation. Photo by Rhett Butler.
Additionally, the proliferation of pioneer species in the lowland zone indicates disturbance of the preserve by historical swidden practices (slash and burn agriculture), and by recent encroachment from rubber farming and tea plantations at altitudes above 1,300 meters (4,265 feet) prior to formal land protection.
The researchers noted particular challenges to implementing conservation strategies within Bulong Nature Preserve, especially on the collective-owned lands. "[H]arvesting of wood and medicinal plants still occurs on the collective-owned land, presenting a challenge for the management of the reserve," says the paper.
The researchers conclude that their comprehensive floristic study indicates that Bulong Nature Preserve conservation efforts "should focus on the species-rich lowland and middle montane forests."
Citation: