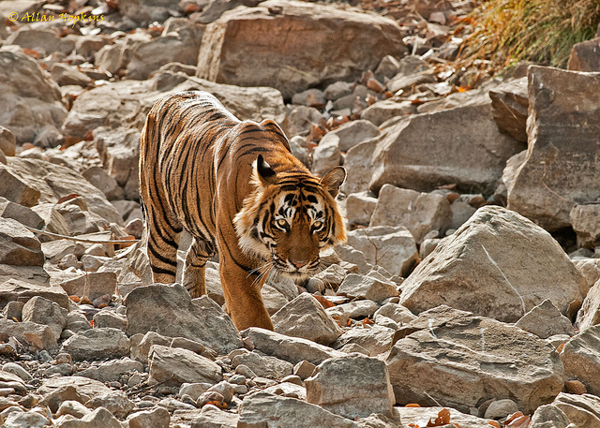 A tiger identified as Ustad prowls Ranthambore Tiger Reserve in 2012. Photo credit: Allan Hopkins.
On May 8, when 56-year-old forest guard Rampal Saini set out to patrol an area of India's famous Ranthambore Tiger Reserve, no one had any idea it would be his last day alive. Saini was attacked and killed by a tiger with a bite to the neck. The tiger in question, T-24, or Ustad as he is fondly known, was hugely popular with tourists from India and the around world, and had gained a massive online following as one of the most photographed tigers in the reserve. But Saini was Ustad's fourth victim in a span of five years, and his death unleashed a heated debate — especially online — about whether the ensuing decision to banish the poster-boy of Ranthambore to captivity was the right one.
India has never before seen such a deluge of emotion and outrage for a single tiger. Until Saini's tragic death, Ustad had been akin to a teenager who constantly found himself in detention but never got expelled. But Saini's demise was the last straw.
The reserve's administration had put Ustad under careful observation after he killed his second victim in 2012, following guidelines issued by India's National Tiger Conservation Authority (NTCA). Even after Ustad killed his third victim that same year and had to be chased away from the body, officials hesitated to label him a "man-eater" — a name reserved for animals that kill people to consume that carries a sentence of death or life in captivity. Instead, they decided to give Ustad another chance. But Saini's death officially earned him that dubious title.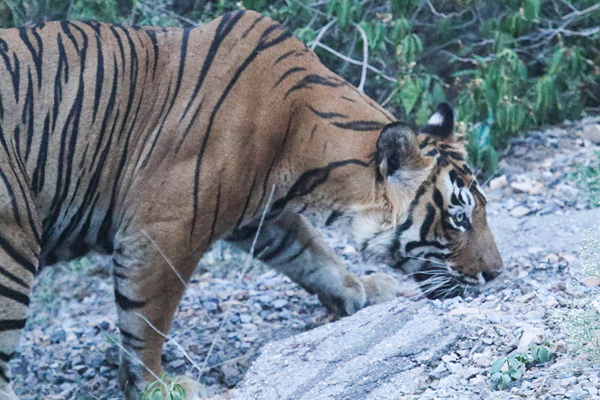 Ustad sniffs the area where he killed 56-year-old forest guard Rampal Saini on May 8, 2015. Photo credit: Dharmendra Khandal.
Protests erupted in the town adjoining the reserve. Locals threatened to burn down Forest Department offices and the forest itself, if Ustad were allowed to continue roaming wild and free in Ranthambore. This was no longer a wait-and-watch situation. Forest officials feared that agitated local villagers might poison a carcass to kill Ustad and other tigers in retaliation, and that could spark more cases of human-tiger conflict or even threaten the reserve's entire tiger population.
A week after the killing, on May 16, officials tranquilized Ustad, put him in a cage and drove him 250 miles away to live in the Sajjangarh Biological Park in Udaipur, also in the state of Rajasthan. Ustad is currently housed in a half-hectare fenced enclosure inside the park.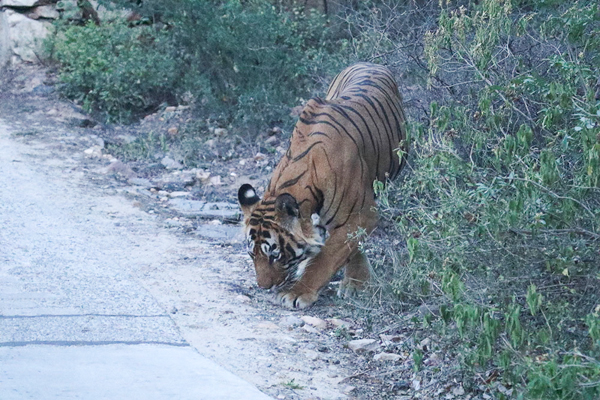 Ustad sniffs the area where he killed 56-year-old forest guard Rampal Saini on May 8, 2015, after authorities recovered Saini's body. Photo credit: Dharmendra Khandal.
Online tiger support
His relocation added fuel to a fire that quickly spread across India and beyond. People joined the social-media call to battle demanding Ustad's release from captivity and return to Ranthambore using hashtags like #JeSuisUstad, #BringUstadBack, and #boycottRTR. Hundreds of people held candlelight vigils and protests in cities like Jaipur, Agra, Hyderabad, Mumbai, Nagpur, and Bengaluru, while petitions circulated internationally.
Ustad's supporters argue that there was insufficient evidence to attribute all four kills to him, so he should not have been designated a "man-eater." They claim that since he never ventured outside his own territory to kill humans and all the attacks attributed to him occurred within his territory, he was just displaying normal defensive behavior. For this, they argue, Ustad should not be deprived of his freedom, nor his two cubs of their protector, nor the embattled tiger population of a critical member. Some supporters believe a powerful tourism lobby and its agents are responsible for framing Ustad as the culprit and have influenced the decision to keep him in captivity.
Wildlife activists, a former state environment minister, and several others asked why, if Ustad was a man-eater, he never attacked any of the thousands of people who visited the Ganesh temple inside the reserve via the main entrance road that was part of his territory?
Chief among Ustad's supporters is Chandrabhal Singh, a marketing professional in the city of Pune, India. Singh filed a lawsuit challenging the Forest Department and the state of Rajasthan's decision to relocate Ustad. In his petition, he told mongabay.com, he claimed that the NTCA guidelines and standard operating protocols had been ignored by officials, who carried out the relocation in a hasty manner without any transparency regarding the decision-making process and despite a lack of forensic evidence to label Ustad a man-eater. "Who can say it was a tiger, let alone this tiger, that killed them?" he told mongabay.com.
Singh, who calls himself an "informed tourist," said he has a letter from the NTCA mentioning that they were only informed about the relocation after it was carried out. He said the letter claims the NTCA advised the state of Rajasthan against declaring Ustad a man-eater and recommended keeping him under close observation through camera-trapping, even after Saini's death. Singh's case delved into further technicalities, challenging officials' legal authority to order Ustad's translocation to captivity.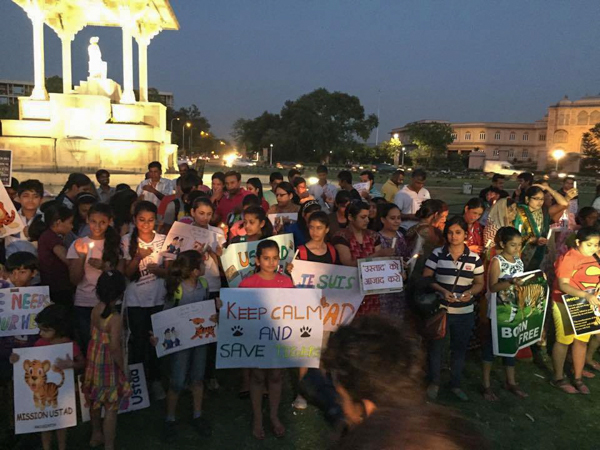 A protest in Jaipur, India, calling for Ustad's release in May, 2015. Photo credit:
Shelley Mattocks.

Nonetheless, on May 28 the state of Rajasthan's High Court dismissed Singh's petition, a move that followed an earlier dismissal by the Supreme Court of India. The High Court's order stated, "This decision of the experts [to relocate Ustad]…under no stretch of imagination can be held to be hasty, arbitrary or unreasonable. On the contrary, we find that the decision was taken bonafidely as [the] best option for tiger 'T-24.'"
Tiger vs. Tigers?
While Singh and Ustad's army of vocal defenders focus on the fate of a single animal, tiger experts believe the bigger conservation picture must be the focus. Bengal tigers (Panthera tigris tigris) are endangered, with fewer than 2,400 individuals left in the wild. India is home to the largest population of wild Bengal tigers in the world — around 1,700, according to the IUCN. Ranthambore itself is home to 42 adult tigers and 15 cubs, Y.K. Sahu, the reserve's field director told mongabay.com.
Shifting Ustad to captivity was necessary, Sahu said, because otherwise victims number five and six would have been inevitable. Relocating him earned the Forest Department, which runs the reserve, the valuable trust and support of the local people, without whom the success of conservation initiatives is impossible. While activists hold candles and march for Ustad's freedom, things in Ranthambore are now calm and the department does not need to worry about angry villagers killing other tigers in retaliation for losing their loved ones.
"In the larger interest of tiger conservation, [relocating Ustad] was the only option," Sahu told mongabay.com.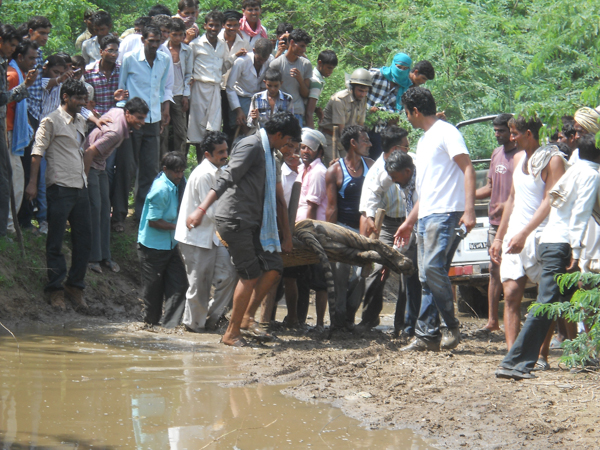 Local men rescue a tiger known as T-20 that had strayed into a village near Ranthambore Tiger Reserve, injuring two people. Photo credit: Dharmendra Khandal.
A conservation biologist working with the local conservation group Tiger Watch, Dharmendra Khandal has been living near Ranthambore and researching tigers and human-tiger conflict for 12 years. He has followed Ustad's case closely.
"Everyone in Ranthambore has sold him as a man-eater," Khandal told mongabay.com, explaining that guides would show tourists a "man-eating" tiger, which added a certain financial and thrill value to the reserve's largely tiger-centric tourism.
When it comes to the question of Ustad's guilt or innocence, Khandal said the verdict is clear. "People sitting outside the reserve are not in a position to judge whether he killed all those people or not. The guards here have seen his behavior. There is no science involved when you can clearly hear the signal from his radio-collar and when we could see him in front of us," he said.
After the first, third, and fourth attacks, Khandal was at the scene within 20 to 45 minutes, he said. Ustad had to be chased away from the body of the third victim so it could be retrieved, and the tiger later returned to the scene of the attack, Khandal said. The fourth kill happened near the entrance to the reserve, an area traversed by hundreds of people daily. After officials retrieved Saini's body, Ustad returned to the scene, Khandal said. "He didn't find Rampal's body and left only once he had searched the area and made sure the kill was no longer there. But he kept licking the blood and sniffing the area," he said.
Three of the four kills attributed to Ustad showed a bite to the neck, according to Khandal. "In these three kills, the bite to the neck was precise, which is typically the behavior of a predator," he said.
Human deaths attributed to Ustad
First victim: 25-year-old Ghamandi Mali, killed July 3, 2010. Body found partially eaten and dragged 500 meters away by a tiger.
Second victim: Ashfaq, killed March 9, 2012. Body dragged 100 meters away and almost fully consumed. Ustad was located nearby based on the signal from his radio collar.
Third victim: Forester Gheesu Singh, killed October 25, 2012. Ambushed and killed with one bite to the neck while overseeing roadwork inside the park. Ustad had to be chased away so forest officials could retrieve the body, and he later returned to the scene.
Fourth victim: 56-year-old forest guard Rampal Saini, killed May 8, 2015 near the reserve's entrance. Killed with a bite to the neck. Ustad was holding Saini's body when the first responders reached the scene. They recovered the body only after chasing the tiger away.
Hotel owner, tour operator, and wildlife photographer Aditya Singh (who is not related to Chandrabhal Singh, who filed the lawsuit) lives in Sawai Madhopur, the town adjoining the reserve's entrance. Singh also went to the scene of the attack on Saini. Ustad still had Saini by the neck when the first car reached the scene, he told mongabay.com. Khandal corroborated this assertion, based on a public account he heard at Saini's funeral from a villager who was riding in the first vehicle to arrive at the scene. However, Khandal clarified that he and Singh were traveling in the same vehicle, which arrived later, and they did not personally witness Ustad holding Saini by the neck.
After the pair arrived and Saini's body was recovered, Singh described Ustad's behavior: "He licked all the blood off the ground, chased the first vehicle, looked for the body, and then chased our vehicle as well."
Singh said nine people have been killed in Ranthambore by six different tigers since the reserve was established in 1973. "Only this guy has killed four people, that too like it would kill a deer — with a bite to the neck," he said.
He has no doubt Ustad earned the title of man-eater fair and square; he said the tiger partially ate its first two victims, and was preparing to eat the third when officials arrived and chased him away. "This guy should have gone after the third kill. He should have been shot."
Singh objected to the cost of keeping Ustad alive. In 2009 the Forest Department intervened to treat a leg injury and on several occasions to treat his chronic, severe constipation. Left untreated, these conditions would only have let Ustad survive for about two more years. Keeping him alive in captivity, where he will likely live another seven or eight years, is taking up resources that could have saved five more tigers, Singh said.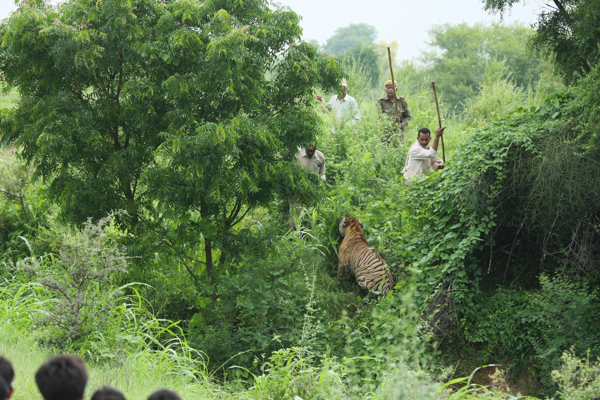 Men engage in a standoff with a tiger known as T-7 at Ranthambore Tiger Reserve in India. Tensions between tigers and people in and around the reserve run high. Tigers have killed nine people in the area since the reserve was opened in 1973. Photo credit: Dharmendra Khandal.
A tour and hotel operator, Singh admitted that the "man-eater" label has drawn in money. However, he said the idea that the tourism lobby was somehow involved in the decision to relocate Ustad is a baseless rumor started on Facebook. "First [they] said the tourism lobby is against relocating him [because he was bringing in money]. Then they said the tourism lobby is behind his relocation," he said.
Khandal, Aditya Singh, and noted Indian wildlife filmmaker Sandesh Kadur produced a short video titled The Truth About Ustad – T-24. It contains graphic images of the four victims and explains how their deaths were linked to Ustad.
"We made the video out of retaliation," Khandal said. "The Forest Department and the locals were very hurt that they had lost a colleague and people were mocking this and making fun of this tragic loss [on social media]. We wanted them to see the reality of death — to know what happens to the people who lose one of their own."
In response, the filmmakers received hundreds of personal accusations and enraged comments online. Yet some tiger conservationists point out that for all the public outcry demanding Ustad's release, there has never been a similar level of outrage against the biggest threat to India's wild tigers — the destruction of their habitat. Prime Minister Narendra Modi's government has permitted the large-scale felling of trees to expand National Highway 7, which directly threatens tigers in the adjacent Kanha-Pench forest corridor.
The problem in Ranthambore
Khandal and other experts said part of the problem in Ranthambore is that there are three times more male tigers than females, which is bound to lead to conflict both among tigers and between tigers and humans. Even so, given how many pilgrims visit the Ranthambore Fort and the scores of temples within the park every day, not to mention how many people live near the reserve, the number of tiger attacks is far fewer than what it should be statistically, they said.
Another problem, and a very significant one, was that Ustad had lost his inherent fear of humans. The reserve's deputy conservator of forests, Sudarshan Sharma, who oversaw the relocation, told the Indian Express that Ustad's fear of humans had faded to the point that he had started chasing vehicles. "Tigers usually avoid confrontation with humans. They growl or slap their paws if forcibly confronted with humans. But T-24 was catching them by their neck as it would do with its prey," he said.
Ullas Karanth, a tiger biologist with the Wildlife Conservation Society, told India Today, "Any tiger that loses its inherent fear of human beings on foot and displays aberrant behavior of stalking or attacking humans should be immediately removed. Our focus should be saving the tiger as a species, not on saving every individual tiger. We should develop a vision for India possessing a tiger population of more than 5,000 wild tigers rather than half that number we have now."
While the courts may have dismissed Chandrabhal Singh's plea, even those who disagree with him concede that he raised a valid concern about the Forest Department's lack of transparency. Had the department been more forthcoming about whether the proper permissions were sought for Ustad's relocation, whether the requisite paperwork was in order, and, above all, the evidence of Ustad's involvement in the four deaths, it might have established a measure of trust with the public and averted much of the backlash.
Of his future plans, Singh said, "I have not given up. I am pursuing this."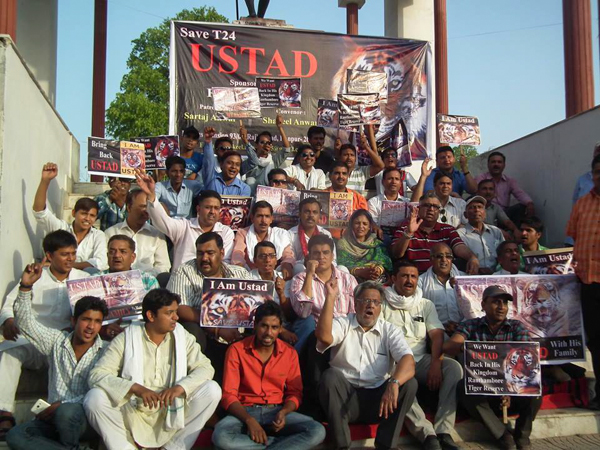 A protest in May, 2015, calling for Ustad's release in Jaipur, India. Photo credit:
Shelley Mattocks.
But the current field director Sahu stood by the decision to relocate Ustad and the courts' dismissal of Singh's petition, pointing to the case of Tadoba Andhari Tiger Reserve in India's Maharashtra state. "In Tadoba 10 tigers were shot dead when they killed somebody," he told mongabay.com. "Why doesn't anyone question that? Now there are people who want to benefit themselves. I have met some businessmen who told me people have approached them for funds just to keep the agitation going. It is a big waste of time and resources."
Noted naturalist and conservation writer Valmik Thapar has spent a considerable amount of time in Ranthambore and told the Hindustan Times that Ustad is the most dangerous tiger he has ever seen. "Our feelings today must be for the families who suffered tragically in these five years that have gone by," he said. "Any person or group who believed that [Ustad] should not have been relocated, would have to bear the responsibility on their shoulders for the next human kill and the accelerating conflict that could result. T-24 was given the maximum benefit of doubt that any man-eating tiger has ever got in recent Indian history."
Conservation involves making tough decisions, Khandal said. Commenting on the dozens of online petitions and nationwide candlelight marches held to demand Ustad's return to Ranthambore, he added, "If we could save tigers by lighting a candle — what would be easier than that?"
A previous version of this story stated simply that Aditya Singh told mongabay.com that Ustad still had Saini by the neck when the first car reached the scene of the killing. After online commentators pointed out that that information had not previously been released, mongabay.com attempted to corroborate the assertion. Aditya Singh could not be reached. This version of the story includes additional context for the assertion, based on a conversation with Dharmendra Khandal.