A newly protected peat swamp in Tripa. Photo: Indonesian Nature Foundation
As Indonesia's Supreme Court prepares to rule on an appeal from oil palm developer Kallista Alam, ordered to pay a staggering Rp366 billion ($28 million) in fines and reparations for cut-and-burning forest in the Tripa peat swamp region, the Aceh government has established a protected zone in the company's former concession, the culmination of a months-long program to rehabilitate the area.
Tripa has been severely damaged by rogue plantation operators, and the Environment and Forestry Ministry is prosecuting five of the biggest firms in a case that is unprecedented both for the scale of the official response and the severity of the punishments that have been handed down. The Attorney General's Office is pressing criminal charges.
To restore Tripa's health, the Aceh government dammed 18 canals Kallista had constructed to drain the peat, a marshy material that stores incredible amounts of carbon and is particularly deep in Tripa. Sixty-thousand trees were planted, with 120,000 more scheduled to follow in April.
"Local people support the government's initiative to protect Tripa and hope to be actively involved in its management," community representative Cut Erlianda said in a statement after a formal ceremony to christen the site last week.

The head of Aceh's Forestry Office unveils the sign marking Tripa's new protected peat area. Photo: Firman Hidayat / Mongabay
The "protected peat area," as the Aceh government has designated it, replaces a former Kallista concession the governor annulled in 2012 after a judge declared it illegal.
While the concession spanned 1,605 hectares, only 1,455 hectares were rehabilitated under the program, with the difference comprised by the ground Kallista planted before it was made to leave.
According to Graham Usher, a member of the Coalition to Save Tripa and a landscape protection specialist, the Aceh government is still discussing what to do with those 150 hectares. At the ceremony, the province's forestry chief suggesting having locals manage the oil palm before returning it to peat upon completion of the crop cycle.
"But the canals have been blocked there anyway, so there are viability questions," Usher said.
The new zone is part of an 11,359-hectare block of Tripa peatland that Aceh's controversial new spatial plan proposes be similarly protected. Yet while conservation-minded stakeholders applauded the new designation, they continued to criticize the spatial plan for failing to acknowledge the nationally imposed Leuser Ecosystem (KEL), whose 2.6 million hectares include far more than Tripa and ostensibly prohibit land-based exploitation.
"I'm not sure how they got (the 11,359 ha) figure," Usher said. "The problem is the government's crap peat maps. There's more than 20,000 hectares of deep peat in Tripa alone."
For his figure, Usher cited an extensive field survey of Tripa's peatlands published last year by the PanEco Foundation and the Sustainable Ecosystem Foundation (YEL). Besides 20,791 hectares of deep peat, which Indonesian law protects unconditionally, the study estimated Tripa is home to an additional 33,114 hectares of shallower peat.
At present, much of Tripa is designated as "land for other uses" (APL), which falls outside Indonesia's "forest zone" and is thus a candidate for oil palm expansion.
YEL spokesman TM Zulfikar said his organization would keep pushing for new protections in Tripa and, more broadly, across Leuser. "From these 1,455 hectares, we hope we can get more," he said.
Still, Usher said, while 1,455 hectares might not sound like a lot in the grand scheme of things, the development felt like a turning point. "To date it's been about trying to slow (Tripa's destruction) and hold the line," he said. "This is the first time we've actually taken a step forward. It's a very small step forward, but it is a step forward for a change, which is a very refreshing change."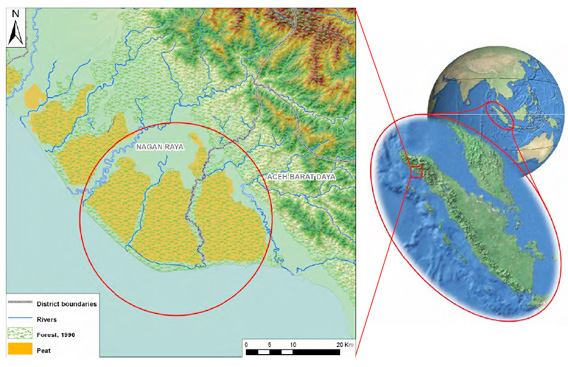 The Tripa peat swamp region in Aceh's Nagan Raya regency. Photo: The Tripa Rescue Team Coalition