In 2011, Germany and the International Union for the Conservation of Nature launched the Bonn Challenge, which pledged to restore 150 million hectares of degraded and deforested lands by 2020. Several countries have already made commitments—including the U.S.—but this week at the UN Climate Summit four more jumped on board.
The Democratic Republic of the Congo committed to restoring 8 million hectares, Uganda committed to 2.5 million hectares, and Guatemala committed to restoring 1.2 million hectares. But the largest commitment in the group came from Ethiopia, which pledged to restore forests on 22 million hectares or about 22 percent of its land mass. In total this week's pledges add up to 33.7 million hectares, an area larger than Taiwan.
"Today's pledges by countries in Africa and Latin America to combat deforestation and more than double restoration targets will bring significant climate benefits," said UN Under-Secretary-General and UNEP Executive Director, Achim Steiner. "At the same time, such inspiring initiatives will contribute significantly to poverty reduction, economic development and food security across countries and regions."

Burned savanna in Guatemala. The country committed to restoring 1.2 million hectares. Photo by: Rhett A. Butler.
Moreover, it was announced at the summit that the Bonn Challenge would be extended out to 2030 with a new goal of restoring 350 million hectares by that time or an area larger than India.
"Restoration of degraded and deforested lands is not simply about planting trees. People and communities are at the heart of the restoration effort, which transforms barren or degraded areas of land into healthy, fertile working landscapes," said Bianca Jagger, IUCN Ambassador for the Bonn Challenge.
In total the Bonn Challenge has commitments equalling about 55 million hectares of land now, or just over a third of a way to the goal.
This weeks UN Summit was notable for a number of ambitious pledges on forests, including a partnership between Peru, Germany, and Norway to stem deforestation in the Amazonian nation; an agreement between Norway and Liberia to save forests in the latter; and a commitment to halve deforestation worldwide by 2020 and end it altogether by 2030.
Related articles
Environmental degradation leads to public health crises
(01/07/2014) A 'systematic and comprehensive' approach is needed to understand the impact of human behavior on the world's public health, according to a new report. Written by the Heal (Health & Ecosystems Analysis of Linkages) consortium, the study highlights multiple examples of the impact on human health from environmental degradation, including sickness, death and even childhood reductions in IQ.
Indonesian palm oil industry would support land swaps to protect forest, while expanding production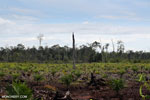 (04/19/2013) Indonesian palm oil companies would support land swaps as a means to reduce carbon emissions from deforestation while simultaneously expanding production, representatives from the country's largest association of palm oil producers told mongabay.com in an interview last month.
Degraded lands hold promise in feeding 9 billion, while preserving forests
(03/29/2012) Making productive use of degraded lands and boosting productivity of small-holder farmers are key to meeting surging global consumption of agricultural products while preserving critical wildlife habitats, said an agricultural expert on the sidelines of the Skoll World Forum for Social Entrepreneurship in Oxford.
Deforestation, climate change threaten the ecological resilience of the Amazon rainforest
(01/19/2012) The combination of deforestation, forest degradation, and the effects of climate change are weakening the resilience of the Amazon rainforest ecosystem, potentially leading to loss of carbon storage and changes in rainfall patterns and river discharge, finds a comprehensive review published in the journal Nature.
Restoring forests: an opportunity for Africa
(05/26/2011) Tropical forest news last week was dominated by Indonesia and Brazil. Forest clearing has surged over the past year in parts of the Amazon, the Brazilian Government reported. Meanwhile, Indonesia's President signed a moratorium on cutting some intact forest areas, as part of a landmark billion-dollar deal with international donors. But new research shows that Africa offers some of the greatest opportunities globally for restoring forests.
Indonesian official: REDD+ forest conservation plan need not limit growth of palm oil industry
(04/29/2011) Indonesia's low carbon development strategy will not impede the palm oil industry's growth said a key Indonesian climate official during a meeting with leaders from the country's palm oil industry. During a meeting on Thursday, Kuntoro Mangkusubroto, head of Indonesian President Susilo Bambang Yudhoyono's REDD+ Task Force, asked industry leaders for their input on the government's effort to shift oil palm expansion to degraded non-forest land.