"You come across that crest, and … you're going from forest that has already been exploited to this kind of no-man's land… It just felt like you were going into this vast unknown wilderness" – Mike Fay from Eating Apes by Dale Peterson and Karl Ammann.
Mike Fay, famed explorer and conservationist, said this of the Ndoki Forest in the Republic of the Congo, because up to the early 1990s it was an unknown, primeval wilderness. The map of the area was totally blank: no roads, no habitations, no nothing but giant trees and wildlife, including large numbers of chimpanzees, gorillas, and forest elephants.
Here, Fay encountered chimpanzees that had never seen humans before, and instead of running off, as chimpanzees who have been hunted do, they examined this new human creature with curiosity. Fay called them "naïve" chimps.
Fay, former Wildlife Conservation Society (WCS) zoologist and now technical advisor to the Gabon national parks' system, was instrumental in establishing in 1993 what is today the Nouabélé-Ndoki National Park (NNNP). WCS portrays NNNP and the surrounding logging concessions as a great conservation success story. But the story has its critics.
The chimpanzees in Ndoki Forest are termed "naïve", because they are unafraid of humans. Photo courtesy of Ian Nichols, WCS.
Ndoki can mean "sorcerer" or "curse" in the local Lingala language, so depending on the context the name of the pristine tropical forest could mean either "charmed" or "cursed."
As Dale Peterson wrote in Eating Apes, Ndoki is a "spectacular if beleaguered island of forest in a sea of logging. Ndoki and its surrounding provide a case study of the past, present, and future of logging and apes, conservation and exploitation, in the Congo Basin."
The national park measures over 3,900 square kilometres (1,500 square miles) in area tucked up against Cameroon and the Central African Republic (CAR) in the far north of the country. In 2012 the Sangha Tri-National Conservation Complex, made up of NNNP, the Dzanga-Sangha Protected Area in southwest CAR, and Lobéké National Park in southeast Cameroon, was named a World Heritage Site by the United Nations Educational, Scientific and Cultural Organization (UNESCO). The site and the buffer area consist of over 27,800 square kilometrers (10,700 square miles) contiguous area, about the size of Vermont or Macedonia. It marks the first World Heritage site spanning three nations.
Human settlements are found only outside the NNNP, and some say Ndoki is the only forest on Earth never to have been inhabited by humans. These settlements are located in three forestry management units that completely surround the park in the Congo: Kabo, Loundougou and Mokabi, and they are now logging concessions. Since the NNNP and surrounding area are considered to be high value conservation forest by the Forest Stewardship Council (FSC), logging companies should take special care to prevent unjustified biodiversity loss by carrying out what is termed "sustainable forestry management."
It is in logging concessions such as those that hug Ndoki that conservation meets head-on with extractive industries. Can hardwoods that are used to make our quality furniture, flooring and baseball bats— or cricket bats in Commonwealth countries— be produced without destroying the places they come from? In the early days of clear-cut logging, the answer was no. A logging company would move into a forest and leave nothing behind but tree stumps, masses of wood chips, and a tangle of mangled vegetation. The wildlife that previously lived in the forest either perished or drifted to an unlogged area of forest.
| | |
| --- | --- |
| | The Nouabélé-Ndoki National Park is located in northern Congo-Brazzaville. Stephen Blake, WCS.. Click image to enlarge. |
But, conservation organizations such as the Wildlife Conservation Society (WCS) have carried out extensive work to create guidelines and procedures aimed at preventing forest destruction and biodiversity depletion in commercial logging concessions. They cut their teeth with NNNP beginning in the mid 1990s, following complaints that private logging companies were promoting unsustainable bushmeat hunting by their employees, even using logging trucks to transport bushmeat to market.
In 1999, WCS signed an agreement with the Congolese government and the company that held most of the logging concessions around NNNP, Congolaise Industrielle des Bois (CIB), to initiate a project to protect wildlife, reduce bushmeat hunting, and manage other extractive activities in the area.
The agreement is especially important for the western lowland gorilla (Gorilla gorilla gorilla), which is categorized as Critically Endangered by the IUCN Red List. Conservationists estimate that 75 percent of the world's population of western lowland gorilla lives in the greater Ndoki landscape of northern Congo. Since CIB concessions comprise a very significant part of this area, making sustainable forestry work is key to the future of the western lowland gorilla.

Logging camps are often the first human habitations in pristine Congo Basin forests. Photo courtesy of Karl Ammann.
After 15 years of experience, what are the results?
CIB agreed to implement a number of recommendations to restrict hunting, introduce alternatives to bushmeat, and form management plans for the timber concessions.
Through monitoring activities and publications, WCS initially claimed it was a success: none of the telltale signs of unsustainable hunting (e.g. reduction in bushmeat availability, increase in price, or change in species composition) were evident. In fact, densities of elephants and gorillas tended to be higher in the CIB logging concessions than the adjacent park.
By cleaning up their operations, CIB sought Forest Stewardship Council (FSC) certification, which is supposed to signify that timber is produced in a sustainable, environmentally sound fashion. In 2006 CIB's Kabo concession became the first FSC-certified logging operation in all of Central Africa, followed by two other concessions in 2008 and 2011.
There are important benefits of FSC-certification, according to Mark Gately, the WSC Congo Program Director.
"Certified concessions can export to Europe and the U.S., while generally uncertified concessions cannot, and this provides a value incentive for certification, reduced impact, better social policies, and better wildlife management," he explained.
Auditors for the FSC are accredited by the organization and verified annually to ensure they respect the established procedures and standards. These independent auditors carry out annual audits of forestry companies, against an international standard of 10 principles. The standard incorporates a number of elements, including respect for national laws, respect for local and indigenous people's rights, safe working conditions, and environmental factors.
In fact, by examining the Forest Transparency Initiative (FTI) website , the Kabo concession and others in the NNNP area received flying colors of compliance with the European Union's Forest Law Enforcement, Governance and Trade (FLEGT) initiative, which works to reduce illegal logging. Led by the World Resources Institute, FTI is a searchable database of information on the logging companies operating in Central African countries.
But, others have questioned the entire FSC certification process. FSC-Watch, for example, has been very critical. When they started up in 2006, FSC-Watch said "whilst the structural problems within the FSC system have been known for many years, the formal mechanisms of governance and control, including the elected Board, the General Assembly, and the Complaints Procedures have been highly ineffective in addressing…problems." In 2014 the group, which is headed by a few former FSC supporters and founders, stated, "Unfortunately, that still remains true today."

Logging towns attract immigrants looking for jobs. When they don't find them, they take up bushmeat hunting and illegal tree-cutting. Photo courtesy of Karl Ammann.
FSC-Watch has specifically attacked CIB, stating "Nothing encapsulates the dismal weaknesses of the FSC system quite as well as the case of Congolaise Industrielle des Bois (CIB)— which for many years has been FSC's flagship certified logging operation in Africa."
FSC-Watch contradicts a number of claims of success made by in the past by WCS, citing instances of continued bushmeat hunting, involvement of CIB vehicles in bushmeat transport, and even elephant poaching by CIB employees.
A recent academic article examining the FSC notes that "Exposés in the popular press have reported serious breaches in the FSC's monitoring process, while a popular consumer organization has recently rated the FSC's labels 'inconsistent in meaning' and the organization itself as characterized by 'conflicts of interest.'"
Even more damaging is the fact that key stakeholders in the FSC governance process have been withdrawing their support from the scheme in recent years. In January 2008, a number of NGOs and companies from the FSC General Assembly's economic and environmental chambers issued a joint statement warning that "problems with FSC are so severe that supporting FSC threatens their own organizations' credibility." Subsequently, this warning was followed by a series of public resignations from the FSC by some of the most important European NGOs involved with forest issues. However, many large environment groups such as Greenpeace, WWF, and WCS continue to stand by the organization.
Yet the news appears to be worsening for FSC-certified CIB. The most recent audit report of the Kabo and Pokola concessions (which have been combined into one) noted that elephant and ungulate species (hoofed animals) had declined significantly in number due to poaching. So, even though the FSC logged area was doing better than the unmanaged logging concession in terms of wildlife numbers, according to WCS, poaching was still a serious problem.
Simon Counsell of FSC-Watch commented, "WCS has also received many millions of dollars in international aid funding over the years to supposedly protect both the NNNP and the wildlife in the surrounding concessions, some of it jointly with CIB. They both have an interest in these projects being deemed to have been a success."

Congolese Industrielle des Bois (CIB) has obtained Forest Stewardship Council certification, which signifies they practice sustainable forestry management. FSC-Watch and others point out problems. Photo courtesy of Marianne Jensen.
When asked about FSC-Watch's claims, WCS's Mark Gately replied, "Control of the transport of bushmeat on CIB trucks is less complete than it was previously, but it is still much less than in logging concessions without a similar project. Even with the best intentions, no system will be perfect, and such incidents still occur."
With so much conflicting information, it is difficult to assess whether sustainable forestry management is being carried out in FSC-certified logging concessions— or anywhere in great ape habitat, for that matter.
In a recent book, the Arcus Foundation, the largest private funder of ape conservation in the world, analyzed the NNNP and surrounding area in detail as a case study evaluating the effects of logging on great apes. They found that logged areas with FSC certification were significantly better managed than those without, but there was much room for improvement.
"At present, best practice is not generally the standard that is adhered to," concluded Arcus.
Mark Gately had to admit, "The project has mixed success, it is less successful than some years ago. We are working with CIB and the Congolese administration to strengthen it."
However, Arcus determined that the WCS approach— including collaboration between conservation organizations, government and logging companies— was essential.
The bottom line, according to Arcus, is that all parties have to continue to work together to improve performance in implementing sustainable forestry management plans, including the 10 FSC principles.
"Achieving successful conservation in mixed use landscapes requires tenacity, patience, compromise, and hard work over the long term," added Gatley.
If the efforts do not continue, the idyllic Ndoki will end up a forest cursed by logging and poaching, rather than still charmed by naïve apes.
Related articles
Sold into extinction: great apes betrayed by protectors
(07/09/2014) In what appears to be corruption in high places, the international body charged with protecting endangered species has turned a blind eye to massive illegal trade of endangered Great Apes. This was my distinct impression on reading the Great Apes report prepared by the Convention on International Trade in Endangered Species (CITES) Secretariat for the 65th CITES Standing Committee meeting, which will take place in Geneva in early July this year.
Oil, wildlife, and people: competing visions of development collide in Virunga National Park
(07/07/2014) What does SOCO's withdrawal really mean for the future of Virunga National Park? – Part II. Located in the eastern DRC, Virunga is the first national park created in Africa, a World Heritage Site and home to mountain gorillas, of which fewer than 900 remain. As such, SOCO's announcement to suspend activities followed in the wake of a concerted campaign led by WWF to "draw the line" to save Virunga from devastation by prospective oil drilling.
What does SOCO's withdrawal really mean for the future of Virunga National Park?
(06/17/2014) Recent headlines have touted an agreement between SOCO International, a British oil company, and WWF, as bringing about an end to oil exploration in Virunga National Park. For example: Oil company Soco not to drill in Virunga World Heritage Site, Deal aims to ban drilling in gorilla preserve, and Soco halts oil exploration in Africa's Virunga national park. However, the same news banners flew in 2011, and oil exploration returned.
Extractive industries and apes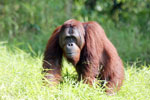 (06/13/2014) Current thinking in the private and public sectors asserts that economic development needs are in conflict with, or mutually exclusive of, the need to conserve the biosphere on which we depend. So, we are asked either to reduce development in the name of conservation or to reduce conservation in the name of development.